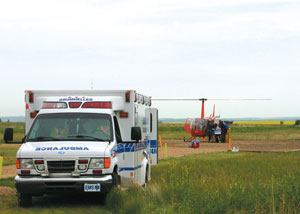 Helicopter lifts injured hiker out of Horseshoe Canyon
A Mountain View Helicopter pilot swooped down to help a hiker in Horseshoe Canyon who had been injured hiking.
On Wednesday, July 2, shortly after 1 p.m the Badlands Ambulance were dispatched to Horseshoe Canyon for the call of a hiker who had possibly broke her ankle.
They called the Drumheller Fire Department for a possible assist, not knowing where in the canyon the injured hiker may be.
Mountain View Helicopters, a company that has been doing tours of the Horseshoe Canyon for about five years offered assistance to the hiker who was about a quarter of a mile into the canyon.
Pilot Slade Smith circled around and managed to find a safe spot near the hiker to set down. Emergency responder Bruce Coad accompanied the patient as they brought her to the top of the canyon and into the waiting ambulance, which took the patient to the Drumheller Health Centre.
Staff of Mountain View Helicopters said in the time they have operated at the canyon they have not heard any other pilot assisting in a medical rescue.