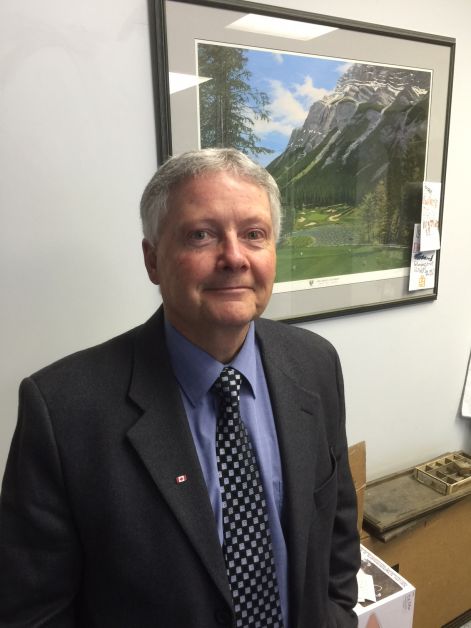 Local duffer and Drumheller town councillor Tom Zariski has learned that he will be named the 2017 Volunteer of the Year by Golf Canada.
Zariski is currently the president of Alberta Golf and is acting president of the Alberta Golf Foundation. He has volunteered for many years promoting the sport locally and throughout the province.
"Considering all of these golf organizations are manned predominantly with volunteers, who spend hundreds of hours volunteering in many different capacities, to be singled out as the recipient for the award for 2017 is a huge honour," said Zariski. "When I look at all of these other volunteers who do great things, it is a significant honour to be recognized."
Locally, Zariski has served as a board member at Dinosaur Trail Golf Club, serving on various committees. He also started the Drumheller Golf Association, a non-profit society and many will remember his work promoting the National Golf in School program, where he presented starter golf kits to the area schools. He was also a part of Clubs for Kids where he collected spare clubs to distribute to those who wish to play, removing the barrier of needing equipment.
"To this day, I still have people asking, 'do you still need some golf clubs?'" he laughs.
He has been a member of Alberta Golf for 12 years and a director for 10 years. His passion is as a golf referee and he officiates about a dozen competitions each year for both Golf Canada and Alberta Golf.
He is also on the Golf Canada rules committee. There is a good chance he will be officiating at the CP Women's Open, an LPGA Tour tournaments in Regina.
"That is my main role as a rules official. Many people don't know, to be an official for golf, you are a volunteer," he said.
The award will be presented at the Golf Canada AGM in Calgary, January 25-27. This is the 12th year that Golf Canada has presented the award and candidates are put forward for consideration by their provincial golf associations.