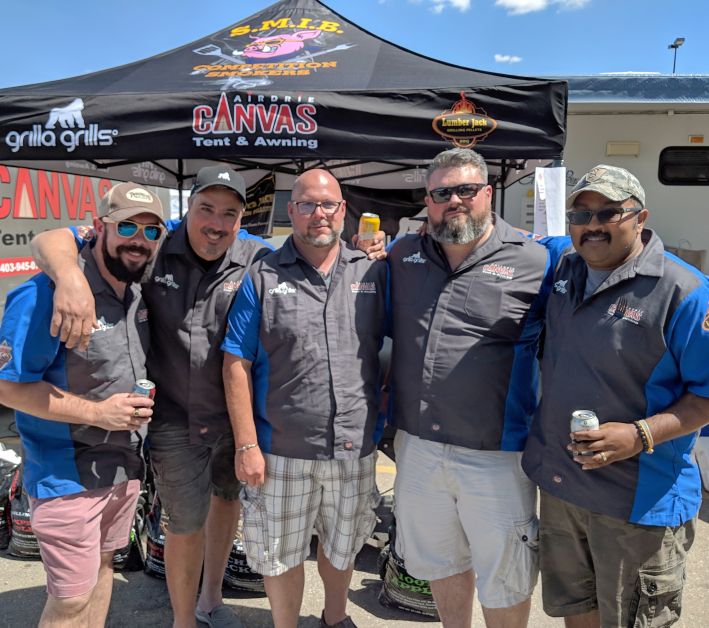 Summer is barbecue season. For many that means throwing a few wieners on the grill, maybe a frozen hamburger or two.
For Josh Bhikoo that means the right combination of meat, heat, smoke, spices and a whole lot of patience. This year it also means competition.
Bhikoo, along with five of his Mason brethren from Calgary and Airdrie have formed the S.M.I.B. Competition Smoking Team. They have been successful at garnering sponsorship and now success at competition. On their first outing in Lynnwood Ranch Bhikoo, who specializes in brisket, placed fourth and the team placed 14th overall. They then went to Porkapalooza in Edmonton.
"There were 51 teams from all over North America and some of the teams are professional, this is what they do for a living," explains Bhikoo. "I placed 25th out of 51, which I think is impressive given the caliber of skill that was there. Some of these guys have been doing it for 15 years and spend 40 weeks a year on the road."
While it is competitive, there is a spirit of community.
"The first place teams are just as friendly as the last place teams. They were willing to help and give advice," said Bhikoo.
Each team has a pit boss and typically they compete in four categories. These include chicken, ribs, pork shoulder and brisket. Bhikoo takes on the brisket, and while most say this is the toughest to perfect, he takes it in stride.
"A lot of it is just trusting what you know and time. It is a 12-14 hour cook, and as long as you do it the same every time, and doing it the way people like it, there is a good chance you will do well," he said.
As a new team, they have done well getting support. They are first in Canada to be sponsored by Gorilla Grills, and the Silk Road Spice Merchant in Calgary supplies their spices. Airdrie Canvas is a sponsor and Lumberjack supplies wood chips and smoking pallets. Image Crafter designed their logo.
The team is getting ready for the competition in Camrose in August called the Battle River Barbecue. After that, in September they are heading to Barbecue on the Bow in Calgary.
When asked what his secret to his brisket is, he says Cuban honey is the bee's knees.