Patrick Kolafa
The Drumheller Mail
Young artists have found an exciting way to celebrate the 150th anniversary of Canada.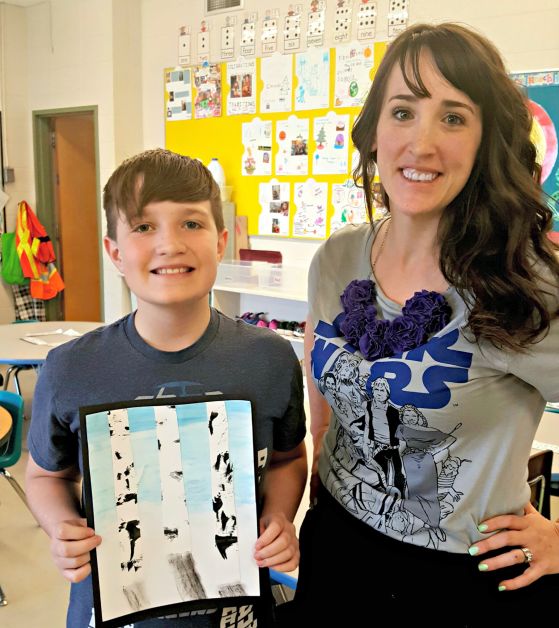 Many in the community may have noticed art installations throughout the community. These are works of Greentree school students who have been busy applying skills and learning about Canadian art.
Art teacher at Greentree School, Regan Burfield, explains she was planning a lesson for her Grade 6 students inspired by Canadian artists, but then opened the project up to the whole school.
"We have art inspired by Ted Harrison, Emily Carr, Lawren Harris, Tom Thompson and Maud Lewis," she said. "My original idea was to have 150 pieces of art to display, but as art projects started coming in, I realized I couldn't limit the number of projects we displayed because everything I was getting was so fantastic. I wanted people in and around Drumheller to see what talented students we have, and that is where the idea of displaying the art around town came into play.
She said the community didn't hesitate to jump on board.
"We have wonderful businesses here in Drumheller that were so supportive of the idea, and I love the idea of people getting excited about visiting different places in our community to see what the students have been working on. I hope that people will support these local businesses that have supported Greentree students," she said.
It has been a learning experience for the students.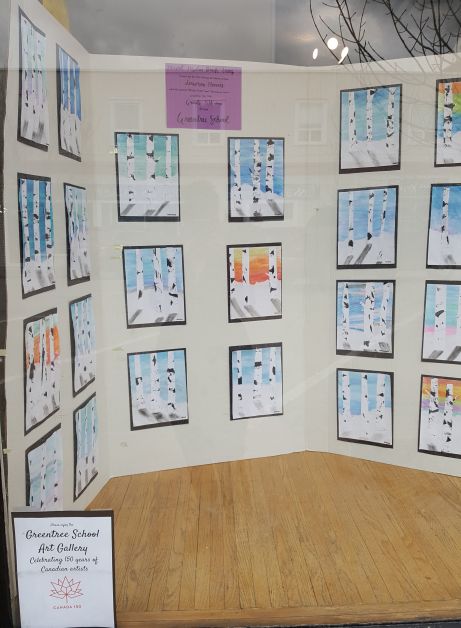 "The elementary art curriculum puts an emphasis on the act of creation, the idea that whether they are in Kindergarten or Grade 6, every child is an artist, and every piece of art has a story to tell. I wanted to make the art of well-known Canadian artists accessible to the students, as well as people in the community.
Art is being displayed at Freson Bros, Boston Pizza, Shoppers Drug Mart, Ivy's Awesome Kitchen & Bistro, 3rd Avenue Arts, Badlands Art Gallery, Drumheller Public Library, Bold Efexx and CC's Closet. It will remain up for the month of May, and some businesses may choose to display it through June as well.
She explains they have launched an art gallery scavenger hunt for students.
"The idea is to have kids and their families getting out together around Drumheller to see the art, to learn a little about Canadian artists, and to (hopefully) pop into a store or restaurant they haven't been to in awhile and see what our town has to offer. If the students complete their ballot, they can bring it back to the school to be entered into a draw for one of three "Dinner and a Movie" prize packs, sponsored by Water Pure & Simple and Boston Pizza."