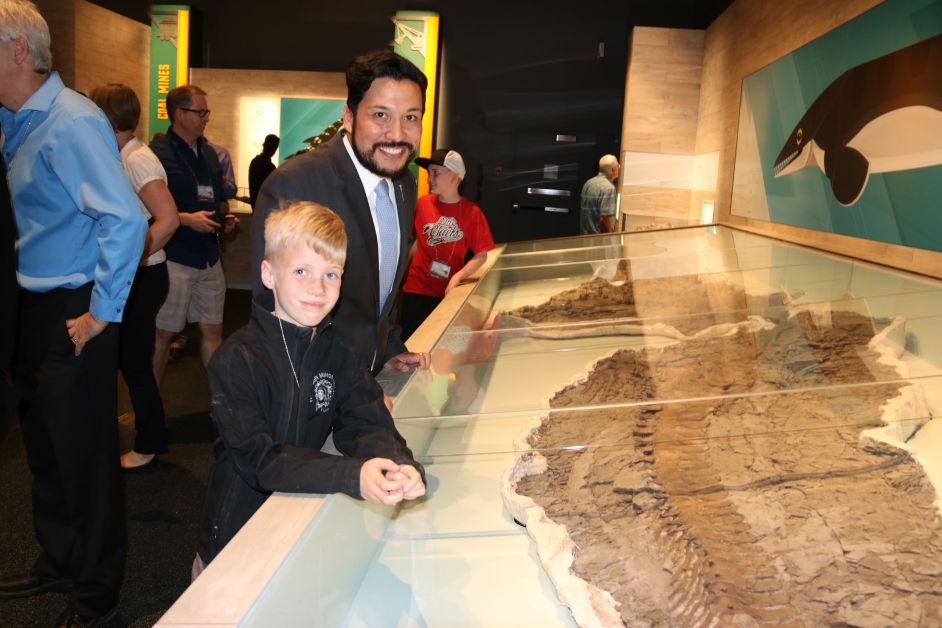 Alberta Minister of Culture and Tourism, Ricardo Miranda, was on hand at the Royal Tyrrell Museum Friday afternoon to officially open its new exhibit Grounds for Discovery.
Grounds for Discovery is a unique exhibit, as it displays some of the most significant fossils that have been discovered through industrial work.
"This showcases what happens when industry and the museum work together, and these are some beautiful examples of what this looks like, when workers see something on the ground and alert us," said Minister Miranda.
'It is the fulfillment of the Historical Resources Act in this province. It is an expression of the collaboration we have with industry and the preservation of the beautiful paleontological history of our province."
In the spotlight in the exhibit is a new species of nodosaur. It is the oldest dinosaur ever discovered in Alberta, and the best preserved armoured dinosaur ever found in the world. It came out of the Suncor Millennium Mine near Fort McMurray in 2011.
"Staff at the Royal Tyrrell Museum and our colleagues at the Royal Alberta Museum have been working for several decades to educate industry on the importance of preserving and protecting fossils uncovered by industrial activities," said Andrew Neuman executive director, Royal Tyrrell Museum of Palaeontology. "This exhibit highlights some of the results of this collaborative approach to heritage preservation."
Minister Miranda highlights the importance of the Tyrrell on the national and international stage. Earlier in the day, he was at Rendez-vous Canada, a major tourism conference in Calgary, which highlights the province's tourism destinations.
"This is one of the top destinations they want to see and I know there have been familiarization trips here. People want to see what has been discovered," said Miranda.
He notes that the new addition will be exciting for local and international travellers, and a boon for the economy.
"By refreshing our museums and bringing in these discoveries, it renews interest around the world. People already know we exist, and they love it and want to come here, but for those who have been here a number of times, it is just another reason why they should come again and again," he said.
He also noted that tender would be going out shortly for the $9.3 million museum expansion, which is slated to be completed in 2019.
"We know the expansion is long overdue and it is going to be very much welcomed by both the museum and tourists alike," he said.
He has a special connection with the museum. As a child, it was the first museum he ever visited, after arriving Canada as a refugee from Nicaragua.
"This is a quintessential part of what it means to be Albertan. The museum for me, is something that lives in my heart."