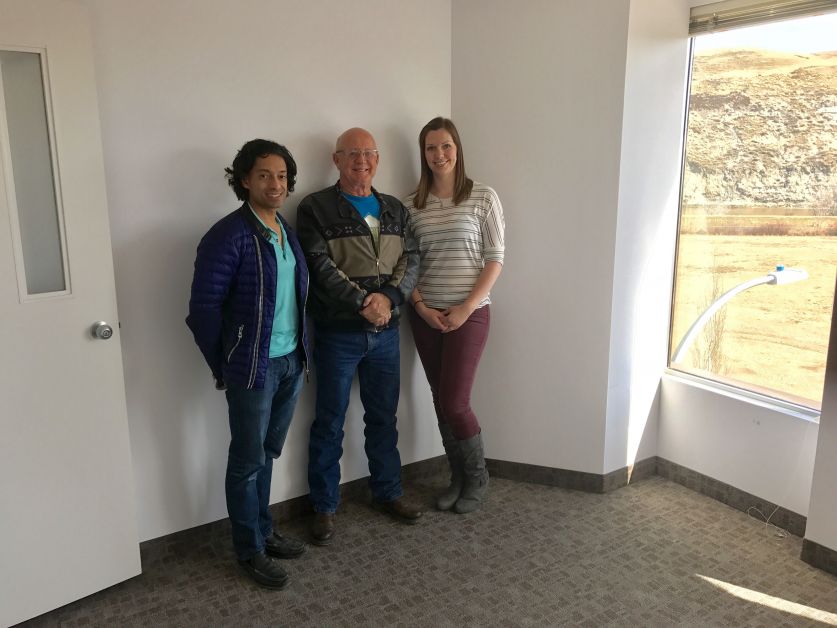 Progress is being made on a new clinic in the valley, and residents can expect to see Riverside Medical Clinic open come June.
www.drumhellermail.com reported on March 6 that Dr. Rithesh Ram, who has been practicing since July 2015, intends to open a new clinic. This comes after he commissioned a survey looking into healthcare needs in the valley.
Since then, progress has been made on a new location at the Riverside Health Centre Building on Riverside Drive East.
Mayor Terry Yemen sees the new clinic as positive for residents and the community.
"We have a service area of 33,000 people and we want as many of those people outside the corporate limits to make the trip to Drumheller for their medical needs. I've heard nothing but great things about the addition of a new clinic in Drumheller. Having great access to health care is one of the ways we can attract retirees to Drumheller," said Yemen.
The clinic has received the necessary approvals from the town and Dr. Ram is working with contractor Joe Castonguay and interior designer Kristyne De Mott. There is a strong working relationship as both have worked on the Ram family private residence.
''We have been working with the Rams on their new residence for two years now and it was a natural transition for us since our team and the doctors work so fluidly already." De Mott says, speaking highly of their friendship. "It is incredibly important to me to connect with my clients on a personal level and develop a trusting relationship where they can be open and honest with me. So the second Rithesh told me about what was coming down the pipe: I was drafting plans, looking into electrical and HVAC...all the important aspects of commercial renovation that needs to be looked at before we can even begin the project."
The vision for the clinic includes state of the art equipment and design to help address the needs of the community. There are plans to incorporate a pharmacy operated by Ray Ainscough of Riverside Value Drugs into the clinic, there will be a Walk-in Clinic on site with hours outside of the normal 9-5, as well as a modern records and communication system.
"We have a state of the art phone system that will allow the practitioners to pick up their handset or answer the call on their mobile phone," said Kathy Stark. "We have all our electronic medical records (EMR) platform underway and furniture on order. The process has been exciting."
The clinic will make way for more physicians in the near future, including Dr. Kailey Buller who will be in the valley come July.
"I am incredibly excited to be starting a new chapter in Drumheller," said Buller. "After spending 4 months living and working here as part of my training, I can't imagine starting my career anywhere else. I have had nothing but wonderful experiences within the community, and was overwhelmed by the number of staff - both in the hospital and out - going out of their way to provide guidance, teaching, and support."
Dr. Buller is a family physician with a special interest in Sport and Exercise Medicine, Obstetrical and Women's Health, and Medical Education. Hailing from beautiful British Columbia, Buller completed her undergraduate degree in biological sciences at UBC-Okanagan, while playing varsity, provincial and international volleyball. She began her medical education at the University of Alberta and is currently completing her specialty training at the University of Calgary. She plans to work in multiple settings in Drumheller, including Riverside Medical, acute care, long-term care, emergency care, low-risk obstetrics, and (hopefully) as team physician for the many talented athletes in the community. Outside of her work as a physician, she hopes to teach medical students and immerse herself in community events.
The construction is continuing at a vigorous clip.
"We have a lot coming down the pipe," says Castonguay, "but we jump in both feet, run a tight ship, and devote our time and energy to our projects. Right now the clinic is red on the priority list and we aim to complete the clinic on a very tight timeline for our friends."
He says demolition is complete and the renovation of the top floor of the building is 60 per cent complete with all trades in order. They were able to use numerous local trades to fulfill this project.
Surplus cabinets, doors, and door handles are being donated to the local Drumheller Housing Administration (DHA), which will save the Housing Authority approx $3,000 this year. The remainder of items will be donated to Habitat for Humanity and some local businesses.
"Dr. Ram has a great vision for the community of Drumheller and is planning to live here long-term and serve the community," said Castonguay.