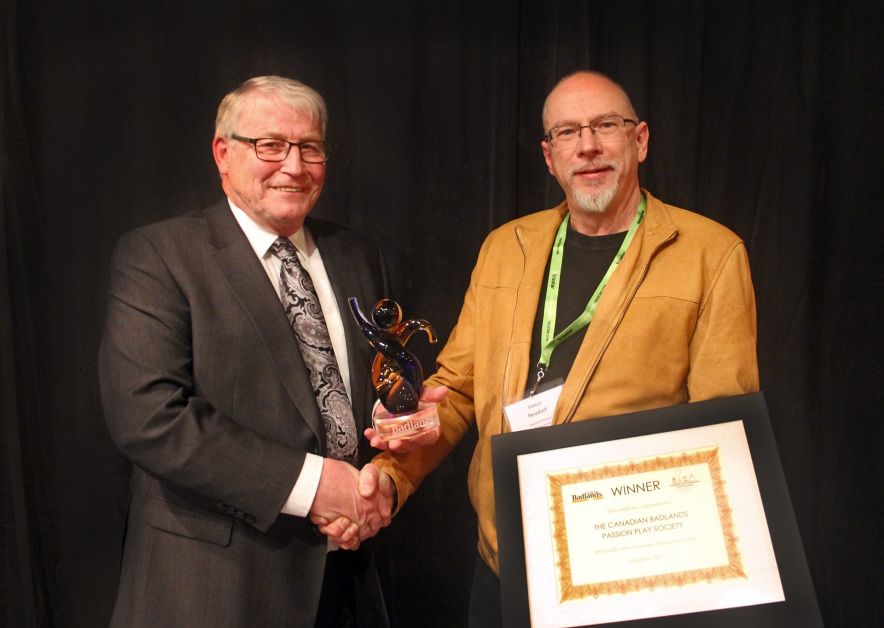 The Passion Play has been awarded once again, this time by Canadian Badlands with the Cindy Amos Tourism Champion Award.
Amos served as Canadian Badlands' executive director through the organization's formative growth. The criteria for the award is reflective of her skill set that guided Canadian Badlands including vision, drive perseverance and passion.
Lance Neudorf, executive director of The Canadian Badlands Passion Play accepted the award at the Canadian Badlands Tourism Conference from March 15-17 in Brooks. Neudorf was also a runner-up for the individual Cindy Amos Tourism Champion Award.
"It is basically for groups that are doing something unique and forward thinking in the way of tourism," said Neudorf.
While it was a tough year for the Canadian Badlands Passion Play, its 23 year history has been fruitful. To continue to be successful, one of these ideas is to add a little rock and roll.
In 2015, it launched the Canadian Icons in the Badlands with Tom Cochrane and Red Rider. It followed it up last season with Blue Rodeo. To facilitate this they have created the entity, the Badlands Amphitheatre.
"It was about putting the whole concert series together and keeping it going despite some adversity and moving it forward," said Neudorf.
This is one more decoration for the iconic Drumheller tourism institution. Neudorf says from 2009-on they have either been nominated or awarded for its efforts by myriad of organizations.