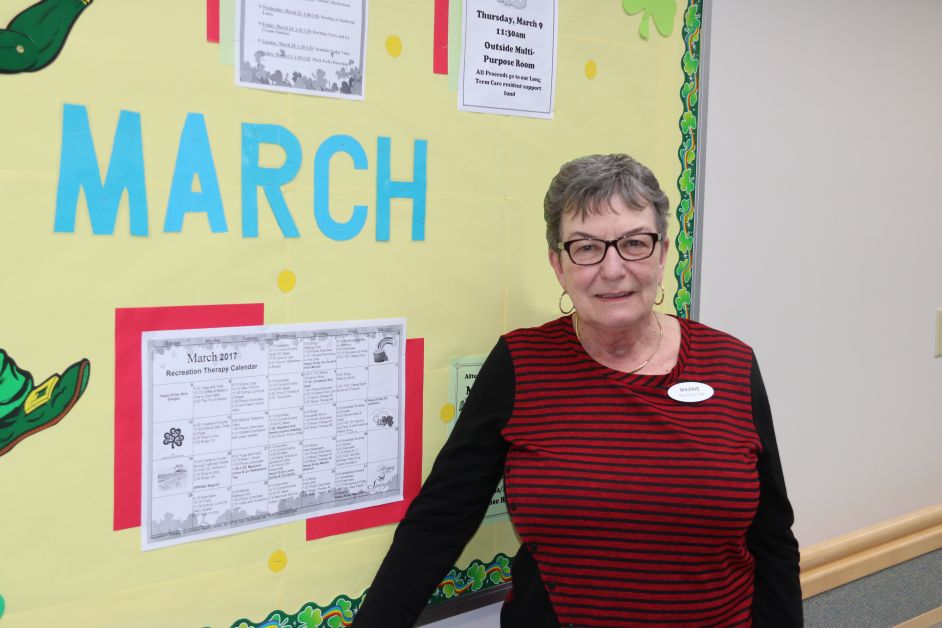 A woman who has dedicated nearly 40 years to making the lives of seniors in the community better, is retiring after a long, rewarding career.
Maxine Watkin has worked in recreation therapy for seniors in Drumheller since 1977. At the end of the month, she will be retiring.
"If I would have stayed until July, I would have worked 40 years in recreation," she chuckles.
Her job is important to the hospital and the long-term residents.
"What we do is try to improve the lives of the long-term residents there," she explains. "We do many things, from mental aerobics to exercises to playing noodle hockey to baking. We try to cover all the domains. Our goal is to try to make life better for those people and fill in their time."
On Monday, they were hosting a pizza party for lunch.
She began her career after graduating in 1965 as a certified nursing aid. She came to Drumheller on one of her postings. Here she met her husband Dave and they were married. They left the valley a few years later for Red Deer and then Calgary, where she worked at the Baker Sanatorium.
When Dave was transferred back to Drumheller, she began work in acute care. Shift work can be difficult for a young parent and she jumped when there was a chance to get into recreation.
"In 1977, I transferred over to the recreation program, I was lucky to get in there," she said.
This was at the very beginning of providing recreation for seniors, and they were charting new territory.
She says it is very rewarding work.
"My goal was to always treat them the way I would want to be treated, or my parents or loved ones. Over the 40 years, a lot of the residents I have known, I also had their parents as clients," she said. "It hasn't really been work, it has been a pleasure to be there. I love my work, so it was easy."
She adds that it can be a very emotionally taxing job.
'You get close to them and then you lose them, or you see them with their health deteriorating. Years ago I heard 'you have to go to work, and then you leave it there when you go home.' That's hard."
It will also be a difficult day on the 31st. She says adding she is surrounded by great co-workers.
"I work with a wonderful team of girls and that has made life easy for me too. When you spend five days out of seven with them, I will really miss them when I retire."
As for retirement, she plans on working more in the garden and spending more time with Dave.
"We are always proud of our yard," she said.