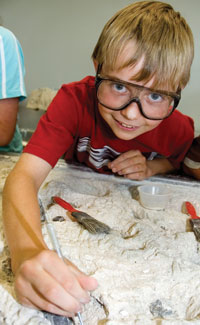 Daily summer programming at the Royal Tyrrell Museum begins June 28.
The museum will have a variety of different summer programs starting up at the end of June with something for everyone from children to seniors. You can learn how to make fossil casts, discover the seven wonders of the badlands on a guided hike, try your luck at excavating a simulated dig site or prospect for fossils.
"The programs really teach you a lot, and bring a new element of fun to the museum," said Marketing & Media Coordinator Leanna Mohan.
The museum is also planning on releasing a new movie that is still in editing called Passion for the Past.
"Being a local, I found it really interesting as it follows the scientists who work here and what research they're doing," said Mohan.
Another new program coming this summer will be Secrets of the Lost Quarry, which is multi-media journey to experience the badlands and discover how scientists find fossil treasure.
The four outdoor programs this summer will include Dinosite, Excavate it, Seven Wonders of the Badlands and Junior Dinosaur Explorers.
Dinosite is for ages four years or older and teaches everyone how to prospect for fossils, investigate real dinosaur remains, and learn about the creatures and landscape of ancient Alberta.
Excavate it! is for ages 10 or older and allows you to use the real tools and techniques of palaeontology for digging for dinosaur bones.
Seven Wonders of the Badlands is a hike into Midland Provincial Park, and introduces you to the secrets of this mysterious landscape.
Junior Dinosaur Explorers is designed for pre-teen aged 7-12 and allows the participants to create their own fossil cast, excavate at a simulated dinosaur quarry, and enjoy dinosaur games in the badlands.
The indoor summer programs will include the Secrets of the Lost Quarry, Dinosaur Adventure Hour and Fossil Casting.
The Dinosaur Adventure Hour is for children aged four to six and allows them to discover more about the ancient dinosaur through a simulated indoor dig, crafts, and hands-on fossils.
Fossil Casting is for ages four and up and lets participants use a mould, dental plaster and water, creating an amazing replica of an ancient fossil.
Shows playing at the auditorium will be Dinosaurs in the movies, Behind the Scenes, and coming soon, Passion for the Past.