Drumheller Sports
The Drumheller Terrapins took to the field for the first time, and what the scoreboard didn't show, was it was a victory in itself.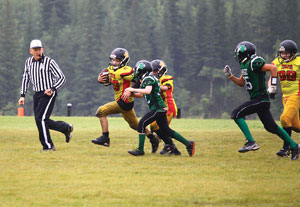 The Drumheller Terrapins debuted last Saturday versus Cochrane. The team's home opener is tonight at DVSS field, game time 7 p.m.
The dream of a peewee football team in Drumheller has been a long time coming, and it was realized this year. Last Saturday they were in Cochrane to line up on the grid iron.
"It was great, we got out there and we got to play," said coach Cory Miles of the soggy Saturday game. "Everyone out there had a big smile on their face, because it was pouring rain and they were all muddy… the new jerseys got broken in."
Coach Miles explained they were in tough shape going in to the game. He had heard from Cochrane's coach before the game and learned they did not have enough players. They agreed to staging the game with Cochrane using a few bantam players, so long as the action on the field remained safe.
"It was a very good experience," said Miles. "We were loud and proud."
While Cochrane ran away with a 36-0 win, Miles says the team was not disheartened.
"I didn't let on we were playing bantam players until about the third quarter. I told them that actually no peewees scored any points on them," said Miles.
Throughout the game the Terrapins continued to improve and learn their roles on the field.
"They started out a little shaky, a few players forgot their positions, but by the third quarter we were looking a like a good football team out there," said Miles adding they were missing about six of their 25 players due to other commitments.
The team is hosting its home opener tonight (Friday, September 13) under Friday night lights at 7 p.m. They are playing the Red Deer Steelers, another strong team.
"We're going to be in a battle again, but we should have our whole team which should help," said Miles.
This season the Terrapins are were not able to join a league, so the will be playing in exhibition matches.
Details

Published on

Monday, 02 September 2013 08:00

Written by Michele Scott | © DrumhellerMail.com
The Drumheller Valley Secondary School football field has been packed this week with players getting ready for action, including the newest addition to the Titans football organization.
The Drumheller Terrapins, a new peewee football team, suited up for practice earlier this week.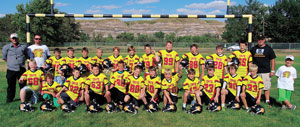 The Drumheller peewee Terrapins hit the field this week for fall practice. Twenty five players have joined the team and are busy learning the fundamentals of football. The team has a week of practice before heading to Cochrane for their first game of the year on September 7. The Terrapins first home game is scheduled for September 13.
"It feels awesome to be on the field, it's been a long time and a lot of work to get these guys on the field," said Cory Miles, head coach of the Terrapins. "Now, we're out here ready to go."
The Terrapins will play their first game of the season in Cochrane on September 7 against the RV Rage. The following Friday, September 13, they play their first home game.
"It'll be a Friday night lights game for us. It should be exciting," said Miles.
However, the Terrapins won't be playing as part of any official league this season.
"We didn't officially make it into a league this year, because we weren't sure about everything before the registration deadline," said Miles. "We have six games lined up, but they'll all be exhibition games this year, which isn't a bad thing necessarily. They'll get to learn the game."
The Titans organization has been working towards a peewee team for the past several years. Earlier this year, Miles was named head coach and kids in the Grade 5 to 6 range, flocked to spring training.
So far, 25 kids have registered for the team.
"We weren't expecting so many kids. It's great to have such a huge turnout in our first year," said Miles.
Thomas Laffin and Spencer Seright join Miles on the coaching staff. The three will focus on teaching the new players the basics of football.
"The fundamentals, like how to tackle properly and a few basic plays. I told the kids, at the end of the year I don't care how many wins and losses we have - it's about how far they've progressed throughout the season," said Miles.
"We are running the same offense the bantams and seniors run, the double wing. We ran a few plays and they looked good."
To see the Terrapins in action, head to the Drumheller Valley Secondary School field on the evening of September 13.
"Hopefully we'll just keep getting better and better," said Miles. "I've got high hopes. They're looking pretty good."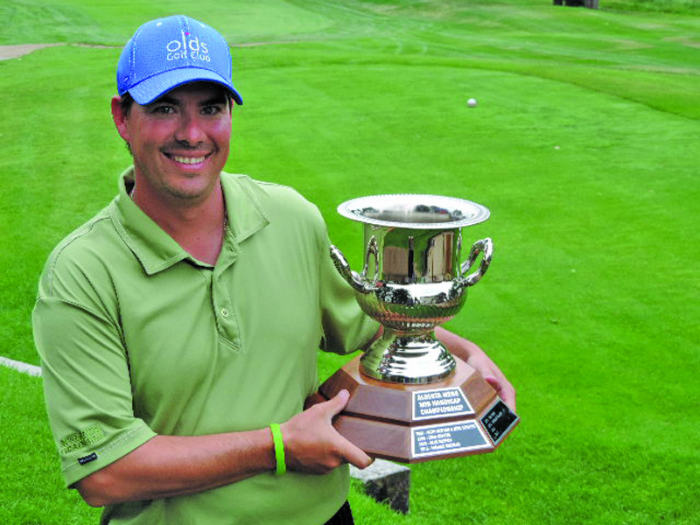 After coming back from ninth place after day one, Drumheller resident Scott Ouellette took home the Alberta Amateur Mid Handicap Championship Thursday, August 8.
Dinosaur Trail Golf and Country Club hosted the two-day tournament that saw 59 players shoot it out for provincial glory. Ten players in the field were from Drumheller.
After day one, David Chapados of Whitecourt was leading with 78. Drumheller's Jeff Skytt was in second and Trent Colberg was in third place. Ouellette, playing out of Olds Golf and Country Club, was in ninth place with an 85.
On day two, even with some drizzle, he was able to bridge the gap with a 75, giving him a total of 160, and first place.
"I felt like I played really well, today," said Ouellette following his win. "I came back from being down by seven strokes and I won by four."
Jason Muma of Country Hills and Skytt tied for second and Colberg tied for fourth. Gary Chung was the only other Drumheller player in the top 10, finishing in 9th.
Ouellette said there was good competition and despite a little bit of rain early on, the day was great.
"I'd rather have a little rain than wind," laughs Ouellette.
He also points out that he is the first person with a transplant to win this tournament. The Mail brought readers Ouellette's story in the July 31 edition. In 2008, he received a heart transplant.
Other Drumheller competitors included Dave Bethel (T19), Dave Morgan (T19), Tony Pliva (T31), Brad Hunter (T31), Greg Morrow (T40) and Tom Fournier (T50).
Dinosaur Trail Golf and Country Club manager Scott Westman said he has heard good feedback from players and officials, as well as a comments about how challenging the back 9 is. He is hopeful they can host more sanctioned tournaments in the future.
Subcategories