Drumheller Sports
Photo courtesy Drumheller BCA pool league
Drumheller's competitive pool league is preparing to wind things up for another year.
The local branch of Big Country Amusements (BCA) year end tournament is just over a month away, scheduled this year for the end of April.
The league has been playing with 24 teams since two dropped out earlier this year.
Local league coordinator Ralph Veenhuis said the finals will be held at the Stampede Barn, taking place over April 25, 26 and 27.
Veenhuis said it's a tight race to the finish this year.
"A lot of teams are close - anybody can win."
One of the reasons the race could be close is because Drumheller has some high calibre players.
"We've got some really good, top quality world wide players here," Veenhuis said.
The BCA website states all players must have their games completed by April 22 to compete in the year end pool tournament.
The league fees players pay each week go into purchasing prizes for the league.
Forty percent of the prizes are draw prizes, so any team can win, Veenhuis explains - the bottom team has won a houseboat trip the last few years.
On the table this year are five Las Vegas trips, about ten houseboat trips, deep sea fishing trips, and golf trips.
Veenhuis said the League is basically an evening out, and it tries not to cater to just the best players.
The type of pool the Drumheller league plays is eight ball.
"It's the most common game there is, North American wide," said Veenhuis.
The Drumheller League follows CSI (Cue Sports International) rules, he explains. They are the group hosting the 2014 Las Vegas tournament at the Rio Inn and Suites.
He said there about 10,000 people from all over the world involved in the tournament, with games spread across 400 pool tables.
He notes the Drumheller league usually sends 40 players to the annual event.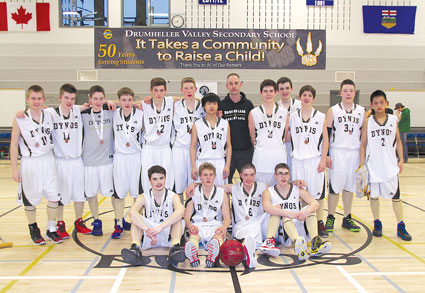 Dynos (back; l-r) Sam Brown, Zach Flater, Travis Molzan, Devon Law, Mitchell Russell, Garth Giffin, Dustin Lo, coach Jeff Messom, Adam Shymanski, Josh Thomson, Wyatt Page, Mackenzie Leitz, and Emmanuel Gumasing, with (front; l-r) Matt Herman, Talon Marshall, Justin Molzan and Mackenzie Johnson. Missing is Rhett Duggan.
The DVSS Senior Dynos won bronze in their zone last Saturday night with a convincing defeat over Black Diamonds Oilfields.
The Dynos hosted the 2A South Central Zones on March 14 and 15, where eight of the top teams in the area battled for a shot at provincials.
The Dynos were upset in league play, but came out with focus to take on Three Hills in their first game last Friday night. They managed to hold off Three Hills 83-76.
This put them on the championship side of the draw to play Hugh Sutherland School from Carstairs. They were strong and ended up beating the Dynos 102-77.
Despite this, the team regained it's composure to play Oilfields school from Black Diamond. The Dynos' swarming press and hot three point shooting dominated the Oilfields as they won 112-81. Matt Herman set a DVSS points record with 56 in this game.
This ended their season.

"Even though we were disappointed that we did not make it to provincials, we believe we had a very successful season a 23 and 8 with a bronze at zones," said coach Jeff Messom.
It was an interesting season for the Dynos with a young and long bench, and negligible size, they took on some tough teams with their run and gun style.
"At the beginning of the year we would have been very happy placing third in zones, but the guys took to the new style of basketball, and we had a lot of success that our expectations raised as the year went on," said Messom. "However, we knew with the fast-paced style that we would win a lot of games because of it, but we would also lose games, it just happened to be at the end of the year."
Messom is losing four seniors who will be graduating this year, however this leaves a lot of talent on the roster.
"I think there was a lot of growth for many players over the year even with our Grade 12s who showed leadership and were a big part of what we were able to do throughout the season. I am looking forward to next year as there is a lot of potential that has yet to be reached with this team," said Messom.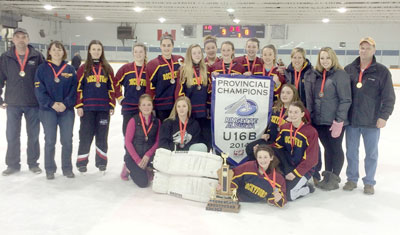 The Rockyford Ringer's U16B team won the gold medal at the 2014 Provincial Championships held in Calgary this past weekend. The girls were undefeated all weekend and played the Calgary Prime team on Sunday evening for gold. With less than five minutes left in the game, the Ringer's were down by 2 goals. The girls' tied it up 8-8 and off to overtime they went. Within three minutes, Rockyford scored the winning goal and earned the title of Provincial Gold Champions.
The Ringer's consist of: Julia Newell, Jessica Clyne, Paeton Melcher, Morgan Elder, Kennedy Elder, Taneil Kalbhen, Natalie Wilson, EricaLynn Skibsted, Taylor Pigott, Cassie Reiger, Neav Sharpley and Emily Bertsch. Head Coach; Colin Melcher, Assistant Coaches; Kevin Elder, Tamara Newell and Carly Melcher, and Manager's; Fiona Elder and Sherri Skibsted.
Subcategories