Drumheller Sports
Brayden Peters, Most Valuable Player for the U14 Calgary Adrenaline
Local ball player Brayden Peters has won recognition as her softball team's Most Valuable Player.
The thirteen-year-old won the award after a strong season playing with the under 14 Calgary Adrenaline.
Peters also won Player of the Game for the Adrenaline after hitting a home run with two on base, to help her team win a come-from-behind victory by one point over Saskatchewan in the U14 finals.
As a result, the Adrenaline came away with a bronze medal win at the Western Canadian U14 Softball Championships in Lloydminster.
Calgary Adrenaline swept both games on day one of the championships, winning over the BC1 team by a score of 5 to 1, then winning their game with the MB2 team by a score of 9 - 7.
The team then lost to the BC2 team 6 - 1, taking them to the bronze medal match with Saskatchewan.
The Adrenaline won their game with the Red Deer Rage at provincials in July to advance to the championships in Lloydminster.
Peters hit a home run and scored the final winning run in provincials to end the game and help her team capture gold.
The Calgary Adrenaline play as part of the Girls Prairie League Softball (GPLS).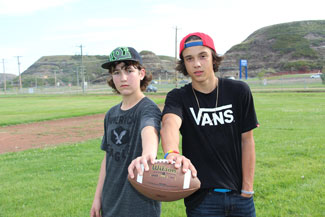 (l-r) Ethan Duncalf and Derek Carriere of the Drumheller Bantam Titans are busy getting in shape for football season. Offical practice starts August 18, and their home opener is August 29 versus Olds.
The Drumheller Bantam Titans were doing some prep work Friday in anticipation of the start of their season.
"We have their first big game August 29," said team manager Robin Duncalf.
The Bantam Titans play the Olds Bantam Bulldogs August 29 at the Drumheller Valley Secondary School field.
Running back Derek Carriere, who turns 14 this month, talks about what he wants to focus on this year.
"Learning how to make the plays well, keep up with cardio, keep my stamina up, and just keep fit for football."
13 year-old slotback Ethan Duncalf the new things he's looking forward to with the season's start.
"I'm looking forward this year to working with the new coaches. I guess playing with some players is going to be fun."
"Getting some new uniforms sounds pretty cool."
Also debuting at the home opener is the new team uniform.
Lionel's Oilfield and Heavy Haul made a donation in the spring to the bantam team to make the new uniforms possible.
The team's manager said they currently have 16 boys, but are looking for more to join.
The peewee, bantam, and senior Titans all hit the field Monday for their first official team practices for the new football season.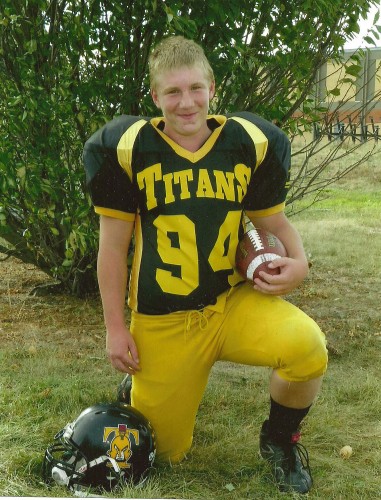 Tracker Robinson played faithfully on the Drumheller Titans' Football team for five years, but will now trade his jersey in to play for Canada Prep Academy's Raiders.
A Drumheller Titan has been recruited into a noteworthy football program.
Tracker Robinson, 16, will be attending Canada Prep Academy in St. Catharines, Ontario for his last year in high school.
"I'm expecting this experience to make me a better player, person, and student. I'm nervous since I'm leaving family and friends behind, but it's what's best for me. Canada Prep Academy is my best opportunity to go pro," Robinson explains.
In order for their students to reach full potential and propel their football careers beyond the high school level, the academy aims for excellence in both athletics and academics.
While attending the academy, Robinson will have the convenience to learn both Canadian and American football, giving him the edge he needs to play in either university league.
The academy's unique practice aims ultimately for their students to be successful while they pursue a university football career.
Their mission statement states, "Canada Prep Academy provides a setting that closely resembles that of a university, ensuring that our students are prepared to balance the lifestyle of a student-athlete at the next level, whether that is NCAA or CIS. Furthermore, we strive to prepare our student-athletes to not only get into university, but to have the skills necessary to balance sport and academics."
Robinson will be flying to Ontario August 16, in time for the team's first practice on August 18.
Subcategories