Drumheller Sports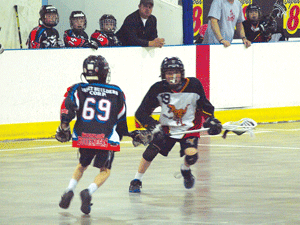 Lacrosse teams in Drumheller will soon be hanging up their sticks. The regular season came to a close last weekend and they will be heading to playoffs today. However, plans are in the works to make the sport a year round affair.
The Badlands Lacrosse Association is in the midst of developing a fall/winter lacrosse program.
"Going forward, we're putting together a fall/winter lacrosse program. We're still working on the details, but we're hoping to make lacrosse a year round sport," said Dave Powell, president of the Badlands Lacrosse Association.
The goal of the program would be to help promote the sport further, teach how the game is played, and give kids more chances to have fun with lacrosse. It is hoped that it could encourage more kids to join one of the minor teams in town.
"I think once we get a fall/winter program we'll get some people who have never played and are intimidated to play in minor lacrosse. Hopefully it will entice those kids to come out and play," said Powell.
The program is meant to be drop-in style and non-competitive.
The association is also hoping to work more closely with the valley's schools.
"I was talking to St. Anthony's and they want to be involved as well. We started a program with them where we donated some actual lacrosse sticks to get their program going," said Powell. "We're trying to grow more and work with the schools."
The fall/winter program comes after a record breaking year for the number of players who joined lacrosse this season. There was an increase of 25 per cent in players, there were more teams, and teams in each division.
The association hopes to attract more players at the bantam and midget ages. They are also in need of more volunteers and coaches.
"There's always a need for volunteers and coaches. We're going to put together a great training program for the coaches," said Powell.
Anyone who is interested can call Powell at 403-823-3152 to volunteer.