Drumheller Sports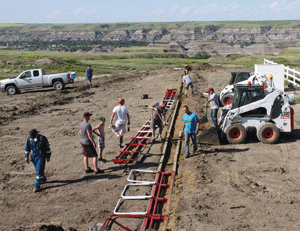 Fighting the heat and the mosquitos on July 7 and 8, hard-working volunteers were busy up at the Drumheller Off Road Vehicle Association (DORVA) Motocross Track, located near the Stampede barns just off Highway 9 south.
Maintaining the track for regular riders preparing for the Southern Alberta (SOAB) Series Round 6, 7 and Mud Bog taking place August 4 to 6, a new starting gate was installed.
"We were able to put in a new starting gate, get the irrigation system going, and get some landscaping done, which were not small jobs," said Sherry Christensen, treasurer and membership chairman for DORVA.
As one of the largest races in Alberta, Christensen said the SOAB series event taking place on August long weekend will be open to anyone. She said quads are also welcome and the track is not exclusive to dirt bikes. Vendors and a concession will be on site for guests' convenience. For more information check out DORVA on Facebook or visit www. dorva.homestead.com.