Obituaries

SEIBEL, Tillie
March 28, 1920 – April 7, 2012

Tillie Seibel went to be with her Lord and Savior, on April 7, 2012 at the age of 92. Tillie was born in Greenway, North Dakota on March 28, 1920. She was one of 19 children born to Christian and Christina Bertsch. The Bertsch family moved from North Dakota to a farm near Carbon in 1929, where they attended Humbolt School and the Zion Baptist Church. In 1938, Tillie married Elmer Seibel and they had one son, Marvin. Elmer and Tillie spent most of their early years in the Drumheller area, where they owned a machinery dealership and a service station. Tillie also worked in many retail outlets which included Aero Lunch, Brown's Men's Clothier and the Saan Store. They attended the First Baptist Church where she sang in the choir and was involved in other ministries of the church. They moved to Stettler in 1977, where Tillie worked at Lou's Fashions for many years, and where they attended the Stettler Baptist Church. In 1987, they moved to Red Deer to be near their son Marvin, daughter-in-law Marion and the grandchildren, Troy, Chad, David, Tracey and Alexandrea. Here, they attended the Bethany Baptist Church and gained many new friends. Tillie was predeceased by her husband Elmer of sixty years, granddaughter Jodie Marie, her father and mother, and 18 brothers and sisters. Tillie's move into the Pine Lodge was a difficult move for her but she soon became familiar with the residents and was well cared for and loved by the staff. Tillie will be missed by her family and friends. A Memorial Service will be held on Friday, April 13, 2012 at the Living Stones Church, 2020 – 40th Avenue, Red Deer, Alberta, at 2:00 p.m. In lieu of flowers, donations in Tillie's memory may be made directly to the Gideons International in Canada, 501 Imperial Road North, Guelph , Ontario N1H 7A2. Condolences may be forwarded to the family by visiting www.eventidefuneralchapels.com.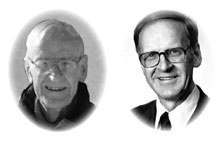 DENIS, James (Jim) Stanley
July 24, 1927 – April 7, 2012

James Denis, beloved father of Maureen, Marilyn, and Margaret, passed away on Saturday, April 7, 2012 at the age of 84 years. James was born on July 24, 1927 in Drumheller, Alberta where he lived for twenty years. James met the love of his life, Shirley, in Sudbury, Ontario and in 1950 they were married. They remained together until Shirley's death fifty-nine years later.
A man who loved to learn, James earned many degrees including U of Alberta (Chemical Engineering), Carnegie Tech (Industrial Management), and U of Calgary (Russian Studies). His career focused on Chemical Engineering and Management. James and his family lived in Sudbury, Edmonton, Sarnia and Pittsburgh, Pennsylvania, eventually settling in Calgary in 1976. His expertise was utilized by the following companies: International Nickel, Celanese Corp, Pittsburgh Coke and Chemical, Sun Oil Company, USS Chemicals, Rust Engineering, MHG International, Bechtel-Monenco-Loram. James served as president of The Association of Professional Engineers, Geologists, and Geophysicists of Alberta (APEGGA). James was a loving and supportive husband, father, and grandfather. He was also proudly dedicated to his community, serving as an active member and as president of the Rotary Club of Calgary and participating for a number of years on Anglican Church committees. Jim also had a great love of classical and popular music, playing piano (formally and spontaneously) at several events. James is survived by his daughters Maureen, Marilyn, and Margaret, son-in-law Dave; grandchildren Geoffrey, Adam, Sarah, and Ryan; brother Alfred, as well as several nieces and nephews. James was predeceased by his loving wife Shirley in 2009, daughter Miriam in 1988, his father Alfonse in 1970 and mother Ellen in 1951. A man of intelligence, character, energy and compassion, he will be greatly missed by his family, friends and community. A Memorial Service will be held at St. Peter's Anglican Church (903 - 75th Avenue S.W., Calgary, AB) on Wednesday, April 11, 2012 at 11:00 a.m. A private family graveside service to follow at Drumheller Cemetery at a later date. Condolences may be forwarded through www.mcinnisandholloway.com. If friends so desire, in lieu of flowers memorial tributes may be made directly to the Colorectal Cancer Association of Canada, 60 St. Clair Avenue East Suite 204 Toronto, Ontario, Canada M4T 1N5 Telephone: (416) 920-4333 www.colorectal-cancer.ca. In living memory of Jim Denis, a tree will be planted at Fish Creek Provincial Park by McINNIS & HOLLOWAY FUNERAL HOMES Park Memorial Chapel, 5008 ELBOW DRIVE S.W. CALGARY, AB Telephone: 1-800-661-1599.

SIBBALD, James Bruce
1947 – 2012

On Monday, April 2nd, 2012 Mr. James Bruce Sibbald passed away unexpectedly at the age of 64 years.
Bruce will be sadly missed and forever remembered by his best friend, Denise, his children, Matthew (Glenda), Cameron, and Robyn, by his children's mother, Dianne. He will also be fondly remembered by his grandchildren, Zoe, and Penelope, by his siblings, his twin-brother Blair (Ann), his sisters Judy (Louis), Wendy (Allan), Marylea (Frank), and by numerous extended family and friends. A Memorial Service was held at 2:00 pm on Monday, April 9th, 2012, at the Connelly-McKinley Sherwood Park – Millwoods Funeral Home, 4820 Meridian Street, Edmonton. (see website for directions). A time of fellowship and refreshments will be held on Wednesday, April 11th at the Munson Community Hall between 2:30 pm and 5:00 pm. To send condolences to the family, visit www.connelly-mckinley.com.