Obituaries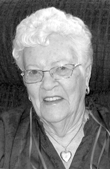 JOHNSON, Jessie May
March 12, 1920 - August 11, 2011
Comforted by family, our mother and grandmother; Jessie May Johnson passed peacefully into the arms of the angels on Aug. 11, 2011 at the age of 91 years. Jessie was the beloved wife of the late Leo Johnson. She was born on March 12, 1920 at the family farm in Orkney AB to parents Frank and Annie Blanchett and is survived by her daughters (nee Gilmore): Ruth (Dwayne) Dawley of Edmonton and Mary (Lorne) Wilson of Sherwood Park. Four grandchildren: Lori (Kevin) Laumbach; Steven Dawley; Travis Wilson; Aynsley (Dylan) Winkler and two Great Grandchildren: Jenna Schlender; Colt Winkler. Also survived by sisters: Eva Coyle; Mary Blouin; Edna (Gordie) Mill; Gladys (Gord) Proud and brother Bill Blanchard. Memorial service was held at 2:00 PM on Monday, Aug. 15, 2011 at Knox United Church, Drumheller, Alberta. A private interment was held at Sarcee Butte cemetery. Memorial Donations may be made to Pioneer Trail Society 160 3rd Street West Drumheller T0J 0Y4 or Charity of choice. Courtney-Winters Funeral Home is entrusted with arrangements (403 823 2666). {jathumbnail off}
KIRK, Patricia Edith
August 8, 1936 - July 31, 2011

After a short illness, Patricia Edith Kirk passed away peacefully on Sunday, July 31, 2011 at the Red Deer Hospice at the age of 74 years. Pat was born on August 8, 1936 in Cereal, Alberta to Charles Harry Ford and Ida Beryl Ford. The youngest of six children, she attended grade school in Cereal and when the family moved to Stettler, she completed her high school. As a teenager she loved skating and her part time job at the bakery, where she met her future husband Jack. On May 15, 1956 Pat married John Earl Kirk (Jack) of Abee, Alberta. They built their first home in Stettler and lived there until their fifth child was born. The family moved to Fort St. John, B.C. in 1965, and from there they moved to Vernon, B.C. where one more child was born in 1969. In 1972, they found work in Golden, B.C. where they lived for another two years, and then moved back to Alberta to farm in the Morrin area in 1974. In 1976 they were all excited to welcome child number seven to the family. Over the years they made many friends and enjoyed life with their happy, boisterous family and extended families. Besides looking after her growing family, Pat expressed her creativity in her knitting, sewing, needlepoint, beautiful cross stitch and craft projects. She loved bright and beautiful flowers, nature and wildlife and the birds she fed all winter long. With Jack's sudden passing in 1982, Pat continued to live on the farm for another seven years. In 1989 she moved to Drumheller with her youngest child and lived there until her passing. Over the years she worked as a waitress, baker, clerk, and bookkeeper. With her happy, outgoing nature, Pat made many, many long term friends in all of the communities she lived and worked in. Pat is survived by her seven loving children: Debora Bell of Red Deer, Alberta; Terry (Kathy) Kirk of Trochu, Alberta; Peggy Moody of Red Deer, Alberta; Loretta (George) Jensen of Yellowknife, NWT; Gail (Murray) Carter of Olds, Alberta; Bruce Kirk of Red Deer, Alberta; and Blaine (Kylie) Kirk of Orelia, Western Australia; seven grandchildren: Bryce (Faye) Bell of Grande Prairie, Alberta; Kristy Ann Bell (Kevin Zawada) of Grande Prairie, Alberta; Adam and Charles Jensen of Yellowknife, NWT; Ian Kirkland Moody of Red Deer, Alberta; Scott and Colby Kirk of Orelia, Western Australia; and three great grandchildren: Emily Crocker, Dakota Bell, and Kaitlyn Bell, all of Grande Prairie, Alberta. She will be remembered as Grandma by her step grandchildren: Michael (Rose) Carter, Tasha Moody (Deng Loul), Dean (Shauna) Oster and Kelly (Laura) Oster and their children: Stephanie, Emily (DeRosa) and Kaylie (Carter), Will (Loul) and Keira,  Haley and Abigail (Oster). She is also survived by her siblings: Netta Barrett, Maurice (Betty) Ford, Noel (Eileen) Ford. Pat was predeceased by her parents, her husband, one sister Muriel Code, and one brother Wally Ford, brothers-in-law Sid Parsons, Lloyd Kirk, Don Kirk, Russell Kirk and Marvin Kirk, Roy Barrett, and two sisters-in-law Margery Parsons and Margaret Kirk. A Memorial Service in celebration of the life of Patricia Edith Kirk was held at the Eventide Funeral Chapel on Friday, August 5 at 1:00 p.m., with interment that followed at 2:00 p.m. Saturday, August 6 at the Morrin Community Cemetery. In lieu of flowers, the family suggests that donations may be made to Red Deer Hospice in Pat's name, 99 Arnot Avenue, Red Deer, Alberta T4R 3S6. Condolences may be forwarded to the family by visiting www.eventidefuneralchapels.com.
Arrangements entrusted to EVENTIDE FUNERAL CHAPELS
4820 45th Street, Red Deer
Phone (403) 347-2222

PICKERING, Geraldine
(nee Folden)
March 7, 1941 - July 28, 2011

Geraldine Pickering (nee Folden) passed away on Thursday, July 28, 2011, in Red Deer, Alberta, at the age of 70 years. She was born in Drumheller, Alberta, on March 7, 1941, to parents Irvine and Edith Folden. Gerry is survived by her children Michael (Tammy) Jensen, Marcie (Darcy) Hunter, Trevor (Karen) Jensen, Kyle (Shawna) Jensen, as well as her nine grandchildren Tyler and Shelby Jensen; Matthew, Jeffrey and Colin Hunter; Stephanie (Brandin), Chanelle and Taylor Jensen; and Rhett Jensen. Gerry was predeceased by her father Irvine Folden (1981), her mother Edith Folden (1944), and her sister Carmen Pattison (2001). A Private Family Service will be held on Wednesday, August 3, 2011. In lieu of flowers, donations can be made to the Alzheimer Society of Canada, or a charity of the donor's choice. Arrangements entrusted to Courtney-Winters Funeral Home.
{jathumbnail off}