Obituaries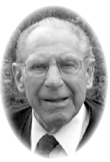 SANDBERG, Floyd Donald
May 12, 1932 - January 10, 2014

Floyd passed away January 10, 2014. He was born in the Drumheller Hospital May 12, 1932. Floyd grew up in the Rumsey, Rowley District where he lived until moving to Red Deer in 1968. He will be greatly missed by Marilyn, his loving wife of 50 years; son, Duane (Tomoko); daughter, Anita Banks (Russell); and his grandchildren, Gale Banks and Nigel Sandberg. A Memorial Service was held on Monday, January 20, 2014 at 1:00 p.m. at Red Deer Funeral Home, 6150 – 67 Street, Red Deer. In lieu of flowers, memorial donations in Floyd's name may be made directly to the Red Deer Hospice Society, 99 Arnot Avenue Red Deer, AB T4R 3S6 or to the Salvation Army, 4837 - 54 Street, Red Deer, AB T4N 2G5. Condolences may be forwarded to the family by visiting www.reddeerfuneralhome.com. Arrangements entrusted to RED DEER FUNERAL HOME & CREMATORIUM, 6150 – 67 Street, Red Deer. Phone (403) 347-3319.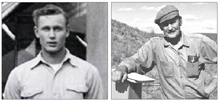 JACKIW, Leo Alexander
December 23, 1931 – January 12, 2014

Leo Alexander Jackiw of Calgary passed away Sunday morning, January 12, 2014 at the age of 82 years. Born in Drumheller on December 23, 1931, Leo grew up in nearby Rosedale, an only child of Galician-Ukrainian peasants Oleksa and Marja (nee Tymczij) who immigrated to Canada in 1926. Leo worked as a coalminer for a time, like his father, until he graduated from the University of Alberta in Civil Engineering in 1954. His profession has taken him to Montreal, Calgary, Anaheim, CA and Orlando, FL for the Disneyland and Walt Disney World projects, and eventually to Fort McMurray. Leo married Grace (nee Burke) from Portage la Prairie, MB in 1961 and is survived by his three children Gregor and Mark of Calgary and Jennifer of Vancouver. Some of Leo's talents and passions were the Ukrainian Choir, drawing, woodworking, hunting and fishing, stamp and coin collecting, boxing, antiques, gardening, investing, and his bluebird nest-box trail he started after retirement for the Calgary Area Bluebird Trail Monitors Conservation Program. At Leo's request no formal funeral service will be held. He will be laid to rest with his parents at Drumheller Cemetery. The family wishes to thank the staff at Southwood Care Centre. Condolences may be shared with Leo's family by emailing This email address is being protected from spambots. You need JavaScript enabled to view it. . In lieu of flowers, donations in Leo's memory may be made to the charity of your choice.

MYERS/GARGARO, Janet Yvonne
October 31, 1959 - January 1, 2014
Janet Yvonne Myers/Gargaro of East Coulee, Alberta "Our Princess became a star in the night skies" January 1, 2014. Her battle with cancer was no surrender but an unfair fight. She was born to the late Joe and Jenny Myers, October 31, 1959 in Canmore, Alberta. Janet left behind her partner and best friend, Leo. She will be dearly missed by her family. Her brother, Joe, along with his daughters Angela, Tammy, and Mercedes, his son, Timothy and many grandchildren. Her brother David, and his sons Chris and Davie, and his many grandchildren. Her sister, Debbie, and her husband, Jerry and son, Adam. She will be sadly missed by Mary Sweeney, Janet's best friend. All of our children and grandchildren were as hers. Words cannot express the love and caring she had for each and every one of them. Janet was a rare and special person. You knew it while in her presence. She had a multitude of friends and an ability to extend herself to others. She took great care in the nurturing of her friendships. She had a wonderful sense of humour and radiated kindness, intelligence and a great wit. Janet will be with each and every one of us through our lives as she lives on in our hearts. At Janet's request, no funeral or memorial will be held. Just look up into the night skies - the brightest star will be winking back at you.