Obituaries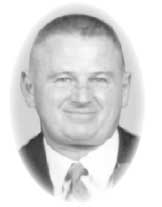 CALPAS, Joseph James
September 9, 1935 - September 24, 2014
Joseph James Calpas passed away on Wednesday, September 24, 2014, in his sleep at his home in Brooks, at the age of 79 years. Joe was born on September 9, 1935 in Tilley, Alberta to George and Apolonia Calpas. He was the youngest of seven children, which benefitted him immensely in becoming a keen cribbage and checkers player. Joe grew up helping his family on the farm, and helped as he could to put food on the table by hunting and trapping on the side. He completed his grade school education in Tilley, and after graduation became interested in law enforcement and pursued a career with the RCMP. After his graduation from the RCMP he was stationed in Radville, Saskatchewan, where he met his bride to be, Joan Bouchard. They were married on November 12, 1960. Over the next decade, Joe worked for the Alberta Provincial Police in High Prairie and the City Police in Medicine Hat. During that time, they welcomed two sons, Jim and Dean. In 1969 the family moved to Drumheller where Joe worked for Corrections Canada. Shortly after, Joe and Joan had their third son, Kevin. Joe grew up to have a passion for sports and the outdoors. He grew up playing hockey in Tilley, and his love of hockey was shared with his sons and continued throughout his life. Joe grew up as a Detroit Red Wings fan, and as a Detroit Tigers fan for baseball, he would follow his teams as much as the radio reception of the time would allow. He was talented on both the accordion and harmonica. Joe loved his hunting dogs and was passionate about hunting, the ring-neck pheasant a particular favorite, and he spent as much time as he could every autumn in their pursuit. He had a keen eye for nature and was always on the watch for an interesting stone, pine cone, or photo to mark his travels. His enjoyment of the outdoors also included fishing and gardening. Joe never lost his interest in farming, and was appreciative of the time he could share with his family, especially at harvest. He was very interested in politics and current events in Canada, both listening and reading extensively on the subject. If you were around Joe, you were probably having to talk over the background of a radio! Joe was preceded in death by his parents; brothers Lukas and George and sisters Barbara Calpas and Anne Holm. He is survived by his wife Joan; sons Jim (Janet) Calpas, Dean (Elizabeth) Calpas and Kevin (Graciela) Calpas; sister Victoria Dovichak; brother John (Juli) Calpas, and many nieces and nephews. Funeral Mass will be celebrated on Wednesday, October 1 at 11:00 a.m. from St. Mary's Catholic Church. Rev. Raul Hernandez Celebrant. Interment to follow at Brooks Cemetery. In memory of Joe, if friends desire, memorial tributes may be made to the charity of choice. Funeral arrangements in care of SMITH FUNERAL HOME, BROOKS, ALBERTA. Condolences may be forwarded through www.sfh.ca Telephone 403-362-4636 or Toll Free (866) 362-4652.
KOOPMANS, Dirk
September 16, 2014
Surrounded by his loving family, Dirk has gone to be with Jesus his Savior on September 16, 2014, after a long hard battle with Parkinson's. He is now at rest. Dirk was born in Ternaard, The Netherlands, moved a year later to Weirum, where he loved to live. He immigrated to Canada with his family in 1954. He is lovingly remembered by his wife of 52 years, Maaike, Drumheller, AB, daughter Alice (Peter), Aimee (Kelby), Lethbridge and Chris, Kyabram, Victoria, Australia, son Stephen (Gwen), Bobbie-Jo, Michael, Summerland, BC, son John (Darlene), Joanna (Tim) Chloe, Amanda and Kenny, daughter Barb (Bob), Ben (Chloe), Nick (Alanna) and Sarah, Airdrie, AB, son Greg (Jennifer) and Josh, Beaver Falls, BC, daughter Sylvia (James), Genis (Jared) Chanel, (Amaya) Lethbridge, AB, Teshia (Mason) Drumheller, AB and Justin, Coaldale, AB. Dirk's first passion in life was his family, until his passion grew when his grand kids came along. He loved going on adventures in the hills or anything that allowed time with them, even with a mischievous grin saying, "Don't tell Grandma!". His second passion was flying. He purchased his very own Fleet Canuck in pieces, built and restored the plane to fly many years with it. To combine his 2 passions was almost heaven. Dirk was predeceased by his youngest son, Jimmy, his parents, his brothers William and Tom, and his granddaughter Carrie. Much gratitude and thankfulness goes out to Dr. Olfert, Hanna Continuing Care and Drumheller Continuing Care for their compassion and kindness. A funeral service was held September 20, 2014 at Grace Community Church officiated by Marvin Menssa in Drumheller, Alberta.
BROST, Edna (Berreth)
November 19, 1920 - September 20, 2014
Edna Brost (Berreth) of Airdrie, Alberta, formerly of Carbon, Alberta passed away peacefully on September 20, 2014 at the age of 93 years. Edna was born in Beiseker, Alberta. On August 1, 1940 she married the love of her life, Melvin Brost and together they raised their five children on the family farm near Carbon. She will be deeply missed by her children: Glenn (Linda) Brost, Diana Krenzler, Wayne Brost, Marian (Myron) Bettcher; brothers: Floyd (Sharon) Berreth, Ray (Elsie) Berreth; sister, Helen (Ed) Christianson, twelve grandchildren and numerous great-grandchildren. Edna was predeceased by her husband Melvin, parents William and Matilda Berreth, son Ralph Brost, and sisters Dianna Berreth and Violet Daubert. A Funeral Service will be held in the Chapel of Mountain View Funeral Home on Thursday, September 25, 2014 at 2:00 p.m. Interment to follow in the Garden of Everlasting Life, Mountain View Memorial Gardens. In lieu of flowers, donations may be made to the charity of donor's choice. To express condolences, please visit: www.mountainviewmemorial.ca. Arrangements entrusted to Mountain View Memorial Gardens, Funeral Home, Reception Centre & Crematorium, 1605 - 100 Street SE (GPS: 242013 - 100 Street SE), Calgary, AB (403) 272- 5555.