Obituaries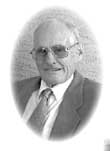 MONTGOMERY, Eugene Royce
December 21, 1931 - August 31, 2014
Mr. Eugene Royce Montgomery was born December 21, 1931 in Drumheller, Alberta. Eugene passed away at the age of 82 years, August 31, 2014 at the Drumheller Hospital with family at his side. Eugene came from a family with six siblings and is predeceased by; his loving wife Marguerite, parents Tom and Emily, siblings: Vance (Clara), Nancy (Jim), June (Gordon), Jimmy (Diana), Stephen, brother-in-law Leonard, nephew Ron and great niece Megan. He is survived by; his sisters Agnes Stoness, sister-in-law Pat Montgomery, 11 nieces and 8 nephews and numerous great nieces and nephews. Eugene led a full life and was liked by all, and cherished by his family. He stayed on the family farm, attending school at Golden Grain, Drumheller High School and Olds School of Agriculture. He was a grain farmer and involved in the cattle industry for many years. He could often be found in his large garden and always enjoyed a good fishing trip. Eugene and Marguerite travelled extensively upon his retirement from farming. Eugene eventually moved to Drumheller residing at Hillview Lodge at the time of his passing. Eugene will be missed by all who knew him, but especially by his family. Our family would like to express their many thanks to the staff at Hillview Lodge and Drumheller Hospital for Eugene's care. If so desired, people may make a donation to the charity of their choice. A Memorial Service will be held at the Morrin Community Hall on Saturday, October 25, 2014 at 2:00 p.m., Morrin, Alberta. Courtney-Winters Funeral Home entrusted with arrangements (403 823 2666).

RADKE, Nancy (nee Donnelly)
April 28, 1950 - September 4, 2014
Nancy was born on April 28, 1950 in Olean, New York, she passed away unexpectedly while camping on September 4, 2014 at Blood Indian Reservoir. Nancy was the fifth child of eight. Nancy moved to Bellingham, Washington with her family, she graduated High School in 1968 in Bellingham. Nancy moved to Canada in 1969, Nancy's son Jason was born in Vancouver in 1973, her daughter Holly was born in 1975 in Calgary. Nancy met Lyall Radke in Calgary in 1981, they were married in June of 1983. The couple lived in Calgary until they moved to Munson in 1985, then East Coulee in 1990. From there the couple moved to an acreage just outside of Delia in 2002, they still reside there. Nancy enjoyed spending time with family, crafting and sewing. Nancy leaves to mourn husband of 31 years, Lyall Radke, her son, Jason Radke, her daughter, Holly Radke, one granddaughter, Saphira Parliament, sister, Kath, Mary Kay, brothers, Dan, Bill, Mike, John and Tim and their families. Lyall's sisters and brother, Theresa, Kate, Lane and their families. Nancy was predeceased by her father, Bill, her mother Katherine, her father-in-law Herb and her mother-in-law Elsie. A Memorial Service will be held for Nancy on Wednesday September 10, 2014 at 2:00 p.m. from The Grace Lutheran Church. In lieu of flowers, memorial donations may be made In Memory of Nancy to the Canadian Diabetes Association. Courtney-Winter's Funeral Homes are in care of arrangements.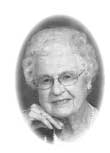 GASCHNITZ, Eleanor Frances
January 27, 1917 - August 25, 2014
Eleanor Frances Gaschnitz passed away at the Drumheller Hospital on August 25, 2014. She was born on January 27, 1917 in her Grandpa and Grandma Schriner's brick house at Belle River Road, Township St. Clair, County of China, near Marine City, Michigan. She was the second of five children born to Spencer and Frances Chambers and was raised at the foot of the Handhills east of Drumheller. Eleanor married Jim Gaschnitz in 1936 and they farmed together in the Verdant Valley District until his passing in 1983. She resided on the farm and continued to help with the farm and ranch work whenever she could. She was an accomplished sewer, very good at mathematics, a patient person, and was called upon many a time to solve problems that would keep the rest of us up at night. She loved the harvest season, was an excellent cook and enjoyed helping with meals taken to the field. As a gardener, her beautiful front yard and lily pond gave her years of enjoyment. Eleanor was instrumental in founding the Homestead Museum in Drumheller. She was an expert in identifying, researching and repairing artifacts displayed in the Museum. Eleanor was very active in the Verdant Valley Community and was in Unifarm, Women of Unifarm, Drumheller and Dorcas WI, Verdant Valley Home and School Association, and the Verdant Valley Agricultural Society. She faithfully attended Knox United Church in Drumheller for nearly 50 years. Eleanor leaves to mourn her passing her daughter and son-in-law Toni and Jim Wilson, three grandchildren, Derrick (Connie), Loretta Wilson, and Gloria (Kelly) Anderson, and three great grandchildren, Dalan, Avril and Kasen. She will be missed by her brother and sister-in-law Ken and Phyllis Chambers and many nieces and nephews. Eleanor was predeceased by her parents Spencer and Frances Chambers, two brothers and sisters-in-law, Harold and Gertrude Chambers and Gordon and Elsie Chambers, one sister and brother-in-law, Gladys and Tom Cunningham. A Celebration of Life will be held for Eleanor on Tuesday, September 9, 2014 at 2:00 P.M. from the Cretaceous Conference Centre, (1103-Hwy 9 South Drumheller) with Mr. Harold Hunter officiating. In lieu of flowers, if friends so desire memorial donations may be made to the Homestead Museum Society, Box 3154, Drumheller, Alberta T0J 0Y0, Courtney-Winter's Funeral Homes are in care of the arrangements.