Obituaries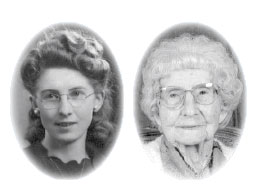 BURT, Elsie
October 17, 1914 - February 5, 2015
Elsie Burt, age 100, passed away peacefully with family by her side the morning of February 5, 2015 at Pincher Creek Alberta. Elsie was born to Jakob and Maria (Mary) Haag at Dennewitz, Bessarabia. Her mother, widowed after Elsie's birth, later married John Delker. In July 1927 their family of 5 children moved from Gnadenfeld, Bessarabia to Canada to take over a homesteaded farm east of Scapa (Garden Plains). Times were hard during the 30's and Elsie helped out with the farm chores and milked 6 cows before school. She drove a horse and buggy to school or rode a horse in bad weather. After schooling, Elsie worked off the farm to help support the family, first at the Scapa Store and later at the Hanna Hospital. Elsie married Earl Burt on August 25, 1942 in Hanna while he was on 10-day leave from the army. Earl left immediately to serve three and a half years overseas while Elsie continued work at the hospital until his safe return. In spring of 1946, Earl, Elsie and daughter Sheila moved to the Borel farm six miles north of Craigmyle. This was to be their home for the next 58 years and soon Garry and Diane completed their family. Elsie was a hard working farm wife and mother. She raised chickens and turkeys, sold eggs and cream, picked berries, hoed potatoes, checked cows, helped with the harvest and cared for their beautiful farmhouse and farmyard. She tended four large gardens with fruits, vegetables and flowers and often gave away as much as she kept. She was a wonderful cook and baker and the cookie jar (and candy dish) was always full. Elsie was also a dedicated community worker being a faithful member of the Princeton Ladies Club and a lifetime member of the United Church Women. She could always be counted on to bring lunch or help in any way. Elsie enjoyed the company and friendship of their neighbors over the years with many cups of coffee and good meals served at the kitchen table. Family gatherings at the farm were memorable and Elsie and Earl were also so proud to attend baptisms, confirmations, birthdays, graduations and other family celebrations. Elsie always had a card or small gift for any occasion of best wishes for family or friends. After Earl's passing in 2004, Elsie moved to the Hanna Manor for 9 years and then to Pincher Creek to be closer to her daughter. She was blessed with good health and a sound mind over the years and remarkably celebrated her 100th birthday in October 2014. Elsie was hard working, generous and independent person and always very much a lady. She faced much adversity and loss in her lifetime but carried on with strength, determination and her faith in the Lord. She appreciated nature, birds and animals and observed the changing skies, weather and seasons. The farm was always "home" to her. She valued her friendships and enjoyed visiting with everyone. She loved us all dearly and gave us a good home and upbringing, leaving wonderful memories of our mother and grandmother. We are now grateful for her eternal rest and reunion with those that have passed on before her. Elsie is lovingly remembered by son Garry Burt (Maria) and children Aaron (Sarah) and their daughter Nadia, Zachary, Christopher, Matthew and Shannon (Dan) Allison and their children Tommy and Ava; daughter Diane Burt Stuckey (Dale) and their children Josh and Katie; sister Mae Weich; granddaughter Carmen (Gary) Schneider and their children Barrett, Carissa and Brandon; granddaughter Carrie (Trevor) Georgsen and their children Riley (Samantha), Tanner and Parker; sister-in-law Violet Delker and brother-in- law Bill Burt. She will also be fondly remembered by her extended family of nieces and nephews and friends and neighbors from the Hanna and Drumheller area. Elsie was predeceased by her mother Mary Delker, father Jakob Haag, step-father John Delker, husband Reinhold Quashnick, husband Earl Burt, daughter Sheila and son-in-law Reid Jorgensen; brothers John, Albert, Alfred and infant sister Annie Delker; grandson Kevin Jorgensen; infant grandson and granddaughter Daniel and Julia Stuckey and many other loved family and friends. A Celebration of Life Memorial Service will be held Saturday, May 9, 2015 at the Craigmyle Historic Church at 2:00 pm with Reverend Leila Currie officiating. If friends so desire, memorial donations can be made to the Craigmyle Historic Society at Site 1B-3: Box 14 Craigmyle T0J 0T0 or a charity of their choice.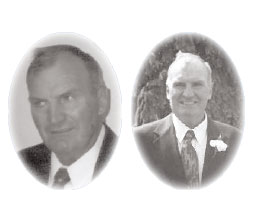 LANGFORD, Frederick Folden
October 19, 1942 - April 20, 2015
With sadness we announce the sudden passing of Fred, age 72 at Foothills Hospital. Fred was born in Drumheller where he lived all his life. He was the oldest child of Roland and Telma Langford. He worked as a bricklayer, first with his father, uncles Leonard and Bud, and brothers Larry and Ross. When his father retired, he and Ross established their own business. Many buildings in Drumheller and the surrounding area are a testament to their skill. In 1988 Fred started work in the maintenance department at the Drumheller Penitentiary, until his retirement in 2003. As a young man, Fred enjoyed hunting, then again in later years with his son Roland and brother Ross. After Fred retired he could be found almost daily prowling the grocery stores and comparing prices. If you wanted to know what was on sale where, you had only to ask Fred. Fred lived in Sunshine Lodge the past two years and was very appreciative of the care and kindness shown him as a resident there. He was predeceased by his parents, and brother Larry Folden. He is survived by his daughter Jordanna (Geoff), his granddaughter Havanna, his son Roland, their mother Frankie, his brother Ross (Edie), sister Gaye (Brian), nephews Mitchell and Kalen and niece and nephew Paula Astra and Grant Folden. In Fred's memory donations may be made to the charity of your choice.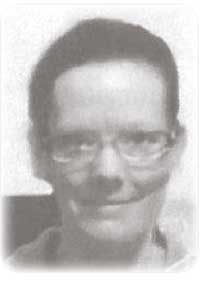 BALLAST, Nancy Nicole
April 5, 2015
Passed away suddenly on Sunday April 5, 2015 at the age of
35 years, Nancy Nicole Ballast, of Winnipeg, formerly of Brooks AB, Treherne, MB, Dominion City MB & Steinbach. Nancy leaves to mourn her passing her beloved children Katerina, Colby & Nash Thiessen of Drumheller AB, the children's father Riley Thiessen of Drumheller AB, parents Herman & Arlene Ballast of Drumheller, brothers Dan Ballast of Calgary, David Ballast of Hilton MB, sister Jennifer (Dane) Bruder & nieces & nephews Dylan, Brittanie & Ashley all of Brooks AB; aunts & uncles Vern (Brenda) Duncan of Hilton, Kerry (Sharon) Duncan of Brandon, Lois (Al) Webster of Belmont, Iris Duncan of Killarney, Diane Duncan of Brandon & Darlene Duncan of Selkirk, MB, special friend Frank Moreau of Winnipeg as well as numerous extended relatives & friends. Nancy was predeceased by her infant son Braeden, uncles Glen & Clifford Duncan and Armand Ballast & grandparents Bob & Lily Duncan and Harm & Lyntje Ballast. A Celebration of Nancy's life will take place at a later date in Drumheller Alberta with service details to be announced. Friends that so desire, memorial donations can be made in Nancy's memory to a charity of ones choice.