Obituaries

NORTON (Bacon), Beatrice A. (Pat
June 4, 1917 - September 26, 2014
At the age of 97 years young.
DEVA, James (Devaleriola)
1950 - 2014
Born in Calgary, Alberta and raised on a farm in Morrin. Jim died tragically in an accident at home in Vancouver on September 21st, 2014. He leaves behind his loving partner Bruce Smyth and sisters Deanna (Dennis) Notland, Trudy (Jerry) Spray and Wanda (Stan) Hampton as well as gaggles of nieces and nephews. He was predeceased by his father Ted Devaleriola, mother Doreen Marshall and his brother Rob Devaleriola. He was greatly respected, loved by all and will be dearly missed. Jim and Bruce were together for 42 wonderful years and owned and operated the world famous Little Sisters. Jim was a prominent figure in the queer community nationally and internationally. A celebration of his life was held on Saturday September 27th, 2014. It was Jim's passion to educate. In lieu of flowers, send donations to LOUD Business, LOUD Scholarship Foundation @ www.loudbusiness.com For more information go to Little Sister's Book & Art Emporium on Facebook.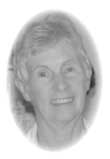 BARNES, Florence Margaret
November 20, 1937 - September 10, 2014
Deeply missed and forever loved by daughters; Candy (Ernie) White, Cindy (Gary) Middleton, Tracy Zweifel, and sons; Doug Ibey, and Fred Ibey. She also leaves to mourn 13 grandchildren, 11 great-grandchildren and numerous other family and friends. In lieu of flowers donations can be made to a charity of one's choice. A Celebration of Life will be held at the Pioneer Trail Seniors Centre in Drumheller, (160 3rd Avenue West) on October 5, 2014 from 11:00 a.m. – 2:00 p.m.