Obituaries

MARSHALL, Maude
Sunrise - November 27, 1923, Lawsonburg, Alberta
Sunset - January 13, 2015, Drumheller, Alberta
Maude Marshall passed away in her sleep at the Sunshine Lodge in Drumheller. She was predeceased by her parents Kingsley and Alice Morton, Husband Michael. Brothers Lloyd, Roy, Arthur (Lillian), Lawrence (Frances) and Charlie (Marg). Grandsons Kory and Trevor Marshall. She was also predeceased by in-laws Art (Mary), Albert (Florence) Marshall, Anne (Tom) McAuliffe, Ivan Long, Stan Larson, Irene (George) McKay, Mal Robertson, Ken Cooney, Ron Roline and Dwayne Limpert. Maude is survived by sons Stan (Lorelee), Kingsley (Shirley) and Paul (Brenda) and daughter Alicia (Bob Hannah). Grandchildren Jodi, Kelly, Kim (Ian Johnson), Jayson, Julia (Dirk), Desmond (Tammy), Derek (Amanda), Michael Hannah (Hannah) and Sherry (Darren Meyer). Great-grandchildren Naviah and Kaden Johnson, Austin and Alec Biletsky, Madison, Michael, Ryder, Taytum and Mackenzey Marshall, Isabella and Abigail Hannah and Taylor and Shaelyn Meyer .Sisters Abbie McNaughton and Phyllis MacDonald and sisters in-law Mary Long, Edith Larson, Kay Robertson, Lorraine Cooney, Josie Roline and Elsie Limpert. Also dozens of nieces and nephews. Mom was born near Handhill Lake on the family farm. She attended rural schools in the area and later ran the Dorm in Hanna. She married Michael Marshall November 24, 1943. They had three sons and a daughter, eleven grandchildren and thirteen great grandchildren. They lived in Delia as newlyweds and later moved to the farm where they stayed for over fifty years. They moved back to Delia in a new home on their original lot. In 2006 they moved to the Sunshine Lodge in Drum where Dad passed in November 2007. Mom enjoyed her new home and many friends there. Mike and Maude are as recognized a duo as Ralph and Alice Kramden, Fred and Wilma Flinstone or George and Weezie Jefferson and nearly as comical. They were social butterflies and enjoyed visiting and entertaining. In 1984 they were honored to receive Holy Communion from Pope John Paul II in Edmonton. They were very involved in the community and always willing to help out. Their home at the farm was a gathering point for family and friends. When they moved to town the tradition continued and seldom had a day pass that they did not have company. Mom with help from Aunt Mary ran the Coffee Shop while Luke went to China and developed a special friendship with Mai and Luke and their Family. Mom was the news correspondent to the local papers for years but was most in her element as the organizer for the many trips they enjoyed, I bet she's looking for Lawrence Ludwig right now up yonder trying to get something lined up. We called Mom our Favorite Bad Example as she ate what she wanted when she wanted it, refused to take an extra step lest it could be viewed as exercise and still remained quite healthy. Funeral was held at 11:00 AM St Anthony's Catholic Church in Drumheller on Friday, January 16 and Prayers were held the evening before at 7:00 P.M. The Family of Maude Marshall wishes to thank Father Ian Gagne for saying prayers and Mass for Mom. Also to Sean Grande from Courtney-Winters Funeral Home, the staff at Sunshine Lodge for their excellent care while Mom made her HOME there and all of her friends at Sunshine Lodge and to all family and friends who visited her. Thanks also to Karin Miller for the excellent lunch and to everyone who was able to attend the Prayers, Funeral and Lunch. We want to thank the parishioners from St. Anthony's who have services and take Communion to the Lodge. Many thanks for the flowers and Mass Cards and food. Courtney-Winters Funeral Home entrusted with arrangements.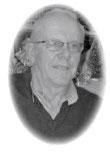 HERMAN, Donald Arthur
December 29, 1931 - January 19, 2015
Donald Arthur Herman, born December 29, 1931, died January 19, 2015 at the age of 83, after a brave but painful struggle with his family at his side. He is survived by his wife Joan, children Deborah, Shelley, Douglas & Tracey, Kim & Tony, grandsons Matthew, Justin, Dale & Shaun, his brother Albert & Anne, niece Sharon & nephew Charles & Karen. He is predeceased by his sister Evelyn Grace. Don grew up on a farm north of Michichi, learning his avid gardening skills and riding a horse to school. Don then stayed at the dorm and attended Drumheller High School, later attending Tech (SAIT) and excelled in welding and mechanics. He worked with his parents and brother at the Michichi farm for awhile, but when he tired of feeding cows in the winter he went to work on the rigs, in the Munson & Fish Lake areas. He then trucked for Ed Goette, hauling through rural Alberta. On May 8, 1956 he married Joan and started farming in the Over The Hill (Churchill) district until he retired and they moved to Drumheller in November 1996. In his early years at Churchill, Don worked winters at the Atlas Coal Mine running the diesel train engine that hauled the coal cars across the top to the tipple. Don was involved in the Over The Hill community association and drove school bus for 24 years, retiring in 1985, getting to know the neighbors as friends. Don was an avid skier from a young age, then teaching his kids and many others to ski. He first had a ski hill in his coulee, then he worked with the Drumheller Valley Ski Club and was involved with the hills at both Dunphy and the more recent hill in Drumheller. Don was on the board of the Heart to Heart Society. He also had season tickets to the Drumheller Dragons since their inception and enjoyed watching hockey in the valley since the days of the Drumheller Miners. Don was known for tinkering, fixing, and building from when he was young, and never finished until a job was done right. From the time he had a family, that was his greatest joy and concern. A Celebration of Life will be held at the Badlands Community Facility on Friday, January 23 at 2:00 p.m. Donations may be made to the charity of your choice.

Carl W. DEEM, B.Sc.MT. (ASCP)(CLS)
March 11, 1940 - January 15, 2015
Husband, father, grandfather, great grandfather and friend. Carl was born in Parkersburg, West Virginia. He loved music, chess, reading and food. He was on the honor roll at the University of Reno, Nevada and graduated with a Bachelor of Science degree in Medical Technology. His love of music took him from Atlantic to Pacific, from Hay River to New Orleans. While relaxing at home he enjoyed playing classical music for guitar. Carl loved participating in the Alberta Senior's Games in the snooker events and as an actor/musician in the Canadian Badlands Passion Play. The family asks that each one who knew Carl remember him in your own special way.
"See you later big guy,
you touched a lot of people"