Obituaries
Details

Published on

Thursday, 16 July 2015 13:36

Written by Sales Department | © DrumhellerMail.com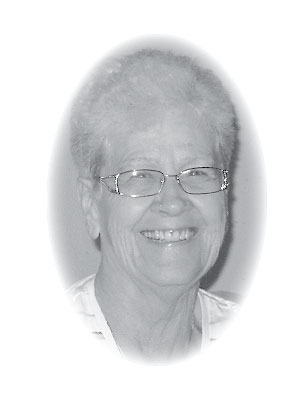 LIDDICOAT, Bernice Elizabeth (nee Holmes)
March 7, 1927 - Thunder Bay, ON - July 13, 2015 - Drumheller, AB
Bernice Elizabeth Liddicoat went to be with her Lord on July 13, 2015 in Drumheller, Alberta. It is with joy that she is now reunited with her husband Wilbert, son Larry, and daughter-in-law Carol. Bernice is survived by sons, Howard of Red Deer, Gregory of Drumheller, daughters Myrna (Lawrence) of Calgary, Darlene (Kevin) of Calgary, Pamela (Tom) Almonte, Ontario. Bernice is also survived by her brother Vernard (Vivian) of Thunder Bay, Ontario, Bernice is the grandmother of 8 and great-grandmother of 13. Bernice's life was devoted to raising her family and many years spent volunteering with The Salvation Army Church in Drumheller. She also, with Wilbert's help, managed The Salvation Army Thrift Store in Drumheller. Bernice also had a real love for knitting, baking and of course her beloved pets. A Celebration of Bernice's Life will be held Saturday, July 18, 2015 at 2:00 p.m. from The Salvation Army Citadel, with Captain Jennifer Hellier officiating. In honour of Bernice's memory, memorial contributions may be made to the Alberta Heart & Stroke Foundation, The Salvation Army or the charity of one's choice. Courtney-Winter's Funeral Homes are in care of the arrangements.
Details

Published on

Wednesday, 15 July 2015 08:44

Written by Sales Department | © DrumhellerMail.com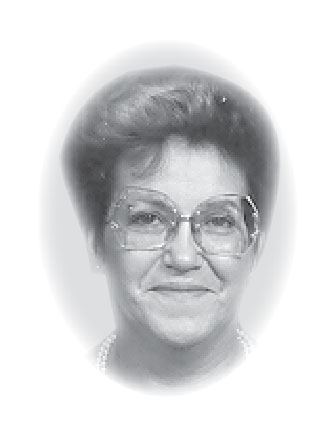 RITZ, Mary Florence
August 17, 1941 - July 6, 2015
Heaven became a better place on Monday, July 6, 2015 when Mary Florence Ritz, née Hart, was called home. Mary was born August 17, 1941 in Swan River, Manitoba to William (Bill) and Yvonne Hart. Mary was the 5th in a family of 6 little live wires. Mary was predeceased by her brother Thomas, brother Leonard, mother Yvonne and father Bill (Gramps). Mary began her schooling in Mafeking, Manitoba, and finished up graduating with honors from Notre Dame in Wilcox, Saskatchewan. She had a love for all things beautiful which led her into a career as a beautician. She graduated with her license from Winnipeg, Manitoba and took her first job in Dauphin, Manitoba. It was not long after arriving that she met the love of her life, the man she would later marry and stay committed to for 54 years, Erwin (Curly) Ritz. Erwin and Mary were married September 1, 1961 in Dauphin, Manitoba and 10 months later welcomed their first son, Faron Murray Ritz. The young family soon moved on to Portage la Prairie, Manitoba where they had their second son, Leon Rae Ritz. Curly took a position in Red Deer, Alberta which saw the family move there in 1966. Mary continued in the beauty industry becoming an instructor to all the new hopefuls. In 1970 the family was on the move again to Medicine Hat, Alberta where they had their youngest child, a daughter, Tamala Michelle Ritz. In Medicine Hat Mary ran the local beauty supply company for many years. However in the early 1980's Mary decided to make a dramatic career change and entered the world of financial investing. Mary was very successful over the years working for Pioneer and The Principal Investment Group. Through all her success in the financial industry she was able to take her husband on some amazing trips over the years. As Mary's children grew and moved out, her and Curly decided to move closer to her siblings and father and in 1991 moved to Kelowna, BC. They enjoyed their time in the beautiful Okanagan Valley but the pull of their grandchildren brought them back to Alberta. So in 1996 they moved to Calgary briefly and on to Irricana, Alberta where they spent their last 18 years together. Mary loved to sew and make quilts and would spend hours in her sewing room making everything under the sun. Mary was very active with the Irricana Ladies Lions Club, she was also very active with the men's Lions Club with many orders of the clubs personal vests. Mary loved to cook and can, and would put pretty much anything you could put in a jar. Mary was always on the go. There was no slacking when she was around and she was always keeping dad busy doing something. Mary's home was always impeccably clean and you always felt welcome when you came. I'm sure she's got a broom in her hand in heaven. If Mary was not keeping busy with all that, you could find her kicking someone's butt in a game of Scrabble. Mary had a short but very courageous battle with cancer and she leaves to mourn her husband and best friend of 54 years, Erwin (Curly) Ritz, son Faron (Oksana), Dakota, Sienna, Kaysia, Zarrah, & Alex, son Leon (Chandra), Caitlin, Ryan, & Bex, daughter Tamala (Doug) Cersten & Brayden, Mary's brothers Bob (Barb), Cliff (Fran) sister Dodi (Murdi) and numerous nieces, nephews, cousins and relatives. Donations can be made in Mary's name to the Alberta Cancer Society. Service will be held Thursday, July 16, 2015 1:30 p.m. at the KIK Hall in Irricana, AB. Courtney-Winters Funeral Home entrusted with arrangements (403- 823-2666).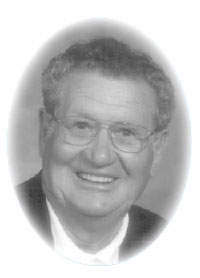 BERLANDO, Roger Elis
May 3, 1929 - July 8, 2015
It is with deep sadness that we announce the passing of Roger Elis Berlando. Roger passed away peacefully July 8, 2015 in the Drumheller Continuing Care Facility. Roger was born in Drumheller May 3, 1929 to parents Eugenio and Santina Berlando. He grew up in Star Mine where he spent most of his childhood. Roger enjoyed sports mastering baseball, hockey and boxing. His accomplishments in baseball are legendary among Drumheller Valley old timers. He spent his entire life in the Drumheller Valley, less a few short periods of time in Bellevue, Eckville and Calgary. In Bellevue he played Junior Hockey for the Bellevue Lions. He played most of his baseball in the valley for the Rosedale Midways as well as other places including Eckville. In 1953 he married the love of his life, Helene Looten. They enjoyed 61 plus years together raising 3 sons. Roger worked in the Star Mine before moving to work in the Alberta Hotel in Rosedale. He went on to own the Rosedale Hotel for 3 years before embarking on a long career in car sales where he earned the name Honest Rog. Roger spent many years working for Westergard Motors and later as co-owner of Sunrise Auto Sales. Roger was a member of the Drumheller Volunteer Fire Department from 1970 – 1984. He was a faithful, valuable member winning the Mayor's Award for attendance on more than one occasion. His stories were always a welcome part of any fire meeting or social gathering. Roger is a 3rd degree member of the Knights of Columbus. He was a charter member of the Drumheller Council and served faithfully in various positions including pancake breakfast boss for many years. Roger was predeceased by his father, Eugenio, mother, Santina, brothers, Eugene (Jimmy) and Angelo, sister, Noemi and son Roger Perry. Roger is survived by his wife, Helene, sons, Dwayne (Laura), Darrell (Laurie) and daughter -in-law Tish. Grandchildren, Maria (Ty), Michele (Luc), Amy (Matt), Jeremy, Ashley (Ross), Talon, Liana (Aaron), Tarren, Nicole (Jack) and nine great grandchildren. He is also survived by numerous nieces and nephews. Prayers will be at St. Anthony's Church 7:30 p.m. Monday, July 13, 2015. Funeral Mass will be at St. Anthony's Church 11:00 a.m. Tuesday, July 14, 2015. The internment will follow in the Drumheller Cemetery. Courtney-Winters Funeral Home entrusted with arrangements (403 823 2666).