Obituaries

DeBoer-Johnson, Carolyn
1934-2013

Carolyn passed away after a brief illness April 27, 2013. Born Carolyn Genevieve Barnett in Portland Oregon, USA July 14, 1934, She moved to Canada in 1954 after marrying Glen "Bud" DeBoer. They farmed together until Bud's passing in 1980. In 1982, Carolyn married Michael Johnson. Carolyn is survived by Michael, her daughter Glenda (Rod) Lonsdale, her son Jim DeBoer, and Michael's children Wes (Laurie) Johnson, Katherine (Brian) Gushaty, Jeff (Marion) Johnson, and Leo (Donna) Johnson. Carolyn's brother Dick and sister Pam continue to reside in Oregon. Carolyn will be greatly missed by all the grandchildren she was so proud of. In keeping with Carolyn's wishes, there will be no funeral service. "Heaven must have needed another gardener who could golf"- Anonymous
Wiebe, Bea
July 11, 1939 - April 29, 2013

With profound sadness in our hearts... Through the trembling hands and voices... Through the downpour of tears... We ask all who knew Bea, and loved and cherished her, as we have, to be strong in this dark time. To take comfort in having been blessed with having seen her smile and felt her warmth and kindness, and know in our hearts she would want us not to mourn, but to celebrate her life, and to be grateful for our moments with our beloved angel. We will miss her dearly every day, and always carry with us the void in our beings. We thank you for having graced our lives and though you have been taken from us, our love for you can never be taken away. Please join us for a celebration of life, Friday, May 10, 2013 at The Royal Canadian Legion Drumheller from 3:00 p.m. - 5:30 p.m.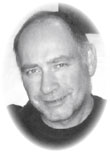 JOHNSON, Wesley C.
January 5, 1961 - April 23, 2013

Wesley C. Johnson – Wes was born January 5, 1961 in Medicine Hat, Alberta. Wesley was predeceased by his parents Herb & Gloria Johnson. He leaves behind, his two sons, Jerad and Jason, his brothers, Darwin (Kate), Kevin (Cindy), his nephews, Barry (Sarah), Bradley, Jesse, Lucas and great nephews, Aedyn and Tristyn, also his Aunt Betty and Uncle Corney, many cousins, and many good friends. Wesley joined the Armed Forces, serving his country with honour and pride. After leaving the Armed Forces, he settled back in Drumheller and began his career at the Drumheller Penitentiary. It was there that Wes received many awards for his excellent marksmanship. Wes enjoyed life to the fullest each and every day, especially when he was hunting, or on the shooting range. The family would like to thank all of Wes's friends for their support and kindness during Wes's time of need. Also the Tom Baker Cancer Centre (Calgary) for their kindness and continuous efforts to keep Wes comfortable. A memorial service will be held at 11:00 A.M. on Wednesday May 1, 2013 at the Church of the Nazarene with Pastor Glenn Reeder officiating. Interment to follow at the Drumheller Cemetery. In lieu of flowers, donations may be made to the Alberta Cancer Society, 1331-29th Street N.W., Calgary, Alberta, T2N 4N2 and S.P.C.A. (Animal Rescue) 10806 124 Street N.W., Edmonton, Alberta, T5M 9Z9. Courtney-Winter's Funeral Home are in care of the arrangements.