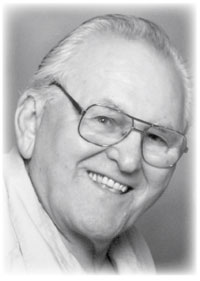 MORELLI, Rio Giacomo
August 23, 1934 - July 30, 2015
Rio Giacomo Morelli passed away suddenly but peacefully on July 30th, 2015. Rio was a Master Electrician, owning M&M Electric for 25 years until he passed it on to his son Shane. This was the last of many jobs, including taxi driver, oilfield worker and a brief stint as a miner. He was very much a family man, being married to his darling sweetheart, Linda, for 45 years and always bragging about his two children, April and Shane. Rio was a proud Grampa to Tyler, when he found out he was going to be a Grampa he was ecstatic and spread the news all over town. He loved his visits from Tyler. Rio was always joking around with a great sense of sarcastic humour and loved talking to people, especially about his faith as one of Jehovah's Witnesses. He took delight in a lot of things, for example, his appreciation for Italian bread – he was always on the ultimate quest to find the best loaf. He could be found frequently at the local McDonalds, drinking his favorite coffee and hanging out with the coffee gang, including his good friends, Richard Wheeler and Walter Albrecht. Rio loved going to Phoenix in the Winter to spend time with his beloved brother Erc and Erc's significant other Connie in the condo generously provided by Vince and Holly. Rio enjoyed his business partnership with longtime friend Lloyd Bodemer, owning a rental property and storage business with him which kept Rio hopping. He also enjoyed watching sports on TV, especially football which he excelled at during his youth – trying out for the Calgary Stampeders – and was proud of his nephew Tony for his football prowess. Rio is survived by his wife Linda, son Shane (Kim), daughter April, grandson Tyler, brother Erc (Connie) and sister Rita, as well as numerous nephews and nieces. A memorial service will be held at the Drumheller Kingdom Hall of Jehovah's Witnesses (207-17th Street NW) on Sunday, August 9th, 2015 at 2:00 p.m. and a meal after at the Badlands Community Facility. All are welcome to attend. His hope for the future can be found in the scriptures at Job 14:15 and Revelation 21:4. We look forward to seeing him again.