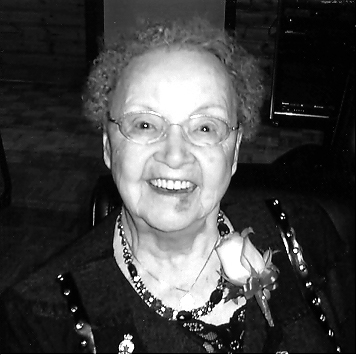 TOWNSEND
Doris Lilian
March 18, 1911
~ May 18, 2016
It is with heavy hearts that her family announce the passing of Doris Townsend on May 18, 2016. Doris had celebrated her 105th birthday on March 18, 2016.
Doris was born in Hetton le-Hole Durham, England on March 18, 1911. She emmigrated to Canada in 1928 at the age of 17, settling in Drumheller until her passing.
Doris was predeceased by two Husbands, John Culshaw in 1959, Art Townsend in 1994, one grandson, Kim Nytchay in 2012 and six siblings. She is survived by her children, Doreen (Bill) Nytchay, Ron (Linda) Culshaw, Keith (Joyce) Culshaw, 5 grandchildren, 11 great grandchildren, 7 great great grandchildren .
A Celebration of Life will be held on Tuesday, May 24th, 2016 at 2:00 P.M. at ST. MAGLOIRE'S ANGLICAN CHURCH, interment to follow at the Drumheller Cemetery. Courtney-Winter's Funeral Homes are in care of the arrangements.