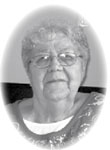 LANGFORD, Patricia Helen
October 23, 1924 - April 21, 2013

Patricia Helen Langford passed away peacefully, surrounded by family, on Sunday, April 21, 2013 at the age of 88. She will be mourned by her children Barb, Marilyn and Alan (Michelle). Pat is also survived by four grandchildren, Melissa (Jordan), David (Rachel), Christopher (Loni) and Jordan Nicole as well as great-grandson Tate. She was predeceased by her first husband, Herman Kuysters, and second husband, Leonard. Pat was also predeceased by siblings Wilf (Marie), Ed, Richard, Mildred (Toby) and Tom, nephew Peter, and by daughter Hermine. She is survived by sisters-in-law Virginia, Ruby and Lenore Rosgen and Liz Sandbeck, as well as many nieces and nephews. Pat's family wishes to extend a special thank you to Dr. Olfert and staff at Continuing Care for the care given to mom for the past fifteen years. Relatives and friends are invited to Prayer Vigil at Courtney-Winter's Funeral Chapel on Friday, April 26 at 7:30 P.M. Funeral mass will be held in Drumheller on Saturday, April 27 at 11:00 A.M. at St. Anthony's Church. In Pat's memory, memorial donations can be made to Continuing Care at Drumheller Area Health Foundation , 351 - 9th Street SW, Drumheller AB T0J 0Y1.