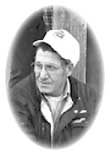 HUNTER, Ronald Campbell (Chief)

January 14, 1938 - July 27, 2014
It is with sadness that we announce the passing of Ron C. Hunter on July 27, 2014 at the Drumheller Health Centre with his family by his side. Ron was born on January 14, 1938 to John & Grace Hunter in Drumheller, Alberta. Ron was a twin and one of 10 children. He grew up in the rural Delia/Michichi area. Life on the Hunter farm was busy with numerous chores, there was even time for Ron and his brothers to sing in their quartet at various country functions. Ron took his schooling at the Sunbeam School, a one room school house north of Delia. Upon completion of school, Ron had many varied jobs, before settling in his career at the tire shop. In May of 1959, Ron married Shirley Wilson. To this union, there were six children born, Jordan, Darcy, James, Darwin, Kyle, and Twyla. Ron had a special and well thought out nickname for each and every one of his children, in fact Ron had a nickname for many people that he knew well. Ron and Shirley raised their children in their home in Nacmine, where they still reside. Ron loved his wife, his children and his grandchildren, he enjoyed bowling, playing ball with "The Fountain Tire Fossils", playing hockey, maintaining his yard, watching his sports on T.V., and music. Over his life, he enjoyed being involved in many community activities such as being a counsellor for I.D. #7, and a volunteer firefighter. Ron worked hard in life, he ran his business with precision, professionalism, and pride. Ron finished up his working career as a funeral director at Courtney-Winters Funeral Home, then from his home he ran R.S. Memorials. Ron will be sadly missed by his wife, Shirley, sons, Jordan (Michelle), Darcy (Marcie, Matthew, Jeffrey, and Colin), James (Paul), Darwin (Delaney & Fynlee), Kyle (Andrea, Rowan), daughter, Twyla (Dave, Kobe & McKenna), 2 sisters, 3 brothers, numerous nieces, nephews and a lifetime of friends. A private family graveside service will be held Friday. The family wishes to invite everyone to the Nacmine Hall, Friday, August 1, 2014 at 12:00 p.m. to share stories, memories of Ron and a light lunch. In lieu of flowers, memorial donations may be made in memory of Ron to the Alberta Lung Association / C.O.P.D. or the charity of one's choice. Courtney-Winters Funeral Home are in care of the arrangements.