Obituaries

Wallace, Edna May
July 2, 1918 - March 24, 2013

Edna May Wallace passed away in Red Deer on Sunday, March 24, 2013. She is survived by her three children; one daughter Donna Morrison Windrum (Stewart) of Red Deer, and two sons, Jim and Bea Wallace of Parksville and Bruce and Marilyn Wallace of Olds. Edna was predeceased by her loving husband Donald in 1995. Edna was born in Calgary, Alberta on July 2, 1918. Edna and Donald were married in Medicine Hat in 1941 and resided on the family farm in the Bowell district until moving to High River 1944. In 1947, they moved to the Delia district where they farmed until their retirement to Nanton in 1974. They moved to Olds in February of 1995. In 2011, she moved to Red Deer, and was living in Symphony Senior Living, Aspen Ridge. Edna found joy in life and her large community of friends and family. Survived by her eleven grandchildren: Brent (Janie), Scott (Lorraine), Dean (Lana), Cheryl (James), Marcia (Greg), Tana (Bruce), Christopher (Erin), Jeremy (Nicole), Jason (Genevieve), Catharine (Chris), and Robert. She is also survived by her sixteen great-grandchildren: Emily, Cole, Dylan, Zachary, Bailey, Kelsey, Mitchell, Camryn, Madelyn, Brynn, Ethan, Sydney, Britney, Matthew, Phinley, and Emersyn. Edna is survived by her sister Frances Ferguson of Calgary. Her numerous nieces and nephews were also dearly loved. She was predeceased by her parents, Roy and Winifred Snider, and two sisters, Katherine Habberfield of Strathmore and Dorothy Robertson of Calgary. A memorial service will be held on Thursday, March 28, 2013 at 2:00 PM at the Sunnybrook United Church at 12 Stanton Street, Red Deer. Rev. Linda Ervin will be officiating. Cremation has taken place, and a private family interment service will be held in Nanton, Alberta at a future date. If desired, memorial tributes may be made to the charity of the donor's choice. Condolences may be sent or viewed at www.parklandfuneralhome.com. Arrangements in care of Gordon R. Mathers, Funeral Director at Parkland Funeral Home and Crematorium, 6287 – 67 A Street (Taylor Drive), Red Deer. 403.340.4040

Montpetit, Carol
July 5, 1944 - March 23, 2013

It is with great sadness we announce the passing of Carol Montpetit. Carol passed away peacefully surrounded by her family March 23, 2013. Carol was born in Drumheller, AB on July 5, 1944 and lived almost her entire life in the valley. Carol was a committed mother who settled into a rewarding career, and retired from the Drumheller Institution. In retirement Carol volunteered with many community organizations with a special love for organizations devoted to animals. Carol was an amazing wife, devoted mother, grandmother, and great-grandmother. Carol enjoyed bringing family and friends together to enjoy special occasions and created lifelong memories for many. Carol was predeceased by; her loving husband Gil Montpetit, her granddaughter Erin Pennington and her parents Billy and Alverna Briggs. Carol leaves behind her sister Beverley McArthur, her precious daughters Colleen (David) Pennington, Maureen (Thomas) Behl, and grandchildren Mitchell Pennington, Jessica (Rory) Mills, Amelia (Stephen) Wilson, Stephan Behl, Monica Behl, and great grandchildren: Elise, Aislyn, Alexander and Ronan Wilson, and Finn Mills. Carol is also survived by; Gil's family Roxane (Keith) and Colter Russell, Yvette (Barry), Dee-Harvey, Jackie (Ed), Joshua and Brandon Caswell, Lance (Elaine), Carlie and Dayna Montpetit, and Michele (Danny), Quinn and Jobi Lucas.
Death is nothing at all. It does not count. I have only slipped away into the next room. Nothing has happened. Everything remains exactly as it was. I am I, and you are you, and the old life that we lived so fondly together is untouched, unchanged. Whatever we were to each other, that we are still. Call me by my old familiar name. Speak to me in the easy way which you always used. Put no difference into your tone. Wear no forced air of solemnity or sorrow. Laugh as we always laughed at the little jokes that we enjoyed together. Play, smile, think of me, pray for me. Let my name be ever the household word that it always was. Let it be spoken without an effort, without the ghost of a shadow upon it. Life means all that it ever meant. It is the same as it ever was. There is absolute and unbroken continuity. What is this death but an negligible accident? Why should I be out of mind because I am out of sight? I am but waiting for you, for an interval, somewhere very near, just around the corner. All is well.
At Carol's request there will be no service. In lieu of flowers, donations can be made to the Drumheller Humane Society, Box 1474, Drumheller, AB T0J 0Y0 or Drumheller Area Health Foundation 351-9th Street NW Drumheller, AB T0J 0Y1 (Continuing Care Recreational Therapy).
Courtney-winters Funeral Home entrusted with arrangements (403 823 2666).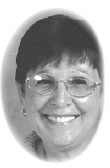 VERMETTE, Jolayne Alice
January 28, 1948 - March 23, 2013

Jolayne Alice Vermette of Drumheller, beloved wife of Raymond Vermette, passed away, after a lengthy illness on March 23, 2013 at the age of 65 years. Vermette Jolayne Dolphin was born January 28, 1948 and passed away March 23, 2013, after a courageous battle with cancer. Jolayne passed away peacefully and is now with the Lord. Jolayne is survived by; her loving husband Raymond, son Rod Vermette and Shane Vermette as well as granddaughter Danielle, sisters Wendy and Shelly. She was predeceased by; her parents Richard and Selma Dolphin of Drumheller. A Memorial Service was held March 26, 2013 at 2:00 P.M. at Courtney-Winters Funeral Home, Drumheller, AB, with Father Mario Basque officiating. Jolayne will be missed by her family and forever in our hearts. Courtney-Winters Funeral Home entrusted with arrangements (403 823 2666).
Cancer Is So Limited
It cannot…cripple love
It cannot…shatter hope
It cannot…corrode faith
It cannot…destroy peace
It cannot…kill friendship
It cannot…suppress memories
It cannot…silence courage
It cannot…invade the soul
It cannot…steal eternal life
It cannot…conquer the spirit.