Obituaries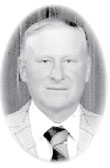 Buchta, John Andrew

John peacefully passed away with family at his side on February 10, 2013. John is survived by; four cousins: Irene, Millie, Anne and Molly. He was predeceased by; his father, George in 2003, his mother Mary in 1985, and his older brother Martin in 1987. John was born in Drumheller, Alberta. He was actively involved in promoting the Progressive Conservative Party and attending numerous political events. John enjoyed travelling through Europe bringing back many memories to share with family and friends alike. John attended Olds College where he successfully completed the Heavy Duty Mechanic program, as well as obtaining a degree in Agricultural Studies. John put his skills to use on the family farm where he was born and resided at. John's passion of cattle resulted in him acquiring 25 head which he lovingly referred to as his kids. John's strong work ethics demanded numerous hours to work the farm which he accomplished throughout his life, however in his personal time he enjoyed being in the presence of good company and always seemed to be smiling. John was a very polite and kind individual, whom if you were lucky enough to have him as a friend, you were truly blessed. A Funeral Service will be held at 12:00 P.M., on Friday, February 15, 2013, at Knox United Church, Drumheller, Alberta, with Reverend Jan Richardson officiating. A private viewing will be held from 11:00 A.M. - 11:50 A.M. The family has requested in lieu of flowers, donations in John's memory may be made to the Heart & Stroke Foundation of Alberta & N.W.T. Room 124, Professional Building 430-6 Avenue S.E. Medicine Hat, Alberta T1A 2S8. Courtney-Winters Funeral Home entrusted with arrangements (403-823-2666).

KENDRICK, Jean Marie
1927-2013

Jean Marie Kendrick of Calgary, Alberta, passed away at the Rockyview General Hospital on February, 8, 2013 at the age of 86 years. Jean is survived by; her three children Sharon (Ken) Bertsch, John (Marlene) Kendrick, Allan (Glenda) Kendrick, along with eight grandchildren and eight great grandchildren. A Funeral Service will be held at 2:00 P.M., on Saturday, February, 16, 2013, at Courtney-Winters Funeral Home, 199-2nd Street West, Drumheller, Alberta, with Jerry Beskowine officiating. Courtney-Winters Funeral Home entrusted with arrangements (403 823 2666).

WOOD, George Gerald
July 6, 1934 - February 4, 2013

George Gerald Wood born July 6, 1934 passed away February 4, 2013 at the Drumheller Continuing Care Centre, at the age of 78 years. George was born at 10-12-08 W2 Corning, Saskatchewan to the late Charles and Anna Belle Wood. After the passing of his mother, George moved to Lenore, Manitoba where he was raised by his Aunt and Uncle. George is survived by his sister Margaret; brothers: Charles C. (Jean) and Angus. He is also survived by several nieces and nephews. He was predeceased by his parents and sisters Anna and Bernice as well as half brothers and sisters. At his request no Funeral Service will be held. To forward condolences, please visit our website: www.mountainviewmemorial.ca. Arrangements entrusted to Mountain View Memorial Gardens, Funeral Home and Crematorium, Calgary, AB Tel: (403) 272-5555.