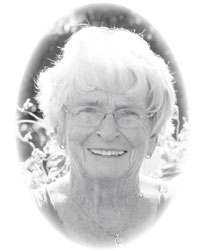 MONTGOMERY, Patricia Elaine
December 24, 1937 - December 29, 2015
Patricia Montgomery passed away on Tuesday, December 29, 2015 at the Drumheller Health Centre. Pat was born in Gunnedah, NSW,
Australia and trained to be a registered nurse and midwife. She arrived in Canada as part of her travels around the world and
accepted a nursing position in Drumheller. Shortly thereafter she met Stephen Montgomery at a St. Patrick's Day dance in 1965. After their marriage one year later in Gunnedah, Pat and Steve returned to Morrin where they farmed and were active members of the Sunbeam community. Pat worked in various nursing roles in Drumheller until she retired. Patricia was a recipient of the Heart of Gold award which was a celebration of community spirit, for her work in the Drumheller community. She was a passionate gardener who enjoyed reading seed catalogues and planning her garden in the winter months. She was a fantastic cook, talented knitter and crotcheter, and could operate most pieces of farm equipment. On many days, Pat worked a full shift at the hospital and another 6-8 hours out in the fields on the same day. Pat was predeceased by her husband, parents (Keith and 'Nell' Grosser) and sister, Margaret. Left to mourn are her siblings Judy Byrnes and John "Tim", daughters Judy (Mark Ward), Sara (Robert Lessard), and Kylie (Jason Bouvier), and grandchildren (Eliza, Holleigh, Cole, Jacklyn and Reid). Patricia had a wonderful sense of humour, a twinkle in her eyes and a passionate drive to care for those she loved. She will be deeply missed by all family and friends. A funeral mass will be held at St Anthony's Roman Catholic Church in Drumheller on January 9, 2016 at 11:00 am. Memorial donations may be made to the Salvation Army. Courtney-Winter's Funeral Homes are in care of the arrangements.