Obituaries

MACGREGOR, Paula Jacqueline (Jackie)
July 2, 1938 - September 6, 2014
Paula Jacqueline MacGregor (Calkin) passed away Saturday, September 6, 2014, in Drumheller General Hospital in Drumheller, Alberta after a brief illness. She was born in Nova Scotia where she was raised and educated before moving to Drumheller 36 years ago. Jackie was the loving daughter of the late Arthur and Myrtle (Peggy) Calkin of Kentville, Nova Scotia. She is survived by her loving friend and companion, Roger Eccleston, her sister Jill Guimond of Westborough, MA, brother in law James Guimond of Westborough, MA, nephew James Arthur Guimond, Stuttgart, Germany, niece Jacqui Lynn Guimond Strong, Las Vegas, Nevada, her namesake, and several cousins in Nova Scotia. She is also survived by the family of Roger Eccleston; David Eccleston and Glory Eccleston of Drumheller, Marilyn Worman and David Worman of Fort Saskatchewan, Alberta, and Roger's three nieces and their families. Jackie was a Registered Nurse. From the time she was three years old, it was her lifelong dream to be a nurse. She graduated from the Grace Maternity Hospital nursing program in Halifax, Nova Scotia and then entered the School of Nursing in Windsor, N.S. where she earned her nursing degree with honors. In addition, she completed postgraduate courses in obstetrics at the Boston Lying In and in OR studies at the Royal Victoria Hospital in Montreal, Canada. Labor and delivery remained her favorite focus in nursing. Jackie's work in the delivery of many babies ranged from her hometown hospital in Kentville, N.S., to Halifax, N.S. to Charlottetown, P.E.I. and to Boston's Lying In. She won the hearts of many doctors and patients through her expert care and attention to detail in obstetrics. Her patients loved her. Jackie worked in the Drumheller Hospital as a surgical nurse and in the emergency room. In Cereal she pursued her second favorite area of nursing in geriatrics. She had been retired for some years. Jackie was very musical. She had taken piano lessons from the age of five and had a natural talent for playing melodies, hymns and classical pieces by ear. Jackie was a loyal friend. She leaves behind many friends who loved her sense of humor and her loving ways. She was a faithful worshiper at the Elim Pentecostal Tabernacle in Drumheller and was most appreciative of her close association with the church's faith community. Funeral services were held Monday, September 15, 2014 at the Elim Pentecostal Church in Drumheller, AB with Pastor Dan Dannhauer officiating. Interment followed in the Drumheller Cemetery Columbarium. Donations in lieu of flowers can be made to the Elim Pentecostal Tabernacle, Box 1228, Drumheller, AB. Please add the notation: Memorial for Jackie MacGregor.
DE BERNARDO, Marie Angela
FEBRUARY 4, 1923 – AUGUST 29, 2014
Marie passed away in Kamloops, BC at the age of 91. Marie lived most of her life in Drumheller, moving to Kamloops in 1996 when the love of her life, Herman passed away. Marie spent many years working as a waitress at the Corner Café and the Diana Lunch. Herman and Marie could be seen on the dance floor at the Elk's Hall Saturday nights. Marie's favorite pastime was playing the horse races and many a trip was made to the track in Calgary. Despite being legally blind she had a positive outlook on life. She was elated in February when we became a five generation family. Marie was predeceased by her parents, Roger and Denise Ragon, her husband Herman and brother-in-law George Wakaruk. Marie is survived by her daughter Angie (Bill), granddaughter Melody (Spike), great grandchildren Vanessa (Kelly), Kamen, VeraRay, Katie, great great grandchild Kinsley, brother Nestor Ragon (Gwen), sister Martha Wakaruk, several relatives and good friends. Marie requests no funeral but her ashes will be returned to Drumheller, the place she loved. Memorial donations to the CNIB or the humane society in Drumheller.

GONE BUT NOT FORGOTTEN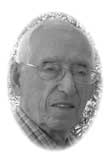 ARCHIBALD, Ernest
December 22, 1921 - August 31, 2014
Ernest Archibald passed away on Sunday, August 31, 2014 at the age of 92. He is survived by daughters April(Jerry) Zacharuk, Karen Fouquette, Lois(Ross) Frisken, sons Morris(Jodi) Archibald & Roy(Ann) Archibald. He is also survived by 11 grandchildren, 16 great grandchildren and 1 great great granddaughter. Ernie was predeceased by his wife Myrtle & son in law George Fouquette. Ernie was born at home on the farm near Birch Hills, Saskatchewan on December 22, 1921. In 1941 he joined the RCAF and in the summer of 1943 he was sent overseas as a bomb-aimer flying in Lancaster bombers. He returned safely after one tour of duty.
Ernie & Myrtle married in 1949 and lived for 7 years on the farm at Birch Hills. They then spent 12 years in Prince Albert and 14 years in Drumheller where Ernie was employed with the Canadian Penitentiary Service before retiring in Innisfail in 1981. Ernie was a family man who enjoyed woodworking, curling & camping in the mountains. Ernie will forever be missed. Donations in his honour can be made to Rosefield Care Center where his wife Myrtle was so lovingly cared for. In lieu of a service Dad's wish was for a family camping trip to be held in the summer of 2015 to spread both of their ashes.