Obituaries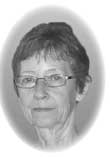 Boutin, Beverley Ann
June 7, 1948 – April 30, 2014
Bev passed away peacefully, surrounded by her family, at the Drumheller Hospital on Wednesday, April 30, 2014 at the age of 65 years after being in continuing care for 2 ½ years. She will be lovingly remembered by her husband, Lou; her children, Roger (Lydia) and Melanie (Merlin); grandchildren, Misha, Keaton and Breanna; mother, Helen Crawford; and sister, Brenda Decksheimer; and many nieces and nephews. Bev was predeceased by her father, Allan Crawford. Bev enjoyed her famiy and having a houseful of company. She was a kind, generous, fun-loving person. A Prayer Service was held at St. Anthony's Catholic Church, Drumheller, AB on Tuesday, May 6, 2014. A Memorial Mass will be held at St. Anthony's Catholic Church, 151 – 3 Street West, Drumheller, AB on Wednesday, May 7, 2014 at 11:00 am. In lieu of flowers, donations may be made in Bev's memory to Canadian Red Cross Society, PO Box 4050, Stn "C", Calgary, AB, T2T 5W7. Bev's family wish to extend heartfelt thanks to Doctors and Staff at Drumheller Hospital; special thanks to Staff at continuing care. Messages of condolence may be left for the family at www.myalternatives.ca.

Greig, (Herman, Schafer) Elsie
October. 17, 1917 - Apr. 27, 2014
Mom was born on October 17, 1917 to Lorenz & Elizabeth Schafer. Her mother died when she was 7 years old and her dad died when she was 17. Third youngest of 8 children, living on a farm near Delia was difficult, with only a father, no money, and a 16 year old sister to raise the family. Mom met & married Dad, Fritz Herman, in 1939. To this union 4 children were born. Audrey (Bob) Nelson, Harvey, Pat Chapman, Glenda (Harold) Macdonald. Mom was blessed with 8 grandchildren, 21 great grandchildren, and 14 great great grandchildren. Mom was predeceased by Dad in 1975. Mom remarried Bob Greig who passed away in 2004. Mom is survived by one sister, Frieda Ruff, at Campbell River on Vancouver Island and was predeceased by 3 brothers and 3 sisters.
Mom made her home in Trochu at Trochu Valley Manor, before moving to St. Mary's Lodge where she spent her last several years. Because of declining health she spent a short time in Three Hills Hospital, and then relocated to Rosefield Centre in Innisfail, where she passed away peacefully on April 27, 2014.

Slemko, Mary
May 15, 1923 - April 27, 2014
Mary was born in Hampton, Saskatchewan and came to the Hussar area in 1940 where she met Mike Slemko. They were married on January 13, 1941 and have always felt fortunate to call Hussar their home. Mary is survived by her husband, Mike, (of 73 years); daughter Geraldine Clark of Penticton, B.C. and son Bill (Kay) Slemko of Hussar; brother Peter Ostafichuk of Canora, Saskatchewan, sister Stella (Earl) Olver of Ninette, Manitoba and sister-in-law Mary Armstrong of Calgary. She will be sadly missed by her grandchildren Stacy Clark of Winnipeg, Trevor (Dorothy) Clark of Langley, B.C., Heather Lyons of Calgary, and Kevin (Barb) Slemko of Hussar. Mary will be fondly remembered by her great-grandchildren: Meredith Clark, Hannah and Justin Lyons, and Erin and Jason Slemko. Mary enjoyed may years on the farm. Whether on the combine or bringing delicious meals out to the field, she was never to busy for family and friends. She will be remembered for her love of gardening and her passion for baking - having made some of the finest buns and doughnuts in the area. She was very active member of the Hussar community. Her presence will be missed by her many friends and relatives; too numerous to mention. Funeral services will be held at Our Saviour's Lutheran Church, Hussar, AB on Friday, May 16, 2014 at 2 p.m. Interment at the Hussar Cemetery. In lieu of flowers, donations can be made to the Hussar Cemetery Fund or the Hussar Community Hall, c/o Village of Hussar, PO Box 100, Hussar, AB T0J 1S0.