Obituaries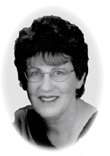 MILGATE, Twila Gwenne
January 16, 1948 - January 12, 2014

Twila Gwenne Milgate (age 65) passed away January 12th, 2014 at the Red Deer Regional Hospital, peacefully holding hands with Ken, her husband of 46 years. She is now enjoying her physical freedom at home with her Heavenly Father. Twila was born January 16th, 1948 in Drumheller, Alberta to parents Walter and Joy Bertsch. She spent her early years on the family farm and went to school in Calgary, completing her education with the Canadian Nazarene College in Winnipeg in 1964. Following this, she worked as a bank teller for Alberta Treasury Branch in Calgary and met Ken in August 1966. They were engaged in November of that same year and married March 23, 1967.
Twila is survived by her daughter Colleen (Devin), son Kent (Carrie), son Alan (Marcia), nine grandchildren Dustin, Colbin (Jenna), Kellin, Tiara (Damien), Bryton, Talon, Drew, Trey, Charlize, her mother Joy, brother Daryl (Debbie), mother-in-law Evelyn and brother-in-law Ron (Joyce). She was predeceased by her father Walter and father-in-law Gordon. A Memorial Service will be held Monday, January 20th, 2014 at 1:00pm at Livingstones Church, 2020 40th Avenue, Red Deer, Alberta, with luncheon immediately following. A visitation for immediate family only will also be held at the Church at 10:30am, with a private internment at 11:30. In lieu of flowers, donations can be made to the Canadian Diabetes Association, #6, 5015 – 48 Street, Red Deer, AB, T4N 1S9. Messages of condolence may be left for the family at www.myalternatives.ca.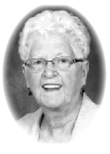 RASMUSSEN, Gerda Margaret
December 6, 1924 – December 30, 2013

It is with sadness that we announce the passing of Gerda Rasmussen on Monday, December 30, 2013 at her home. Gerda will be sadly missed by her four children, Sarah-Beth, Bruce, Judy (Gord) Walker, and Janet (Bernard) Reimer. Gerda will also be mourned by her five grandchildren, Jeffrey (Michelle), Christopher, Maren (Chris), Alec, and Anna; as well as her two great-grandchildren, Kara and Andrew Walker. She was predeceased by her husband Folmer Rasmussen on November 6, 2009. Memorial Services were held at Hope Lutheran Church (3527 Boulton Road N.W., Calgary, AB) on Saturday, January 4, 2014 at 11:00 a.m. Graveside Service was held in Dalum at Bethlehem Lutheran Church Cemetery, on Saturday January 4, 2014 at 3:00 p.m. Condolences may be forwarded through www.mcinnisandholloway.com. If friends so desire, memorial tributes may be made directly to Hope Lutheran Church, 3527 Boulton Road N.W., Calgary, AB T2L 1M5, Telephone: 403-282-6033 or Bethlehem Lutheran Church, P.O. Box 44, Drumheller, AB T0J 0Y0, Telephone: 403-823-7010. In living memory of Gerda Rasmussen, a tree will be planted at Fish Creek Provincial Park by: McINNIS & HOLLOWAY FUNERAL HOMES, Chapel of the Bells, 2720 CENTRE STREET NORTH, CALGARY, AB T2E 2V6, Telephone: 1-800-661-1599.

KUCHER, Kenneth Michael
February 8, 1962 - December 31, 2013

It is with great sadness that we announce the passing of Ken Kucher of Seattle, WA, formerly of Drumheller, AB on 31 December 2013 from complications related to liver disease. Ken was born in Vilna, AB to Kate and Alex Kucher and moved at age 11 to Kelowna, BC. At Spring Valley High School he developed a group of friends that he would have and cherish for the rest of his life. He then worked in Calgary as a cartographer and later moved to Drumheller where he became a founding employee of the Royal Tyrrell Museum, helping to build its first exhibits. He spent 18 years there as a Palaeontological Technician, a career he loved with co-workers he enjoyed. Ken was widely known for his skill as a top preparator and field technician, expertly collecting specimens and training a generation of young palaeontologists in fieldwork. All while having a lot of fun. He was very proud to have been selected to represent the museum at an exhibition in Japan. He was also a staff member of the Tyrrell's Field Experience Program at Dinosaur Provincial Park where he met his wife, Gretchen. In 2001, Ken moved to Seattle and in 2002 he and Gretchen were married. Over the course of the next decade, Ken was a contractor with his own business, Reprodactyl, Inc. and did some of his most favourite projects, among them a Supersaurus in Bynum, MT, the Blue Whale Project with Palcoprep in Drumheller and working for the American Museum of Natural History on a travelling exhibition. He loved cooking and entertaining, travelling around the deserts of the southwest and being a proud Canadian living abroad. Ken was well known for his wry sense of humour, practical jokes and all around levity. Despite his illness, he never lost that sense of living for the moment and enjoying it. Those who know him will miss him dearly. Ken is survived by his wife, Gretchen, and his cat, Weasel. He is also survived by his mother, Kate Kucher, brothers Ron (Judy) and Allan (Donna) and sister-in-law, Kris, along with nieces, nephews, grand nieces and nephews and mother-in-law, Susan Marks. He was predeceased by his father, Alex; sister, Pat; brother, Doug; and father-in-law, Albert Marks. A funeral service will be held on Wednesday, 8th January at noon at Washelli Funeral Home in Seattle, WA. In lieu of flowers, donations will be gratefully accepted by the Royal Tyrrell Museum Cooperating Society in Drumheller, Alberta or your charity of choice. To send condolences online, please send to This email address is being protected from spambots. You need JavaScript enabled to view it. .