Obituaries
DE BERNARDO, Marie Angela
FEBRUARY 4, 1923 – AUGUST 29, 2014
Marie passed away in Kamloops, BC at the age of 91. Marie lived most of her life in Drumheller, moving to Kamloops in 1996 when the love of her life, Herman passed away. Marie spent many years working as a waitress at the Corner Café and the Diana Lunch. Herman and Marie could be seen on the dance floor at the Elk's Hall Saturday nights. Marie's favorite pastime was playing the horse races and many a trip was made to the track in Calgary. Despite being legally blind she had a positive outlook on life. She was elated in February when we became a five generation family. Marie was predeceased by her parents, Roger and Denise Ragon, her husband Herman and brother-in-law George Wakaruk. Marie is survived by her daughter Angie (Bill), granddaughter Melody (Spike), great grandchildren Vanessa (Kelly), Kamen, VeraRay, Katie, great great grandchild Kinsley, brother Nestor Ragon (Gwen), sister Martha Wakaruk, several relatives and good friends. Marie requests no funeral but her ashes will be returned to Drumheller, the place she loved. Memorial donations to the CNIB or the humane society in Drumheller.

GONE BUT NOT FORGOTTEN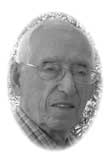 ARCHIBALD, Ernest
December 22, 1921 - August 31, 2014
Ernest Archibald passed away on Sunday, August 31, 2014 at the age of 92. He is survived by daughters April(Jerry) Zacharuk, Karen Fouquette, Lois(Ross) Frisken, sons Morris(Jodi) Archibald & Roy(Ann) Archibald. He is also survived by 11 grandchildren, 16 great grandchildren and 1 great great granddaughter. Ernie was predeceased by his wife Myrtle & son in law George Fouquette. Ernie was born at home on the farm near Birch Hills, Saskatchewan on December 22, 1921. In 1941 he joined the RCAF and in the summer of 1943 he was sent overseas as a bomb-aimer flying in Lancaster bombers. He returned safely after one tour of duty.
Ernie & Myrtle married in 1949 and lived for 7 years on the farm at Birch Hills. They then spent 12 years in Prince Albert and 14 years in Drumheller where Ernie was employed with the Canadian Penitentiary Service before retiring in Innisfail in 1981. Ernie was a family man who enjoyed woodworking, curling & camping in the mountains. Ernie will forever be missed. Donations in his honour can be made to Rosefield Care Center where his wife Myrtle was so lovingly cared for. In lieu of a service Dad's wish was for a family camping trip to be held in the summer of 2015 to spread both of their ashes.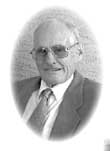 MONTGOMERY, Eugene Royce
December 21, 1931 - August 31, 2014
Mr. Eugene Royce Montgomery was born December 21, 1931 in Drumheller, Alberta. Eugene passed away at the age of 82 years, August 31, 2014 at the Drumheller Hospital with family at his side. Eugene came from a family with six siblings and is predeceased by; his loving wife Marguerite, parents Tom and Emily, siblings: Vance (Clara), Nancy (Jim), June (Gordon), Jimmy (Diana), Stephen, brother-in-law Leonard, nephew Ron and great niece Megan. He is survived by; his sisters Agnes Stoness, sister-in-law Pat Montgomery, 11 nieces and 8 nephews and numerous great nieces and nephews. Eugene led a full life and was liked by all, and cherished by his family. He stayed on the family farm, attending school at Golden Grain, Drumheller High School and Olds School of Agriculture. He was a grain farmer and involved in the cattle industry for many years. He could often be found in his large garden and always enjoyed a good fishing trip. Eugene and Marguerite travelled extensively upon his retirement from farming. Eugene eventually moved to Drumheller residing at Hillview Lodge at the time of his passing. Eugene will be missed by all who knew him, but especially by his family. Our family would like to express their many thanks to the staff at Hillview Lodge and Drumheller Hospital for Eugene's care. If so desired, people may make a donation to the charity of their choice. A Memorial Service will be held at the Morrin Community Hall on Saturday, October 25, 2014 at 2:00 p.m., Morrin, Alberta. Courtney-Winters Funeral Home entrusted with arrangements (403 823 2666).