Obituaries

ROBERTSON Laura May
March 15, 1927 - May 18, 2013

Laura May Robertson passed away at the Drumheller Health Centre on Saturday May 18, 2013 at the age of 86 years with her three sons and family at her side. Laura May Robertson (nee Miller) was the only child of James and Adeline Miller. She was born in Winnipeg, Manitoba at the St. Boniface Hospital on March 15, 1927. She is survived by her three sons, Don Robertson (Sheila), Earl Robertson (Marion), Tom Robertson (Jan), grandchildren, John Robertson (Angele), Laura Armstrong (Chris), Carla Stout (Greg), Julie Robertson, Jennifer Alberts (Trevor), Megan Crawford (Sean), great grandchildren, Sarah Armstrong, Sean Armstrong, Katherine Robertson (Josh), Steven Robertson, David Robertson, Maya Nestoriuk, Casey Robertson, Keaton Crawford, Kai Crawford, and Soraya Crawford. Laura was predeceased by her husband, Walter December 16, 2012, daughter in-law, Elaine December 14, 2007, her mother Adeline 1972, and her father James 1947. Laura and family moved to Toronto, where on her 16th birthday at a Roller Derby rink she met and was smitten by a young 17 year old man, Walter Robertson. Well, on June 30, 1945 they were wed, and moved west to the Village, of Stony Mountain, Manitoba. Laura and Walter were warmly welcomed into their new community, and three sons, Don, Earl, and Tom were born. They quickly became an integral part of the fabric of their surroundings from 1950-1970. Upon which time, Walter received a promotional transfer by correctional Services Canada to the newly completed facility in Drumheller, Alberta as the Assistant Warden Industries. He retired in 1982. Thirty years of wonderful retirement together quickly followed, whereby, they travelled the world. All throughout the years, Laura was always there to raise her boys, and be a sound supportive wife. She enjoyed reading, crosswords, shopping, travelling, her pets, and most of all getting together with her ever growing family. She had a loving way and she was blessed with an infectious laugh which all who knew her enjoyed. She took much joy in her family and home, and dedicated herself to that purpose in her journey, she made and retained many friends and acquaintances which she never forgot. Especially at Christmas time through her cards and letters, Laura passed on with the same resolve as she lived her life; with courage, dignity and serenity. Laura touched many people's lives and will be missed by all who knew her. The family has respected Laura's wishes by having a private family gathering at the Drumheller cemetery, Saturday May 25, 2013. Courtney-Winters Funeral Home in care of arrangements.

LESLIE, Melvin Edgar
January 7, 1952 - May 16, 2013

Melvin Edgar Leslie of Hussar passed away suddenly May 16, 2013 at the age of 61. Born in Lethbridge, raised in Hussar; Mel passed on as a proud Correctional Officer since 1995. Prior to his career with the Correctional Service of Canada he was a Journeyman Instrumentation Technician. His cowboy heart lead him to numerous rodeos where he was always the first to volunteer his time. Over the years you would have found Mel on a ball diamond, hockey rink, curling arenas and always finding a reason (like the day of the week) to host a cowboy campfire serving "Mel Burgers" or chili. Quiet time for Mel was dedicated to his poetry which will always be a part of his legacy. Mel is survived by the love of his life Sherry, daughter Joey (Jeff), son Dallas (Terri), grandson Mason. Sisters: Doreen (Clancy), Merla (Tom), and Terry (Ben). Mel is joined in heaven with his parents Olive and Sam. A Memorial Service will be held at 1:00 p.m., Thursday, May 23, 2013 at Courtney Winters Funeral Home, 199-2nd St. West., Drumheller. Jerry Beskowine, L.W.L. officiating. Flowers are gratefully declined. Those who wish, memorial donations may be made to: Drumheller Humane Society, Box 1474, Drumheller, AB. T0J 0Y0. Courtney Winters Funeral Home entrusted with arrangements.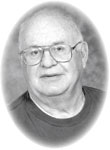 Baxter, Bryan A.
February 7, 1941 - May 10, 2013

"What matters most is the dash between the years." - Linda Ellis

Bryan Allen "Bucky Buckskin" Baxter of Calgary, AB passed away peacefully at the Drumheller Hospital comforted by family and friends. As one of the original employees of Foothills Hospital, Bryan worked there from before the hospital actually opened until he retired in 2011 after 45 years of serving the community and forging many friendships. Bryan was the PROUD grandpa of eight grandchildren; Trevor, Amanda, Melanie, Mackenzie, Ronan, Gavan, Justin and Canyon; father to Todd (Bonnie) Baxter, Glenn (Nicole) Baxter and Laurie (Shayne) Cassidy and brother to Bev (Art) Young, Carol Baxter, Linda (Garth) Bennett and seven wonderful step-sisters. He is reunited in heaven with his beloved wife Hazel Baxter (nee Monkman) and other family members and friends. Our dad lived by his own words, "Find joy in everything you do" and shared that joy without hesitation. A celebration of Bryan's life is open to all his friends and family at Oak Park Church of Christ (11263 Oakfield Drive SW, Calgary) on Saturday, May 18, 2013 at 2:00 pm. Photos, memories and condolences may be shared with Bryan's family through www.evanjstrong.com. In lieu of flowers, please consider a donation to one of the organizations near and dear to Bryan's heart: Canadian Bible Society - Bike for Bibles (www.bike4bibles.ca) or Rosscarrock Church of Christ - Hazel Baxter Memorial Fund (1140-40th Street SW, Calgary, T3C 1W5, www.rosscarrockchurch.ca, (403) 249-5293). Arrangements in care of Evan J. Strong Funeral Services (403) 265-1199.