Obituaries

Chapelski, Emil
November 6, 1944 - November 23, 2013

Emil Chapelski was born on November 6, 1944 in Myrnam, Alberta and raised in Vegreville. By the time he was a teen his father Matt, had passed away and he was the man of the family. Married with a child on the way by the age of 20 (precocious was "one" of the words used to describe him) Emil, accompanied by his wife Wendy hit the road for the bright lights of Toronto and then Vancouver as a banker with the CIBC. Banking was glamorous business for a young prairie man who spoke only Ukrainian until he started elementary school. However, a banking career seemed to consist of curling bonspiels and three martini nicotine fuelled lunches and Emil yearned for more intellectual pursuits. At the age of 30, with 3 kids, a dog, and a mortgage, Wendy went out to earn a living in order to put Emil through law school. Emil graduated as the Gold Medallist of the inaugural class of UVic law school. Emil and Wendy then returned to Alberta to raise their young children close to their extended families and settled in Drumheller in 1979. There, Emil practiced commercial law for almost 20 years before being stricken by a massive stroke likely accelerated by the three martini lunch lifestyle and cigarettes. However, several years before the stroke, Emil became a friend of Bill W's and he had even (finally) quit his 3+ pack a day habit. There were some sweet days for Emil and Wendy during that time period, except of course, for the tragic loss of their youngest child Scott at age 19. The stroke left Emil paralysed on the right side and unable to speak or write. However, with God's grace he could still play a mean game of crib, re-program the clocks for day-light savings time and take immense delight in the arrival of his six grandchildren who loved to play with his cane and scooter. With Wendy's leadership, they travelled, socialised, volunteered and LIVED notwithstanding his immense handicaps. No one was braver or showed more grace than Emil during the last 18 years except his wife Wendy. We lost Mom to cancer last year and Emil's world became quite narrow, especially after falling and breaking his hip. It was just a matter of time before Emil would be freed from his earthly limitations and have the opportunity to join his high school sweetheart again. That occurred on November 23, 2013 in Lloydminster. We learned more about courage and acceptance from Dad after his stroke than we could have ever learned from him before. Emil lost his own father at a young age, suffered through many struggles before finding sobriety, then lost a son to a car accident. Subsequently he lost his speech, his ability to write and finally his mobility. Despite all of those challenges, he did his best to share love, friendship and lots of laughter. We are proud to be his children. Emil is survived by his sister Emily Samoil, brother in law Barry Wilinski, and their respective families, many nieces and nephews and his children Shelley Chapelski (Merle McKenzie) and Mark Chapelski (Sandra). He was "Gido" to his grandchildren Alex and Emily McKenzie and Matthew, Nicolas, Anna and Josh Chapelski. Emil was predeceased by his son Scott and wife Wendy (Wilinski) Chapelski. A Memorial service will be held at 11:00 A.M. on Monday, December 23, at the Knox United Church, 195 3rd Avenue E, Drumheller, AB, with Reverend John Crowdis officiating. In lieu of flowers, donations may be made to Ovarian Cancer Canada, Suite 105B, Edmonton Trail NE, Calgary, AB, T2E 3K8 in memory of Wendy and Emil Chapelski.

HOOVER, Arthur Murray
August 3, 1952 - December 2, 2013

It is with sad hearts that we announce the sudden passing of Art Hoover on December 2, 2013. Arthur Murray Hoover was born August 3, 1952 in Hanna, Alberta. He lived and farmed north of Delia all his life, excluding Grade 12 in Red Deer and 2 years of Engineering at the University of Calgary. Art was a Journeyman Water Well Driller and operated his own Water Well Pump Service. The past few years Art rented out his crop land but continued a cow/calf operation. He was an active member and director of the Alberta Surface Rights Board for 35 years. Rural communities thrive because of volunteers and he tried to do his part by serving on many local boards and committees. Art was very active on the Delia Agricultural Society as a director, treasurer and president. A true believer in the 4-H program, Art was a leader for 30 years, as well as a very proud 4-H parent.
Art leaves to mourn his beloved wife Pat, stepson Marcus (Stacey) of Coleman, AB, daughter Stephanie (Jeff) of Calgary, AB, daughter Melissa of Edmonton, AB, Granddaughters Sloan and Hadley and Faithful dog Emma. Sister, Karen (Geoff) of Lethbridge, AB, brother Stephen (Linda) of Delia, AB, brother Barrie (Janice) of Delia, Aunts and Nieces and Nephews. Pre-deceased by his parents Helen in 2002 and Howard in 2012. A Memorial Service was held on Monday, December 9, 2013 at the Delia Community Hall. Courtney-Winters Funeral Home entrusted with arrangements (403 823 2666).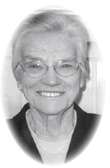 ARVIDSON, Margaret Elizabeth
July 1924 – November 2013

Margaret passed away peacefully on Sunday, 24th November at the Linden Nursing Home at age 89 years. She was predeceased by her beloved husband Oscar of 69 years. She was the second child of Austin and Alma McKibbin and grew up on a farm just south of Three Hills with her siblings: Mabel (Parker), Donald (Shirley) McKibbin and Katherine (Len) Brookwell. Margaret attended school in Three Hills and then earned a certificate in hairdressing at the Marvel Hairdressing School in Calgary in 1941. She owned and operated a hairdressing shop in Trochu and continued to "do hair" throughout her life. She enjoyed going to peoples' homes, having clients at her farm home and especially enjoyed "doing hair" for seniors in the Golden Hills Lodge in Three Hills for many years. She married Oscar Arvidson in 1944 and farmed in the Mount Vernon school district area until they retired and moved into Three Hills after 50 years of farming. She had two sons: Gordon and Wayne. Gordon is married to Judy and has two children, Candace (Jean) Roux and Ryan (Anne) Arvidson. Wayne is married to Donna and has two children, Vincent (Cristina) Arvidson and Heather Arvidson (Chelsea Jennings). Margaret has six dearly beloved grandchildren: Paige and Sydney Roux (Candace), Liam and Jake Arvidson (Ryan) and Cora and Marin Arvidson (Vince). Margaret was a founding and active member of the Ghost Pine Community Group. She was also active in various church activities and Mount Vernon school community activities. She was an avid seamstress and loved knitting, needlework and crocheting. She also enjoyed the activities of Gordon and Wayne as they were growing up, especially baseball, skating and Boy Scouts. Funeral services will be held in Knox United Church in Three Hills at 1 pm on Saturday, 7th December 2013. Kneehill Funeral Services will be handling all arrangements. Remembrance donations may be directed to the Linden Nursing Home.