Obituaries
ETTER, Lucille
December 21, 1922-December 8, 2013

It is with great sadness that the family of Lucille Etter announces her passing on December 8, 2013 after a brief illness. Predeceased by husbands Vic Gogol and Art Etter, she is survived by children Terry Gogol (Linda) and David Gogol (Eileen), grandchildren Andre Gogol (Alyson), Victor, and Brennan, and great-granddaughter Zara. In addition, Lucille is survived by sister Rose Sheichuk and numerous nieces and nephews. She was laid to rest next to Vic in Drumheller Cemetery on December 13. Courtney Winters in charge of arrangements. By family request there was no service at this time, a graveside ceremony to be scheduled at a later date. Lucille, or Lucy as she was fondly called, was a wonderful companion, doting Mother, and proud grandmother. She loved gardening, travelling, music and entertaining friends and family, enjoying a remarkably healthy and active life until her latter years. Mother's kindness, thoughtfulness, generosity and laughter will be forever remembered and sadly missed.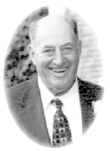 Davie, Alexander Shanks "Sandy"
September 27, 1930 – December 11, 2013
Alexander Shanks Davie (Sandy) passed away at Stettler, Alberta on Wednesday, December 11, 2013 at the age of 83 years. Sandy was born on September 27, 1930 at Kirkshaw's Farm in Coatbridge Scotland Great Britain to John Davie and Margaret Henrie Shanks. Sandy attended Old Monkland Elementary School, then went on to Graduate from Coatbridge High School at the age of 17 years. He then lived and worked on Kirkshaw's Farm which was a 240 acre Dairy farm along with his 3 brothers, 2 sisters and his mother and father. Sandy went to the Old Monkland Parish Presbyterian Church where he was a member of the Youth Club and assisted in running games, plays, tours, and bible studies. In his teenage years, Sandy joined the Monklands Young Farmers Club which brought many new friends which he met at all of the shows and contests. During that time he served as Chairman and was on various committees in which he judged competitions of cattle, horses and agriculture. He also took part in arranging formal dances in which everyone dressed in evening wear including Sandy! He loved to dance and make new friends. Sandy was a member until which time he moved to Canada. Sandy's decision to immigrate to Canada came at the end of WWII when the township where he lived began taking most of the precious farmland for housing. In 1953, Sandy had the opportunity to travel to Canada with purebred Angus cattle and had to stay with the cattle through customs and quarantine and then continued on by rail with the cattle to Alberta Canada where he decided to make his home. Sandy was always a part of the Big Valley Community, participating and contributing wherever he could. He loved to be involved in the betterment and development of his community and was known by all as someone you could really count on. Sandy will be forever loved and remembered by his loving wife Anita, his children Donita (Doug) Shuckburgh of Stettler, Bill (Susanne) Blomquist of Big Valley, Patti Blomquist (Jim McComb) of Stettler and Tami (Ray) Robinson of Big Valley. Thirteen Grandchildren Kevin (Christel) Shuckburgh, Christie (Clint) Greiner, Don (Jen) Blomquist, John (Amy) Blomquist, Nanita Blomquist (Ryan Cook), Cheri (Scott) Treasure, MacKenzie (Kelly) White, Jared (Meggan) McComb, Ryan (Vanessa) McComb, Stephanie McComb, Tyrel (Lisa) Robinson, Travis (Kristy Rae) Robinson and Chad (Cassie) Robinson and 31 great-grandchildren. Sandy is also survived by three brothers John Davie, Little Rock, AR, Gavin Davie of Denny, Scotland and Hugh Davie of Coatbridge, Scotland, many nieces, nephews, other relatives and many very dear friends. Sandy was predeceased by his Parents John and Margaret, sisters Margaret Davie McVicar and Mary Davie and by one brother William Davie. A Memorial Service for the late Sandy Davie will be held at the Big Valley Jubilee Hall on January 24, 2014 at 2:00 P.M. As an expression of sympathy and in loving memory of Sandy, memorial contributions may be made to the Big Valley Ag. Society or to the Big Valley Jubilee Hall in care of Brennen Funeral Home and Cremation Services who have been entrusted with the care and funeral arrangements. 403.742.3315. Condolences can be forwarded to the family be visiting our website at www.brennenfuneralhome.com.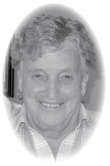 Gales, Elma (Dixie)
May 6, 1932 - December 6, 2013

The family of Dixie Gales is saddened to announce her passing on December 6th, 2013. Dixie was born May 6, 1932 in Steinbach Manitoba, the 6th of 10 children of Aaron and Catherine Reimer. She spent her youth in Crooked Creek, Alberta and moved to the Linden area in 1944. She attended Nursing School and married Weldon Gales in 1953. Dixie spent her life improving the lives of those lucky to have known her. She assisted in delivering countless new babies into the world, worked as a volunteer on the local Ambulance for years, and comforted all those in need with sincere compassion and warmth. Her smile brought assurance that you were safe and in good hands, and her love of family and friends was the cornerstone of every part of her life. Dixie is survived by her sons Jim of Calgary, Derryl (Corinne) of Airdrie, Rick of Calgary, and 1 daughter, Lori-Dawn (Ray) Wildeman of Three Hills. She is also survived by 7 grandchildren, Christopher (Tara), RaeAnne, and Amanda Gales, Nichole Young, Lisa Bottomley, Matthew and Alyssa Wildeman, 4 great grandchildren, as well as numerous nieces, nephews and friends. A Memorial Service for Dixie will be held on Wednesday, December 11, 2013 at 2:00 PM at the Bethel Evangelical Church, 123 - 4th Ave South, Three Hills, Alberta. Memorial donations may be made in Dixie's memory to the Three Hills and District Palliative Society. Condolences may be sent to This email address is being protected from spambots. You need JavaScript enabled to view it.