Obituaries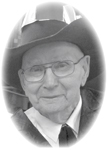 ENGEN, James (Jim) Ernest
April 5, 1928 – January 20, 2014

Jim was born in Drumheller and passed away peacefully in Strathmore on January 20, 2014 with family by his side. He is survived by his sister, Phyllis Kulyk of Calgary, brother, Clarence (Eileen) of Drumheller, 2 daughters, Phyllis (Lyle) Anderson of Drumheller, Connie (Michael) Lonsberry of Sooke, BC, one step-son Ron Mancini of Trochu, and numerous nieces, nephews, grand-children, and great-grand-children. He was predeceased by his wife, Mary (2009). Jim never went anywhere without his cowboy hat and a box of snuff (he called it nerve pills) in his pocket. He will be sadly missed and definitely left a positive, memorable mark everywhere he went. At Jim's request, there will be no funeral or memorial service held. The family would like to thank Dr. Sader for the care he has given to Jim over the past 5 years along with the staff at the Strathmore Hospital, Bow View Manor, and Sagewood Long Term Care. In lieu of flowers, memorial contributions can be made to Sagewood Long Term Care Namaka Lake Unit, 140 Cambridge Glen Drive Strathmore, AB T1P 0E2.Courtney-Winters Funeral Home entrusted with arrangements (403 823 2666).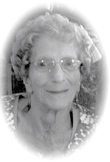 Ries, Simonne
June 13, 1932 - January 20, 2014

Simonne Ries of Drumheller passed away peacefully, on January 20, 2014, at the age of 81 years. Simonne lived her life small in stature but enormous in Heart. She touched everyone around her and will be greatly missed by family and friends. Simonne is survived by her daughter Lynda Dolan of Drumheller, and her son Michael Ries of Halifax, as well as several siblings, nieces, nephews and grand children. There is no service planned at this time. Simonne will be cremated and laid to rest with her husband Lorne in Bellegarde, Saskatchewan later this summer. Courtney-Winters Funeral Home entrusted with arrangements (403 823 2666). 5c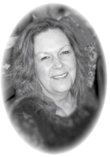 Samel Ludwig, Teri Kay
January 5, 1961 - January 23, 2014

With heavy hearts the family of Teri Kay Samel Ludwig announce her passing after a courageous 2 month battle with cancer at age 53. Teri was born in Uranium City, Saskatchewan on January 5, 1961 and was the first child of William and Georgie Samel. As the mines closed, the family moved back to East Coulee where Teri grew up. She attended the East Coulee School until Grade 6 and then was bussed to Drumheller to complete her school years. Growing up in East Coulee she was a tomboy, playing hockey, ball, football, jumping boxcars and jumping off the East Coulee Bridge into the river. She was an active teen and loved life and adventure. During her high school years she met Joe Conroy of Drumheller and they married. They raised 3 wonderful kids together. Tanya was born in 1979, Jamie in 1981 and Joey in 1983. Although Joe and Teri went their separate ways… they remained friends over the years! Teri moved to Langley, BC and started on a new Journey in her life. She was able to travel and see the beauty of Canada while employed with West Coast Amusements. Although she has been away from this group for years she gained life long friends! Teri moved back to the Valley and worked with her sister Tracy in her businesses. She was always the first to be hired and then fired and rehired. Teri was an amazing bartender and bouncer at their family business in Rosedale, Lonestar Saloon & Gedos, but selling Wedding Gowns at Tracy's Boutique….not so much!! In 1999 she met Rick Ludwig in Stettler and in 2005 they married and made Stettler their home. Their families blended well together. Teri and Rick were always together and they were the biggest supporters of each other. They loved the Pool League and she enjoyed watching him play ball. The friendships they found within the community were very important to her! In 2012 she created the Online Community, Stettler Bidding Wars, and with this she found her passion. She welcomed her members into her home and heart! She will be deeply missed by her husband Rick Ludwig of Stettler, her daughters Tanya Conroy (Dennis), Jamie Conroy (Tom) and son Joey Conroy and her grandchildren Michelle, Georgia, Johnny and Thomas, Rick's children, Tasha and Cerone and their kids Logan and Cheyanne. As well she will be missed by her father Willie Samel, brothers Michael and Willie Samel Jr. and nephew Treighton and her sister Tracy Symowoniuk (Mike). As well, she will be missed by aunts, uncles, cousins and dear friends. Teri leaves us to be with her Mom, Georgie Samel and brother Scott Samel, grandparents John and Margaret Vasko, Uncle Larry Vasko, Uncle Peter Currie and Auntie Sandy Andrews and Grandma and Grandpa Currie. Teri's life was rich with family and friends and she will always be in our hearts!! God speed Teri and see you on the other side! The family would be honored if you would join them in celebrating Teri's life at the Stettler Legion Hall on Saturday, February 1st from 2:00 to 6:00 p.m. Memorial donations may be made to the AB Cancer Foundation at the Red Deer Clinic or a charity of your own choice. Stettler Funeral Home in charge of arrangements.