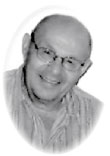 DOKTORCHIK, William "Bill"
December 8, 1928 - December 25, 2012

William "Bill" Doktorchik passed away at home in Fort Worth, Texas on December 25, 2012, at the age of 84 years. Bill was born in Hungary, on December 8, 1928, the only child to Alek and Julia Doktorchik, with whom he immigrated to Canada when he was eight years of age. Bill spent the rest of his childhood years in Midland, Alberta, where his father like many immigrants, worked in the coal mines throughout the Valley. In his teen years Bill moved to Ontario with his parents, where he got his first taste of farming. Later the family moved back to Drumheller where Bill joined his father working in the mines. More significantly it was about this time that Bill met, wooed and married Mary Laslo, the love of his life. They soon purchased a farm near Michichi, Alberta and started their life and family together there. Bill was a licensed welder, earning his ticket from SAIT but always preferred the many challenges of carpentry and construction more. Although he was skilled at anything he put his mind to, Bill always said farming was the only thing he ever really wanted to do. He proved this by staying on the family farm through good times and bad for the next 43 years. When Bill finally decided to retire, he moved back to Midland and lived there for several years, enjoying family and friends, even doing some travelling, before immigrating for a second time. This time, with his wife, Bill moved to Fort Worth, Texas and resided with his daughter Marilyn and her husband John. It was here that he spent his final years, still enjoying his time gardening and maintaining the yard and home, right up to the time of his passing. Bill was predeceased in death by his daughter Mariann and granddaughter Francis Clare Staniland. He is survived by; his wife of 59 years Mary, of Fort Worth, and daughter Marilyn and Dr. John Staniland, also of Fort Worth, son Al and his wife Myrna, of Drumheller, son Henry and his wife Bonnie, who still live on the family farm at Michichi, grandson Andy and his wife Stephanie of Fort Worth, granddaughter Marriann and husband CJ Hammond of Blackfalds, granddaughter Lisa and husband Ryan Tait of Morrin, granddaughter Marti and husband Joey Ingram of Lacombe, granddaughters Acacia Doktorchik and Chelsea Doktorchik, both of Calgary. He is also survived by great-grandchildren: Mason, Hudson, Alyssa, Andrew, Aiden, Kiera and Carson. Bill's Funeral was held on December 29, 2012 at Mater Die Catholic Church, in Irving Texas. A Memorial Mass will be held in his honour at St.Anthony's Roman Catholic Church, Drumheller, Alberta, on Friday, January 18, 2013 at 11:00 A.M., with Father Mario Basque officiating. A luncheon will follow immediately at the Midland Community Hall. In lieu of flowers donations may be made in Bill's memory to Drumheller Area Health Foundation 351-9th Street NW Drumheller, Alberta T0J 0Y1 or a charity of your choice. Courtney-Winters Funeral Home entrusted with arrangements (403 823 2666).