Details

Published on

Monday, 16 February 2015 20:22

Written by Pat Kolafa | © DrumhellerMail.com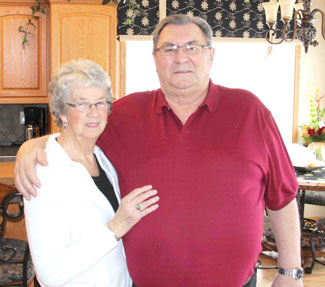 Irene and John Kohut celebrated 56 years of marriage on Valentine's Day, 2015.
"Neither of us had any real family or home life, so we thought let's see what we could do on our own."
Seems almost childishly simple, but 56 years ago on Valentine's Day, John and Irene Kohut did just that. Their secret to years of happiness is simple.
"We didn't have anything, so we worked together and built a decent life for ourselves and respected each other because of that," said John.
The couple has actually known each other since they were 13, as their mothers were friends.
"He was from Newcastle and I was from West Drum. We were friends for a long time," said Irene.
John dropped out of school at a young age to start working to support his family after his father passed away. By the time he was 17, he was working in the oil industry in the north. One day while he was home in the valley, he offered Irene and a friend a ride to school from her aunt's house where she was living. It seems there was a connection, because not long after that John wrote her a letter.
"I wrote him back," said Irene.
By the time they were 19, John was still working in the oilfield but was back living in the valley.
While they were planning a June wedding, the date was moved up a couple months because when Irene told her boss at the time they were planning to be wed, he fired her on the spot.
"He didn't like me," chuckles John.
"We decided we were going to get married, and I thought a winter wedding was the best as far as I was concerned," said Irene.
It was not the days of wine and roses for the couple.
"We had a house, we didn't have hot water or plumbing,' said Irene. "Our kids remember."
John recalls they were living in his mother's old home in Newcastle, and with a growing family, Irene saw the need to buy a larger house. They were building new houses just a couple of blocks away with more bedrooms for the family. She went and made the deal without John's initial blessing.
"She said 'I'm moving, if you want to come, come, if not, too bad,'" John chuckles.
By that evening, the family was settled into their new house.
They had fun times, simple times in Newcastle. Family fun was often on the river behind a snowmobile on a truck hood. Neighbourhood kids congregated at the house. Even with all the struggles, they are proud to say they never went hungry. In all, they had four children and the family keeps growing.
"We've been very lucky, all of our kids have been married over 25 years, we have 12 grandkids and one great-grandson," said Irene.
A family that works together, stays together.
"We started Hi-Way 9 Express in 1969 and it grew into a family business. And we were very lucky to be successful," said John.
"We worked hard and everything came together. As the family grew, they became involved in the business. We were a team, it was all six of us not just me, it was all six of us," he said.
This Valentine's Day the couple will be in Rosebud to celebrate and the romance continues.
Details

Published on

Monday, 16 February 2015 03:00

Written by Michele Scott | © DrumhellerMail.com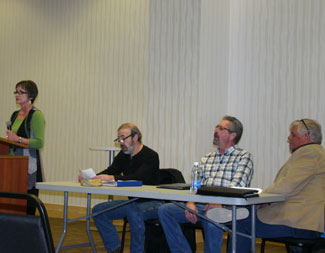 Members of Forum for a Better Drumheller address the town residents who attended the public meeting Thursday night, February 6, at the Badlands Community Facility. At least 170 residents turned out to listen or share opinions with (l-r) Linda Gerlinger, Chip Aiello, Trevor Catonio, and Mike Stefanishion.
Fears of the economic decline of Drumheller and disagreement of the proposed tourism levy/surcharge were the two main topics of concern addressed by residents during a Thursday night, February 5 meeting, held by the Forum for a Better Drumheller at the Badlands Community Facility.
"Basically as you can see from this evening," said Brent Powell, owner of the Dinosaur Hotel and Newcastle Bar, "the big issue with everybody is the absolute lack of transparency, especially on the new hotel tax/levy. We were not consulted. They have our business licenses, our phone numbers, our addresses - they could easily come and talk to us, but they didn't. Or he didn't."
Powell said he finds it unfair that he should have to pay a $5,000 charge for him to bring in only a couple of rooms each tourist season. "So I'm going to have to pay $5,000 to bring in $110?" He said his business serves local customers and work crews, and he's rented fourteen rooms to tourists over twelve years. He doesn't think his local customers would be willing to pay a fee for renting a room in his old hotel that was built in the 1920s.
Another accommodation owner attending the Forum said if the Town is collecting a fee, he would rather see the money go to supporting the town and its facilities, such as the Badlands Community Facility and Reptile World, before investing more in advertising.
Councillor Jay Garbutt took part, intervening at different points to correct erroneous information, explaining the tourism levy/surcharge, and engaging in discussion with attendees. Town of Drumheller Economic Development officer Cody Glydon also spoke up, to note economic development information, including that more new businesses have started in Drumheller in the past two years than have folded.
Following the conclusion of the Forum, member Linda Gerlinger said "My opinion is the next step is probably the Forum having another meeting to weigh the (public) comments. Gerlinger was unsure when the next meeting would be scheduled. In early December, the Forum declined an invitation to appear as a delegation before Council.
Council states their invitation to the Forum, to bring their concerns and ideas to Council for discussion, still stands.
Details

Published on

Sunday, 15 February 2015 20:11

Written by Pat Kolafa | © DrumhellerMail.com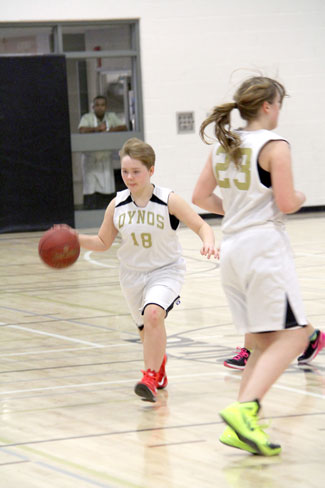 The DVSS Dynos Junior B basketball team hosted Linden recently and went away with a 28-21 win.
The DVSS Junior B Dynos girl's basketball team is having a strong season of learning and having fun.
Teacher Kevan Hayes is coaching the team comprised of Grade 7 and 8s.
"We've been together as a team since December, and in that time have played 7 games; we've won 5 and lost 2. Presently, Carbon is our most challenging opponent," said Coach Hayes.
Last week the Dynos hosted Linden. Hayes said the team had a less-than-perfect first half of the game, but after they warmed up, they were able to chip away. In the last half, the Dynos pulled ahead with a 28-21 win.
"At this level, the girls are learning at a very fast rate. Every game is filled with new lessons and every practice generates a new leap forward in terms of skill. The difference in ability between December and now is enormous! I'm very proud of these girls and how far they have come," said coach Hayes.
They have been working on offensive skills such as setting screens and the hopefully applying these skills in a game.
"My biggest goal for the players at this point is increasing precision, slowing down and making strategic decisions. The girls are coming to realize that every single dribble, pivot, pass, shot and rebound counts and that these opportunities should not be wasted," he said. "As the girls have more exposure to the game, they will come more naturally recognize the options that they have on the court, and make quick assessments about what is best in a given situation. This can be taught and discussed ad infinitum, but it doesn't stick until it is practiced repeatedly in a mindful way. The more games and practices, the better we get."
He says the skills learned on court will benefit in other aspects of their lives.
"Junior basketball teams are an excellent opportunity for young people; they help develop focus, work ethic, teamwork, discipline, fitness and much more. I am delighted to be able to support these girls as they become better athletes, students, and individuals," he said.