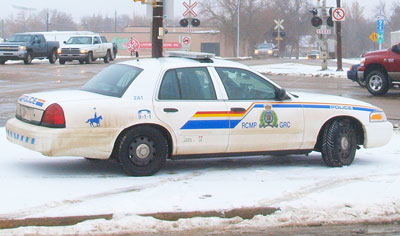 RCMP are recommending to drivers unless it is imperative, to please avoid the highways following Monday morning's bout of winter weather.
Corporal Steven Lloyd tells The Mail conditions are hazardous and best to be avoided.
"It is pretty greasy out there. We have had numerous collisions already," said Lloyd.
So far, he says there have not been any reports of significant injuries.
He does add that speed could be a factor and that often it takes drivers a little bit of time to adjust their driving habits after the first blast of winter weather.
"It's the same every year, there is an adjustment period," said Lloyd.
The Hanna RCMP has also issued a press release, and so far Monday morning, there have been about 10 cars in the ditch throughout the area. As of 11 a.m., there were two semi-tractor and trailers stuck on Highway 36, two kilometres north of the Sheerness Power Station, blocking traffic.
No injuries have been reported
"We are asking that people avoid travel in these areas and if travel is necessary to ensure they slow down and watch for emergency vehicles and tow trucks that may be out helping stranded motorists," it states.