Details

Published on

Friday, 05 September 2014 09:14

Written by Pat Kolafa | © DrumhellerMail.com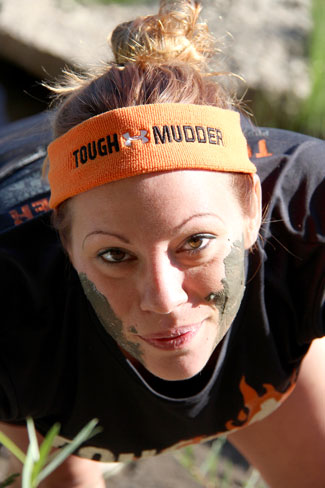 Kadena Pierce of Drumheller knows what it takes to tackle Tough Mudder. She completed the Whistler, B.C. course last year. On Saturday, she is taking on the course in Drumheller and is looking forward to the challenge. Read this week's inSide Drumheller for Kadena's story and everything you need to know about Tough Mudder, including the course map and things to do in Drumheller on September 6 and 7. Check out the top of the page on www.drumhellermail.com for the Tough Mudder section containing more information and stories.

Details

Published on

Thursday, 04 September 2014 13:10

Written by Michele Scott | © DrumhellerMail.com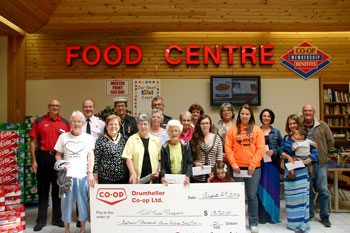 Drumheller Co-op presented funds totalling close to sixteen thousand dollars to local non-profit organizations Friday, August 29, 2014.
Funds were provided through Co-op's fundraising Till Tape Program, which allows participating non-profit groups to collect cash register receipts from purchases made at the grocery store, gas bar and agro store and submit them twice a year .
"We're just proud to support the many organizations that we do," said Drumheller Co-op General Manager Gord Van Kannel.
Van Kannel has been a part of the Co-op system for many years and said this is the first place he's seen this kind of program.
He invites groups interested in Drumheller Co-op's Till Tape Program to stop by or call the store's administration office at (403)823-5555. The Drumheller Co-op has paid out $274,868 to over 96 community groups since the beginning of their Till Tape Program in 2000.
Details

Published on

Thursday, 04 September 2014 11:05

Written by Michele Scott | © DrumhellerMail.com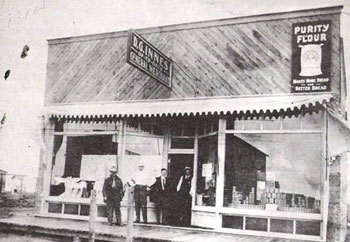 A dedicated group of volunteers has been combing through records and collecting stories to build a history collection and publish a history book for Craigmyle's 2015 Centennial.
Spearheaded by the Craigmyle Heritage Foundation, volunteers working on the book "Craigmyle: The Saga Continues" would like to hear from anyone wanting to submit a story as soon as possible.
The group can also arrange to have any photographs scanned and returned quickly.
The criteria for submission the Heritage Foundation has been trying to follow, is any families who lived in an area where the children might have attended Craigmyle School, however, there will be some stories gathered that fall outside that boundary.
The group is gathering three different kinds of stories to publish.
The first is an update to family stories that were published in the 1971 edition of the Delia-Craigmyle Saga.
Secondly, they're looking to include any stories that were missed from getting published in the original book.
Lastly, any people who have been in the community since 1970 can submit a story. They don't have to be a current resident, just as long as they had some connection to the community.
Research by the team of volunteers with the Craigmyle Heritage Foundation includes looking through old county records and searching the area's libraries and museums.
One museum curator found a packet of information from the Craigmyle Electrification Association that existed from 1952 to 1987.
To arrange to submit a story, the contacts for the book are:
• Marlene Bannister (403) 665-2489.
• Leah Hunter (403) 665-2282.
• Bev Bergman (403) 665-2492.
Those interested can also email This email address is being protected from spambots. You need JavaScript enabled to view it. .