Details

Published on

Monday, 11 May 2015 21:41

Written by Pat Kolafa | © DrumhellerMail.com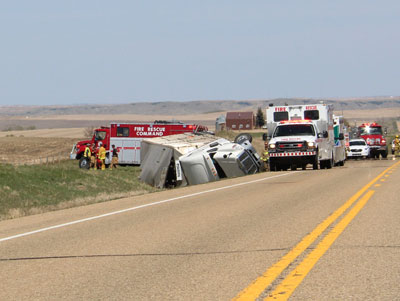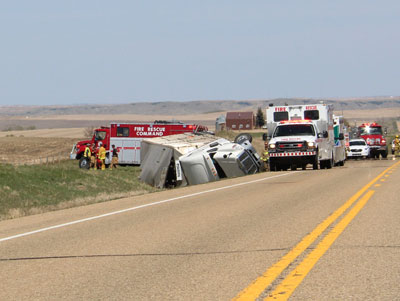 Members of the Drumheller RCMP, the Drumheller Fire Department and Dalum Fire Department had to act as wranglers on Highway 56 south of Drumheller responding to an overturned cattle liner. Shortly after noon on Monday, emergency services responded to the single vehicle incident. The tractor-trailer southbound appeared to have left the road and overturned in the ditch. The driver was treated on scene and released. Cattle involved in the rollover were corralled into the adjacent field to await safe transportation. The investigation continues.
Details

Published on

Sunday, 10 May 2015 08:58

Written by Pat Kolafa | © DrumhellerMail.com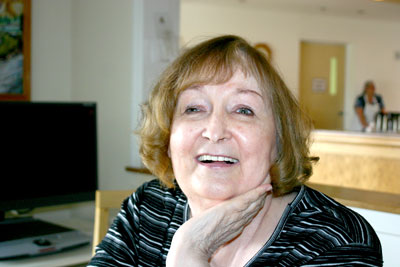 "Don't waste your worries."
This is what Diana Ames' mother always told her when she was growing up.
Ames, who was born and raised in Drumheller, and her mom, Alice, had a mother-daughter relationship similar to that of best friends.
Ames' parents married after the Second World War and had four children. Ames was the oldest child and remembers all six family members living in a small one-bedroom home.
She recalls, "My mom was the hardest working person. I adored her, I always did… She was the greatest. She would do anything for me if she had the time. She did everything for us. I had three brothers after me. We had four kids, a mom and a dad in a one-bedroom place. Mom kept it spotless."
Ames' mother cooked on a wood stove, she said. "She used to make us pies and they were perfect. How she kept the temperature right, I don't know. She had some magic. I remember her pies, no one has ever, ever made a pie as good as Mom."
Ames' uncle came to live with them when she was young, she said. Shortly after his arrival, the family moved into a larger home.
Recalling another memory she said, "this is how tough times were. Mom would get one dress a year for New Year's Eve and Dad would take her out. And that was it. There was never a time they would go out to a restaurant, or leave home. Mom always cooked. Dad was a meat and potatoes guy. That's what was put on the table every night, some sort of meat and her potatoes from the garden."
She recalls a story of her mother sending her down to the cellar to get potatoes. "The cellar was dirt and salamanders lived down there. We thought they were wonderful, me and my brothers," she said with a laugh. "They would climb on us, they never bit or anything. They were just cute things. We didn't really know what they were called."
"I know I was a bad little bugger," she remembered her mom telling her as she chuckled. "I use to run away. I wanted to watch the trains. From the time I was two I could climb a six-foot fence. Mom, at the time, had two other kids at home so she couldn't leave to go get me. She had to depend on neighbours that would see me out there… and someone would bring me home."
"It was an interesting life," she said. "They didn't have much but it didn't seem that way to us. It seemed that we had everything in life we needed. We had fun, we had friends, and we were allowed friends in the yard. Some people wouldn't let the kids in the yard because they had big gardens and kids would steal carrots and such."
Ames attended school in Drumheller, but soon after, herself and three of her friends decided Drumheller was not the place to live. They pulled out a map, she said, and picked a place. The four friends ended up in Grande Prairie, where Ames met her husband Randy.
Soon after dating, the couple got married and two years later, their son was born. The small family stayed in Grande Prairie until he was three months old, at which point they moved to Kamloops, B.C. for her husband's work. Here, their second child, a daughter, was born. Soon after, the family moved back to Alberta and settled in Calgary. Later the couple divorced.
Ames said she worked three jobs after she was divorced to pay off the remainder of the house they owned. "It was hard. My daughter danced, my son played hockey or he took karate." She continued by saying, "motherhood for me was a lot different than it was for my mom."
"My mom never left home," She said. "The guy came and took her grocery list, and brought her groceries. Then on payday when dad would get paid, he would pop in and she would pay him for the groceries. We use to get bananas once a week, that was a treat."
Overall, Ames said she told her children the same advice her mom once gave to her.
"Don't waste your worries. Which meant don't come whining to me all the time when something is wrong, there is probably a way you can fix it yourself, it's not a big deal. As I grew, I totally understood what she said. Worry about something when it is something you should worry about it. It meant so much to me, that I could say it to anybody."
Details

Published on

Saturday, 09 May 2015 16:43

Written by Sarah Devereaux | © DrumhellerMail.com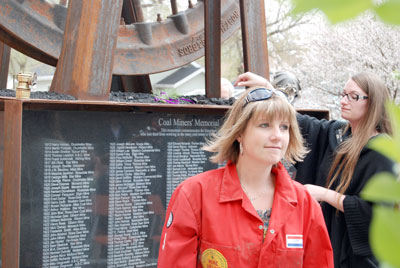 A big part of Drumheller history was remembered this past weekend throughout the valley.
The May Day Miners' Festival for 2015 kicked off on Friday afternoon with a Miner's March and Memorial Service to remember the 207 miners who gave their lives to the black.
After family, friends and residents of Drumheller walked from the Badlands Community Facility to Miners' Memorial Park, Julia Fielding, Executive Director at the Atlas Coal Mine welcomed everyone to the service.
Speakers at the service included Aileen Eno and Fred Orosz who read the names of the 207 miners who lost their lives in the mines. Natalie Gauthier, a local musician, performed five songs during the service, many written about her experiences in the valley, including working at the Atlas Coal Mine in 2010.
Reverend Katherine Freeman had a memorial message for those in attendance to hear, including her own story of her grandfather whom she never met because he was one of the 207 that lost their lives underground. She also read from the United Mine Workers of America (UMWA) funeral rights.
Bob Burchell of the (UMWA) spoke to those in attendance about the rights that mine workers fought for that are present today.
The service came to a close when families of the miners and all others in attendance were invited to place coal on the memorial as a way of remembering those who lost their lives.
Fielding said that she thinks it is vital to have a memorial service for those miners and their families, but also for the town of Drumheller.
"I think for the whole town to remember this is why Drumheller is here. In 1911 there was hardly anything here. Suddenly within 20 years it was a boomtown. I think it is great for everybody to remember, and nearly everybody who lives in Drumheller has a relative who was involved in coal mining at one point in their life."
The festival didn't stop after the memorial service. Friday night Joe Vickers performed at the Washhouse Theatre at the Atlas Coal Mine National Historic Site.
Saturday was jam-packed with events including the first annual May Day Miners' Baseball Tournament taking place at the Rosedale and Hoodoo baseball diamonds.
When asked why a baseball tournament had been planned for this year Fielding said, "We talk about the miners' lives underground, and that's what this memorial is very much about, but also miners had fun. Bob (Burchell) spoke a lot about the comradery, and sport was a huge part of that, particularly in the summer when they often weren't working much in the mines. We decided that having a baseball tournament would be the perfect way to celebrate not just the mining in the ground, but the miners, life and how important sports was to them."
Ten teams participated in the tournament. The first game took place on Friday at 6 p.m. with the championship game taking place on Sunday afternoon. On Saturday night, a historic World Series baseball game was shown at the East Coulee School Museum complete with popcorn, hotdogs and peanuts.
Subcategories