Details

Published on

Wednesday, 03 December 2014 18:10

Written by Pat Kolafa | © DrumhellerMail.com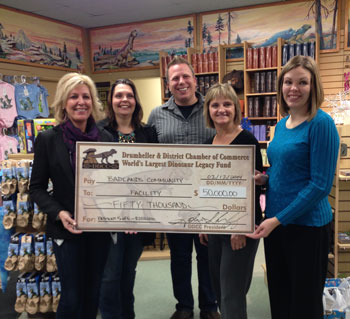 The Drumheller and District Chamber of Commerce have fulfilled its five-year commitment to the Badlands Community facility, making its final installment of a $250,000 gift.
The chamber held its annual mixer on Tuesday, December 4. At the event, the Chamber presented members of the Badlands Community Facility Fundraising Cabinet with a cheque for $50,000.
These funds are generated through the World's Largest Dinosaur Legacy Fund. This fund was established to give back to the community by reinvesting a portion of the funds generated by the World's Largest Dinosaur and giftshop back into the community.
According to a release, each month 15 per cent of its revenues from admission and giftshop sales are directed to the funds, which support community economic development initiatives. To date it has given $550,000 back to the community though this fund.
Details

Published on

Tuesday, 02 December 2014 17:34

Written by Pat Kolafa | © DrumhellerMail.com
Rod Hymas of Rosebud spent race season touring Canada and the US, and recently won the Lucas Oil Divisional Points Series
championship for Division 6. He has been racing his Sportsman Class 1969 Camaro since 2011.
A Rosebud farmer who spends his off-season on the drag race track now has some hardware for his effort.
In 2011, The Mail reported on Rod Hymas' first season on the track with his 1969 Camaro track car. The full tube chassis drag car tucked under a Camaro body was built by RJ Racecars in Illinois and the engine was built by Sonny Race Engines in Virginia.
This year he ran a full season in the National Hotrod Association (NHRA) Division 6 area and won the points season.
"We had a pretty good season," said Hymas humbly.
The car runs under a 7 second quarter mile at speeds of 200mph in the Top Sportsman Class. He describes it as the fastest class of cars that still look like streetcars. This means working doors and left hand drive.
In the spring of 2013, he crashed and was out for the summer. In October of last year, he had the car fully repaired and went back drag racing.
Right away he raced in Las Vegas, where he won a national event race right out of the trailer.
In February, he began the new season in Phoenix and came in second place. In March he was back in Vegas where he went three rounds. In April, he was in Boise, Idaho where he also went three rounds.
He explains the size of the race determines how many rounds a driver has to win to make it to the end.
"Some races there is as many as 64 cars, so you have to go six rounds to win, some are as small as 25 so you would go five rounds," explains.
The season continued, and he sat out a race in Spokane as farming called, but then made it in June to Billings, Montana and came home with a win. In Seattle in August, Hymas made it to the semifinals.
In September, the team was in Vancouver where they went two rounds. October they were back in Vegas and they went two rounds.
This set them up for the final races of the season, again in Las Vegas in November. Although they lost in the first round, he was the points leader and won the Lucas Oil Divisional Points Series championship.
He runs in the NHRA Division 6, an area that covers western Canada and the northwest US. He is able to race in three out of division races a year to collect points. He also fills in his season with International Hotrod Association (IHRA) races.
In all, he said last year they slept in their motor home for 125 nights. While for a couple races, he had a crew of three, by and large he travelled with his crew chief, and wife, Jackie who did everything from pack parachutes, to looking after tires, fuel and consult on car setup.
"The season was pretty much trouble free. Luck was on my side when I needed it," said Hymas "The car was really good and between myself a my crew chief we had some good fortune."
On the racecar, he ran 108 passes and only had one resolvable engine issue at the Phoenix race.
"Anywhere after 90 runs, you are probably on borrowed time, and if we were not in a points chase, we wouldn't have gone to the last two races in Vegas, but when you gotta go, you gotta go."
The engine is back in Virginia getting a full overhaul.
While it seems like an expensive pursuit, it is worth it for Hymas.
"It is just a hobby. Some guys go to the bar and play VLTs, I race fast cars," he chuckles.
Details

Published on

Monday, 01 December 2014 14:54

Written by Michele Scott | © DrumhellerMail.com
Jessica Ernst near the Rosebud River. photo by Colin Smith, used with permission.


Rosebud resident Jessica Ernst has taken her fight against hydraulic fracking to Canada's highest court.
Ernst's lawyers filed an appeal with the Supreme Court of Canada on November 13. Ernst is appealing a decision of the Court of Appeal of Alberta from September this year.
The Supreme Court appeal is challenging the immunity of the Alberta Energy Resources Conservation Board (ERCB), now named the Alberta Energy Regulator, from any legal action, and whether that immunity is a breach of person's rights under Canada's Charter of Rights and Freedoms.
The filing states the Alberta appeal's court decision differs from an appeal court ruling in Ontario thereby "creating significant uncertainty in the law across Canada."
"The issues raised by this appeal impact all Canadians. General "protection from action" clauses similar to section 43 of the Energy Resources Conservation Act are found in dozens of statutes across Canada, and in each and every province in Canada. The Supreme Court's guidance on whether such statutes can bar actions brought pursuant to section 24(1) of the Charter will benefit all Canadians," Ernst's lawyers contend.
Ernst's position is Encana Corporation"s fracking for hydrocarbon extraction in the Rosebud area caused water contamination, and the former ERCB failed to act on repeated and documented violations of the law during the fracking by Encana.
The lawsuit by Ernst is alleging her Charter rights of free expression were trampled on by the ERCB branding her a criminal, accusing her of making threats, and then stopping all communication with her.
Ernst said it could take up to four months for the Supreme Court to decide whether they will hear her case, and that only one in twenty cases are actually heard by the Supreme Court of Canada.
Ernst won a judgement in a Court of Queen's Bench ruling November 7 that now opens the door for a lawsuit against Alberta Environment.
Ernst's lawyer, Klippensteins, said Chief Justice Wittman ruled in favour of Ernst in all key points to have the ability to sue Alberta Environment for Ernst's contention as they failed to properly investigate and remediate water contamination of Ernst's well and the Rosebud aquifer.
The lawyer said Alberta Environment's argument was that individual landowners couldn't try to hold the government legally responsible for negligent investigations of environmental contamination, even if the investigations were flawed.
The Court disagreed, and in addition to the ruling ordered the government to pay triple the amount of Ms. Ernst's hearing costs.
"Ernst was wholly successful in responding to this Application. … These arguments could have been raised as part of Alberta's first application, but were not. Ernst was put to the time and expense of two applications, not one. … As a result of these considerations Ernst shall have her costs against Alberta fixed at triple [the regular rate]," the Court ruled.
Ernst said she first filed papers in court regarding Encana's fracking in Rosebud in December 2003.