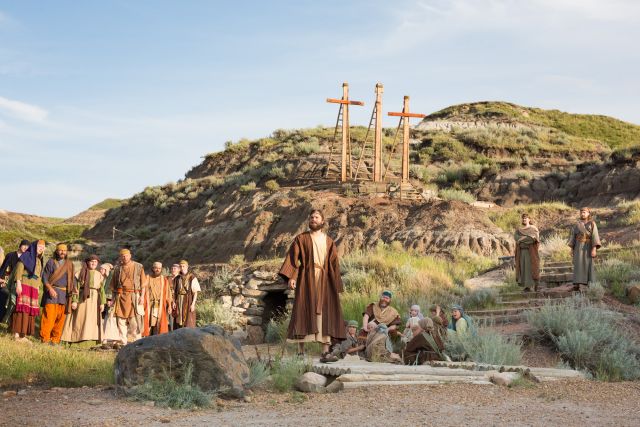 The Canadian Badlands Passion Play rose again for another opening weekend on Friday, beating attendance numbers of the last two years thanks to a revised script and cooperative weather.
The new script, an adaptation of the Gospel of Luke titled "Face to Face" and written by Alberta playwright Barret Hileman, is causing quite a buzz around the Passion Play's 23rd season says executive director Vance Neudorf .
"Everything is new this year," Neudorf. "If you haven't been for a few years, (the Gospel of) John was a very different experience than what you'll get this year – music-wise, how it looks onstage, the costuming and movement – in almost every way the play is different. It's giving people a fair bit to chat about."
It's strange to think that a 2,000 year old story could be reimagined in a different light that would cause a stir amongst the most Bible-savvy play goers, but Neudorf said the script doesn't waver far from scripture.
"You would find everything that's in the play in the Book of Luke. Every single part is there, the entire story, it's just the way we arrange it and put it together in order to make it work on stage. There's people of course who want it to be more true to the Bible and to use exact words, but for the most part the ones that know the story are coming back and saying we are staying true to the story," said Neudorf.
"If you sit down and read the gospels it will take considerably longer than the play's two-and-a-half hour runtime. We are adapting it in different ways and formats to make it come across quite different on stage."
The music in this year's performance is striking and on point, provided through a surround speaker system and composed by Alberta composer Luke Ertman. The play is directed by Brian Jensen, who played the role of the apostle John for the previous five seasons.
The Passion Play runs from July 8 until July 24 on weekends.