Details

Published on

Monday, 18 August 2014 16:00

Written by Michele Scott | © DrumhellerMail.com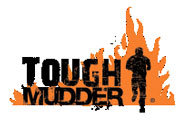 The September 6 and 7 Tough Mudder event is gearing up with the arrival of the event construction staff and plans for a downtown festival.
Bob Cromwell, Event Coordinator with the event hosts, the Drumheller Festival Society, said the course's early construction crew is getting familiarized with the terrain and the initial course outline.
"They're sort of mapping and charting it out, finding what the biggest obstacles are, in and amongst that maze down there," said Cromwell.
The course, designed by British Special Forces, starts on the Stampede Grounds and works it way into the valley.
The Tough Mudder course holds more than twenty challenging obstacles over its 16 - 20 kilometre long stretch.
Cromwell said that positive comments have been building about the course and where it's laid out, noting it may be the ultimate Tough Mudder course yet.
"The Tough Mudder office, head office in Brooklyn, New York, seems to be getting more and more ecstatic about this event," he notes of the Drumheller Tough Mudder.
He said that Tough Mudder has indicated attendance numbers are on track for the endurance obstacle course.
The highest number of participants estimated for the event is around 8,000 people.
Annette Nielsen, co-owner of CCE Productions, is aiming to entertain those Mudder attendees in Drumheller's downtown.
CCE is spearheading the assembly of a downtown festival to run in conjunction with Tough Mudder.
Nielsen said the festival is pending liquor licensing approval and the Town's acceptance of the permit application.
"We plan on having a festival downtown, with food trucks, merchants, a beer garden, and live bands."
The plan-to-date would have the festival start late Friday afternoon, September 5, and then again on Saturday afternoon.
Nielsen said CCE already has bands and merchants confirmed for the downtown festival, adding they would welcome items made by local artisans.
The festival will be held on Centre Street from the Napier Theatre on Third Avenue to the firehall on Fourth Avenue, notes Nielsen, adding:
"The street has no retail on it, so it's perfect."
Details

Published on

Monday, 18 August 2014 12:30

Written by Michele Scott | © DrumhellerMail.com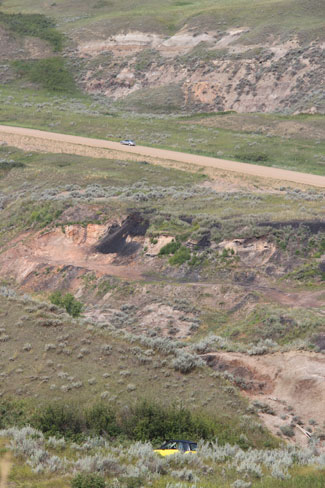 A smart-car sits sideways on a bank several yards off Highway 564 near the Atlas Coal Mine Monday, August 18.
Drumheller RCMP say what was initially reported as an accident was a case of somebody requiring medical attention.
Shortly before 11 a.m. this morning, Dalum and Drumheller emergency services attended the scene on Highway 564, which splits off Highway 569 that runs beside the Atlas Coal Mine and up into the hills.
A smart-car was down over the bank several yards off the road.
Emergency crews were able to retrieve the car's driver, who was transported by Drumheller EMS to hospital.
RCMP say the individual received medical attention, and there are no charges pending and no further investigation into the matter.
Details

Published on

Sunday, 17 August 2014 15:00

Written by Lauren Main | © DrumhellerMail.com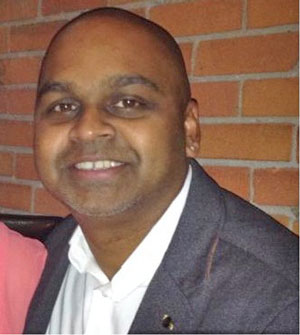 Rav Lal will be running in Tough Mudder's event race September 6 and 7 with his six person team.
The excitement for Tough Mudder is building throughout the Town of Drumheller.
It may be one of the biggest- and definitely the most extreme- events to hit the Valley, and the residents of Drumheller are welcoming the challenge with open arms.
Rav Lal is one Drumheller resident who is ready to take on all of Tough Mudder's 16-20 kilometer, 34 obstacle glory. Running alongside his six person team made up of his wife, Shawna Lal, and friends, Lal will have to face obstacles made up of- but not limited to- mud, ice, fire, and even electric shocks.
"I wanted to sign up mostly because of the challenge of completing the race, for myself. From seeing all the videos and reading more about it, I'm a combination of excited and nervous, it looks like it's going to be pretty tough," Lal says.
Tough Mudder keeps the actual course that will be run a secret, only disclosing specific need-to-know information about the track. What the participants do know is to expect the unexpected- any of the obstacles on the information site could be used in the course.
"You know what all the obstacles are, you just have no idea what you're actually going to see that day," explains Lal.
Tough Mudder's challenging race is now less than a month away, as the set date for the event is September 6 and 7.