Details

Published on

Sunday, 30 March 2014 19:57

Written by Michele Scott | © DrumhellerMail.com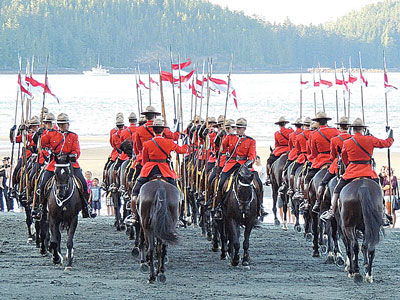 The RCMP Musical Ride shown performing a formation maneuver on the beach in Port Hardy, British Columbia. The Musical Ride will perform for Drumheller residents July 29, 2014. The last time the Musical Ride visited Drumheller was in summer of 2010.
Drumheller RCMP Staff Sergeant Art Hopkins has confirmed the RCMP's Musical Ride is visiting Drumheller this summer.
The Staff Sergeant met with ride planners Thursday, March 20, and two ride performances are set for Tuesday, July 29 of this year up at the Drumheller Stampede grounds.
The ride will also hold a "meet and greet" up at the grounds the late afternoon/early evening of the 28th.
Visitors will be able to walk through the corrals, pet the horses, and speak with members of the Musical Ride.
The ride partners with local non-profit groups, and the money raised stays in the community, said the Staff Sergeant.
For Drumheller those partners are Big Country Victim Services and the Drumheller Stampede and Agricultural Society.
The ride host pays the costs of stabling and feeding the horses, but are not charged other costs to bring the ride in.
The Rotary Club attended yesterday's meeting and will be volunteering at the grounds for the Musical Ride's visit.
Further volunteers will be needed, and Hopkins said after their meeting in April, organizers will have a better idea of what those requirements are.
The Musical Ride last visited Drumheller in 2010.
Visit the RCMP Musical Ride online at www.rcmp-grc.gc.ca/mr-ce/index-eng.htm.
Details

Published on

Sunday, 30 March 2014 13:49

Written by Pat Kolafa | © DrumhellerMail.com
Excitement is building for this September when Drumheller will host the world in the Tough Mudder competition.
Approximately 10,000 participants and spectators will descend upon the Drumheller Stampede Grounds the weekend of September 6 & 7, 2014 to participate in Tough Mudder, a 10+ mile obstacle course challenge that is the ultimate test of strength, grit, stamina and teamwork.
Designed by British Special Forces, Tough Mudder features military-style obstacles such as "Funky Monkey"—incline and decline monkey bars; "Everest"—a greased-up quarter-pipe; and "Electroshock Therapy"—a gauntlet of 10,000-volt-charged dangling wires participants must barrel through to get to the finish line. The goal for participants is not to win a medal, but simply to finish—on average, only 78% successfully complete the event. With a course designed to be virtually impossible to complete individually, 80% of participants register with a team.
"We are thrilled to be hosting the Tough Mudder Alberta event here in Drumheller," said Mayor Terry Yemen. "Drumheller's unique, rugged, and awe-inspiring landscapes make this location a perfect fit for 'Probably the Toughest Event on the Planet.'"
Tough Mudder events have wide appeal—participants (known as "Mudders") range from veterans to business executives to pageant queens. And for many Mudders, Tough Mudder is more than just a weekend event—it's a lifestyle. More than 4,000 diehard Mudders have even had the Tough Mudder logo permanently tattooed on their bodies.
Tough Mudder is a proud supporter of Wounded Warriors Canada and its mission to assist severely injured veterans. To date, Tough Mudder participants have raised more than $275,000 CAN for Wounded Warriors Canada.
Registrations for the Tough Mudder Alberta event are now open. Spectator tickets are also available. For those interested in finding other ways to get involved—and getting a discount on future registration—Tough Mudder is currently on the lookout for volunteers to be a part of the action.
For more information, visit www.toughmudder.com.
Details

Published on

Friday, 28 March 2014 12:22

Written by Michele Scott | © DrumhellerMail.com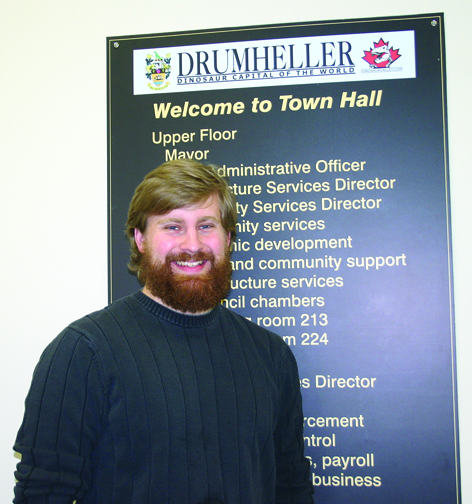 Eric Neuman from the Town of Drumheller invites job seekers to the Town's Job Fair on Friday, April 4th. The fair at the Badlands Community Facility has a number of potential employers, as well as post-secondary reps present for people to speak with. The job fair runs from 3 p.m. to 7 p.m., Friday, April 4.
The Town of Drumheller is hosting a job fair at the Badlands Community Facility on Friday, April 4 from 3 to 7 p.m.
The fair is being held in conjunction with Alberta Works and will feature over 25 employers.
Jake Moore of Alberta Works said the job fair is for anyone looking, whether employed and looking for a second job, or to replace their job, needing a summer job, or a job with opportunity to relocate throughout the province.
Moore recommends talking with the employers even if there's not a job posting and asking the company what a career path with them would look like.
"For example - if I invested five years with the company, what would be the opportunities in that five years?"
Eric Neuman, Community Services Coordinator with the Town of Drumheller said this year's job fair isn't restricted or targeted to a specific age group.
Neuman said the fair gives all job hunters a chance to interact with different companies.
"We've got a number of employers. We'd like to be able to see a turn out of those looking being able to see a number of employers."
There will also be representatives from post-secondary institutions at the job fair in the form of Campus Alberta, Hope College and NAIT.
MH Enterprises will be on hand to assist job seekers at the fair and offer any last minutes tips if needed.
Jake Moore said Alberta Works has five Career Employment Counsellors on staff who job hunters can drop by and speak with or help with a mock interview to get practice and feedback.
He said Alberta Works can also help job seekers with work on and printing of their resumes.
Both men said the job fair is also part of the Town's Welcoming Communities Initiative. The initiative promotes the full participation of newcomers in the social, cultural and economic life of the region without discrimination.
Subcategories