Details

Published on

Monday, 06 April 2015 07:45

Written by Pat Kolafa | © DrumhellerMail.com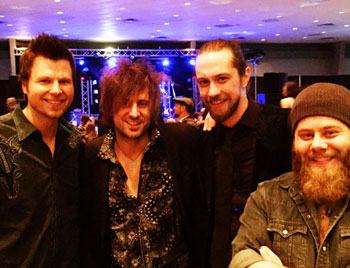 Taking the stage in Drumheller will be a first for Canadian country music band Jason Hastie and the Alibi.
While Hastie has made tracks through the valley a number of times going from his hometown of Birsay, Saskatchewan to his current home base of Calgary, he is looking forward to taking to the stage in the valley.
Jason Hastie and the Alibi will be in Drumheller on Saturday, April 18 to rock the Badlands Community Facility. Hastie has been plugging away in the Canadian country music industry since 2005, first as a solo act and then part of a duo. In 2013, he released a six song EP that gained some traction. Recorded in Nashville, it spent time as the number one Canadian Country Album on iTunes. The track "She Ain't Pretty" hit #46 on the Mediabase charts in Canada.
His music took the next evolutionary step with his band "the Alibi". Onstage they commanded a presence at the Calgary Stampede and the CMA Music Festival in Nashville. This earned them a distribution deal with Southbound Records and eOne Music in Canada.
Not one to rest on this success, their second album is close to being completed.
"It will be nice for it to be done. We have spent a lot more time on this album. Patience is tough in this industry, but I have learned it definitely pays off," he said.
"My guitar player Joe Fraser and I coproduced the album so, we have really added a lot of elements of our own sound and our own experience to it. We rocked it up a little bit and the songs have a lot of drive to them. There are also a couple songs that are quite emotional."
With all of this work in the studio, Hastie say fans can expect a stellar show.
"The whole band is very lively, everybody loves interacting with the crowd and I think that sets us apart from other country bands," he said.
Along with Hastie and the Alibi, local singer Abby Fooks will be performing at the show.
The show is Saturday, April 18 and it is an all ages show with a concession and beer garden. Tickets are available at For Sight Vision, Riverside Dental, Western GM, the BCF and Power Realty.
Details

Published on

Sunday, 05 April 2015 14:38

Written by © DrumhellerMail.com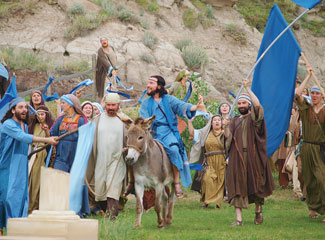 This July the Canadian Badlands Passion Play will celebrate its 22nd season with 9 final performances of the 'Gospel of John'. Over 50,000 people have seen the John script in the past four seasons and the response has been overwhelmingly positive. 95% of the reviews on Trip Advisor have given the play 5 stars.
Although the stunning natural amphitheatre plays a great role, the phenomenal success of this is mainly due to the long-term dedication of more than 200 volunteer actors. Without them this would just be another Canadian Badlands valley, beautiful to see but devoid of life.
The volunteer performers begin arriving at the Passion Play's beautiful riverside campground on the May long weekend and everyone is excited and anticipating the start of rehearsals.
That energy and enthusiasm binds the Passion Play actor community together and then flows through every rehearsal and permeates every performance. Lifelong friendships are formed on stage, in the dinning hall, and around campfires. They already miss the play in the fall, long for it in the winter and count down the days in the spring. Seven rehearsal weekends and the nine July performance weekends fly by and at the closing night party there is both joy and sorrow.
Together they have produced something truly great but now they must say goodbye until the next Passion Play season. It is no wonder that many of the actors and their families come back to act in the play year after year.
Vance Neudorf, the Executive Director of the Passion Play says, "as an organization we are dependent on our volunteer actors and anyone is welcome to join us even if you do not have any experience in acting, singing or dancing. If you have experience with animals or play a musical instrument we can put your talents to good use."
Performing in the play is the experience of a lifetime and is open to any age or skill level. To register to become part of the volunteer cast community go online: www.CanadianPassionPlay.com and look under the "Act in the Play" tab, or call 403-823-2001. There is also an open house from 10am – 4pm, on Saturday and Sunday over the Easter Weekend and a sunrise service at 8:30 am on Easter Sunday. Stop by for a "behind the scenes" look at the Passion Play site or to talk to our staff about being and actor in the 2015 Canadian Badlands Passion Play.
Details

Published on

Sunday, 05 April 2015 08:32

Written by Michele Scott | © DrumhellerMail.com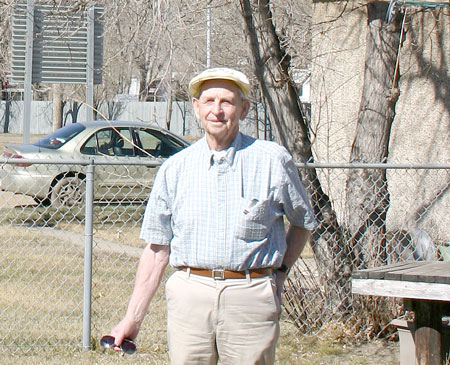 An area man's wish to honour his late wife, and his commitment to his faith, have moved him to donate property to the Habitat for Humanity organization.
Habitat for Humanity is an international organization that began in the United States in 1976, with the idea of working with those in need to provide them safe, affordable housing.
Rosebud resident Albert N. Clark, who started the Akokiniskway golf course in 1991, received approval to subdivide a piece of residential property in Drumheller, in order to make his donation.
"We have this lot, and my wife passed away two years ago. Actually, it was Easter Sunday," said Clark.
"I was hoping when I contacted Habitat for Humanity, we could start a chapter here in Drum. I think it's a really good place for it. I like the way they work it. They concentrate on people who wouldn't be able to supply a house otherwise. It's usually families in need of a house."
Clark said he's always felt badly for young people starting out because of the large amount of a down payment required to purchase a home, and it seems to be becoming more difficult for people to secure their down payment.
That's why he has always appreciated the work Habitat does, he said.
"They're not only able to make a house for them, they're able to make a home for them."
Clark said his late wife Joan was a supporter of social issues, and was behind his idea to donate the land for housing a family.
The Clarks were able to celebrate more than 50 years of marriage before Joan's passing.
Heidi Lambie with the Southern Alberta chapter of Habitat for Humanity, who has been working with Mr. Clark, said they hope to have the land transfer completed by the end of June.
She notes this type of land donation is rare - Habitat usually approaches the local government of the town or city it wishes to build a home in, with a request to donate the land.
"We were thrilled when he came forward. I know that means a lot to him and his wife's legacy. We're honoured to be part of that for him," Lambie said.
Habitat home recipients are required to put in 500 hours of sweat equity, meaning they participate in the building of their home.
Lambie is hoping there is enough community interest and support in Drumheller to open a chapter of Habitat for Humanity in Drumheller.
The first Habitat home built in Canada was in 1985 in Manitoba.