Details

Published on

Wednesday, 19 February 2014 10:03

Written by Pat Kolafa | © DrumhellerMail.com


The Provincial Government is finalizing the agreement it set out in October to pharmacies between the Alberta Government, the Alberta Pharmaceutical Association and Alberta Blue Cross.
Health Minister Fred Horne states the agreement is one that recognizes the expanding role of pharmacists and "...Offers four years of predictable funding to help pharmacists plan their business." He adds this is the first update of the Pharmacy Agreement since 2003.
The plan lays out funding structures for fees pharmacists receive for counselling, medication purchases and reimbursement from the province.
"From this point, it doesn't seem like prices will change for customers", said Shoppers Drug Mart pharmacist/owern Arsen Gincher.
"Counselling service fees were previously built in with dispensing fees - now the activity (counselling) is separated."
Gincher explains the money invested into new patient services for extended or enhanced counselling, for things such as prescription renewal or adaptation and smoking cessation, can now be measured, where previously the government had no way of doing this.
"They want to see people are getting benefits from pharmacists' intervention," said Gincher.
Riverside Value Drug Mart's pharmacist/rwner Ray Ainscough is attending a meeting February 24 of RxA, the Alberta Pharmacists Assocation, to get more information on the technical details of the agreement.
Pharmacy manager for Freson Bros. Pat Doyle, says the new agreement would be signed in April.
Details

Published on

Tuesday, 18 February 2014 12:07

Written by Pat Kolafa | © DrumhellerMail.com
An inquiry will be held to review the circumstances of an inmate's death last Saturday.
On February 1, Kenneth William Schaer, 25, an inmate at the Drumheller Institution, was found unresponsive in his cell. According to a press release, staff immediately began performing CPR and emergency services were called.
Schaer could not be resuscitated.
Schaer was serving a sentence of three years after being sentenced for aggravated assault. He was incarcerated on January 2 of this year.
According to a press release, in cases of in custody fatalities, the police and coroner have to be notified and Corrections Canada will review the circumstances of the incident. The province also holds fatality inquiries following such deaths.
Details

Published on

Monday, 17 February 2014 08:03

Written by Pat Kolafa | © DrumhellerMail.com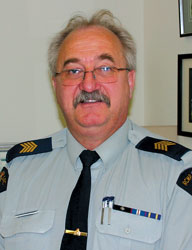 The Drumheller RCMP expect their office might be getting busier in the very near future as policies governing their communications system are implemented.
Staff Sergeant Art Hopkins tells The Drumheller Mail there are plans to revamp their telephone communication system because of increased 911 calls.
"We have received some direction to implement a change," said Hopkins. "Every detachment, because our communications centres are being overwhelmed, will have to start managing phone calls directly into their own offices."
He explains that currently there is an administration number for the Drumheller Detachment (403-823-7590). There is also a call line for non-emergencies (403-823-2630) and 911 for emergencies.
He says a non-emergency call that typically would go to a communication centre will now be directed to the local office, to be handled by a local clerk. This clerk will then be charged with making contact with an available officer.
"We don't know how it is going to effect our operation, but right now it appears it is going to be taking our clerical staff off their regular duties and they will be answering more calls," said Hopkins.
He explains the increased workload on 911 is due to the use of cell phones.
"There is always going to be these false alarms and these 911 calls coming from cell phones. A lot of people no longer have landlines, and they don't have a telephone book so they will call 911. As a result it is taking away our resources," said Hopkins.
"This is going to drastically increase the calls here (to the detachment) which is going to take the clerks away from the front counter and a number of other things."
He explains the change was planned to be implemented by the beginning of February, however the technical work to upgrade the phone system has not been completed.
He says the changes are just one more way clerical staff is facing an increased workload. Today many organizations need a police check for volunteers, which is time consuming. Often audio or video statements taken by police are required to be transcribed, which also falls on clerks.
"That is just one more task, one more thing in the barrel that has to be done," said Hopkins.
Subcategories