Details

Published on

Thursday, 26 September 2013 17:45

Written by Michael James | © DrumhellerMail.com
Area residents hoping to further discuss the proposed Badlands Motorsports Resort will have to wait until after the election before it returns to the agenda of the Kneehill County Council.
First reading of the redesignation of the land from agricultural was passed recently, but County Council is holding off second and third readings until December.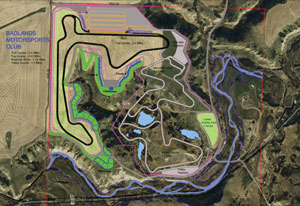 Kneehill County Council is putting the second and third readings to redesignate the land proposed for the Badlands Motorsports Resort until December, after the fall harvest and October elections. The resort is proposed to be located roughly 3 kilometres northeast of Rosebud.
"We're going to be considering the second and third readings in December," said Kneehill Reeve Bob Long. "We have people who are farming, so we wanted to get that out of the way and have the election in October. We could have new Councillors at the table. About the only time we could really get our teeth into it is the first part of December."
Earlier this year, County Council approved the Area Structure Plan of the Badlands Motorsports Resort and held public debate on the project, where many residents voiced their objections to the development.
However, before construction could take place, there are more steps Council must go through.
"It's a process we have to go through. Each step in a development has to run its course. Even though we've approved the Area Structure Plan, we haven't approved the development, just one aspect of it," said Long. "You just have to do the due diligence, go through the steps, and make sure everyone has a chance to comment."
Should the redesignation of the land pass third reading in December, discussion would begin on the development itself.
"If the redesignation passes third reading, then the next step would be to look at the application for development sometime in the new year," said Long. "That's when you start to address the issues you specifically want to address."
Details

Published on

Thursday, 26 September 2013 07:00

Written by Michael James | © DrumhellerMail.com
The Wheatland County Office will be undergoing a slight face-lift in the coming weeks. However, bigger plans for the office are in store.
Renovations will soon begin on the front office administration area and audio/visual systems of council chambers. The work is hoped to be complete within several months.
"It'll be proceeding soon and will likely be proceeding and completed by the end of this year," said Alan Parkin, CAO of Wheatland County.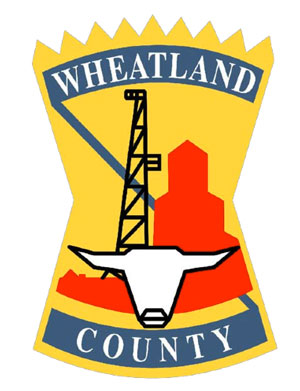 More extensive renovations are being proposed afterwards.
"We're looking at doing some conceptual drawings for a proposed expansion. It depends on what kind of feedback we receive, but the idea is to have conceptual drawings done by the end of September and then get some feedback in October," said Parkin.
Since the Wheatland County Office opened in July 2000, space has been gradually filling. Now, after 13 years, there is little room left to bring the needed staff to run an ever growing county.
"Right now, we're at capacity. For example, we have four staff crammed into a space that used to accommodate two. Down the road, our plans to bring in more staff may come to fruition and we would need more space. WFCSS (Wheatland Family and Community Support Services) moving in earlier this year has added two more staff and taken up any surplus room. Our file system is packed to the rafters, so we need a little more space," said Parkin.
"We're looking at five to ten years down the road. This building was opened in 2000 and has had some good use out of it, but we need to look at an expansion and modifications to prepare for the next ten to 15 years."
The plan is to add 480 square metres (just over 5,000 square feet) to the east side of the building and 144 square metres (roughly 1,500 square feet) to the west side of the building. The additions would allow for more office space and a new meeting room.
The conceptual drawings will be finished by the end of September. From there, Council would have to approve going ahead with the expansion.
The renovations will begin shortly are expected to cost just under $400,000. The proposed expansion could cost between $1.5 million and $2 million, paid for by reserves and/or provincial grants.
"At this point, it's just proposed. Council hasn't approved any budgets and just want to get some conceptual drawings and feedback," said Parkin.
The conceptual design and costs will be available for discussion at a yet-to-be announced open house.
Details

Published on

Wednesday, 25 September 2013 17:58

Written by Michael James | © DrumhellerMail.com
It's business as usual for Drumheller banks and financial institutions following the flooding late in June.
Following the flood, rumours surfaced that residents looking to get a mortgage were having difficulty if the house in question was located within the Government of Alberta's designated floodway.
At a meeting on August 28, Associate Minister Kyle Fawcett explained Drumheller was a special case, due to the extensive flood mitigation, and flood hazard maps were slated to be remapped.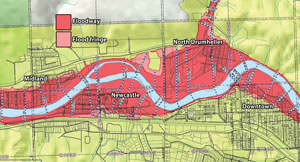 Banks are waiting to see exactly what the province's regulations regarding Drumheller entail.
"The province's decision to exempt Drumheller from the development ban recognizes the significance of the community's flood mitigation infrastructure; This is a good policy, it's an important first step towards creating a business as usual environment for Drumheller," said Rob Bennett, Executive Vice President, ATB Financial Retail Financial Services.
"ATB is working quickly to review our mortgage guidelines for Drumheller specifically but my team needs to understand more details about the recent announcement and we are working quickly with insurers, specifically CMHC and GenWorth to understand how they will partner with us in the Drumheller area."
The Royal Bank of Canada is also monitoring the situation and taking each mortgage on a case-by-case basis.
"We continue to work with our clients in the aftermath of this devastating flood and continue to accept mortgage applications in the impacted areas," said Pamela Brown, Senior Manager, Corporate Communications with RBC.
"We are evaluating each application and client on an individual basis. We are also working closely with the Alberta Government as the province evaluates people's needs, keeping in mind any constraints arising from the Alberta Disaster Relief Program."
Otherwise, everything is being treated as normal by banks and financial institutions.
"Everything is business as usual here," said Patsy Stokalko, branch manager of the Drumheller Chinook Credit Union.
The Drumheller Scotiabank says it has made no changes to its application process in the wake of the flood.
"As of right now, nothing has changed. The government has revamped what they said about Drumheller, so we don't know what will be in a flood zone," said Cathy Fournier, customer support at the Drumheller Scotiabank.
Subcategories