Details

Published on

Wednesday, 12 November 2014 17:23

Written by © DrumhellerMail.com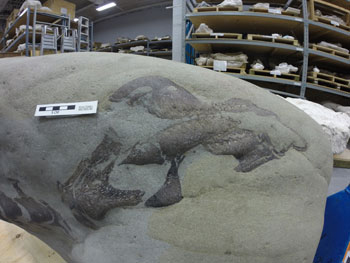 A block containing a partial dinosaur skull, neck and chest has been safely extracted from the Castle River after the fishermen reported their find to staff at the Royal Tyrrell Museum of Palaeontology.
Scientists believe the specimen belongs to a new species of hadrosaur (duck-billed dinosaur) that would have roamed Alberta up to 80 million years ago. This discovery marks an entirely new area to find evidence of dinosaurs in southern Alberta.
It's believed the fossil was dislodged from the Castle River bank by the 2013 floods.
"Our understanding and appreciation of the natural world continues to grow with this remarkable find. I'd like to congratulate the fishermen who properly reported the finding of this fossil. Thanks to their diligence and assistance, all Albertans and visitors from around the world will now have an opportunity to share in this exciting discovery."

Maureen Kubinec, Minister of Alberta Culture and Tourism
The fossil was recently airlifted out of the discovery site and carefully transported to the Royal Tyrrell Museum.
Palaeontology staff believe the skull is intact and in its original shape. This is considered surprising as fossils are typically found crushed and flattened. The fossil will be prepared and researched over the next year.
Technicians doing a survey from the Royal Tyrrell Museum collected a number of specimens this summer in the Oldman River, Highwood River, Sheep River and Bow River systems. Those specimens will undergo analysis next year.
All fossil discoveries made by the public should be reported to the Royal Tyrrell Museum so they can be properly researched and preserved as part of Alberta's history.
Owned and operated by Alberta Culture and Tourism, the Royal Tyrrell Museum is located six kilometers northwest of Drumheller on Highway 838.
Details

Published on

Wednesday, 12 November 2014 09:53

Written by Pat Kolafa | © DrumhellerMail.com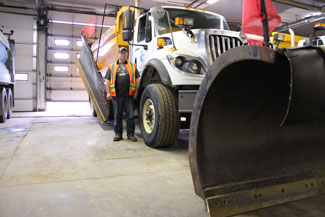 Carillion in Drumheller is on the ready for winter weather and has its entire fleet mobilized for upcoming winter conditions.
mailphoto by Patrick Kolafa
While it is midway through November, the valley is just getting its first taste of winter. Comfort should be taken that highway contractors have been ready for the snow to fly for well over a month.
Carillion is the contractor for the Contract Maintenance Area (CMA) 21, which encircles Drumheller. From the Drumheller base, it services north up Highway 9-56 to Morrin Corner, and then heads east on Highway 9 to Delia, and circles to the Verdant Valley Road back to Drumheller. It also covers east on Highway 10 to the Dorothy Hill, and Highway 10X to Wayne.
South of Drumheller, it is responsible for Highway 9 to Beynon corner and Highway 575 to Highway 21. It also services the secondary routes throughout these areas.
CMA 20 and 22 are also served by Carillion, but not from the Drumheller base.
In getting ready for the season, Alan Adams, foreman for CMA 21, says they have been prepared for some time for winter. He says the base had to prepare Winter Readiness Reports. The CMA maintains a consistent crew year round. He says by October 1 they are required to have one plow truck at the ready.
By October 15, they are required to have their entire six truck fleet at the ready.
The CMA has three Graders at the ready and its gravel and sand is stockpiled at their Drumheller yard. The surrounding CMAs share another unit to use when one goes out for service.
He said starting November 15 the Drumheller base begins its night patrols. This means the company has a crew member on the road, surveying road conditions, from midnight to 8 a.m.
If there is a weather event, Adams says the goal is to have all trucks on the road within two hours. Hills in the area are treated as a priority.
Carillion updates the province of Alberta's 511 system that provides road reports to the public.
Details

Published on

Tuesday, 11 November 2014 09:24

Written by Michele Scott | © DrumhellerMail.com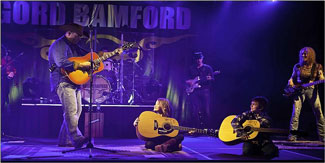 Canadian country musician Gord Bamford will play in Drumheller at the Badlands Community Facility on Friday, November 21 in support of Drumheller District 4-H.

Canadian Country musician Gord Bamford says an important part of his work in the country music industry is giving back.
One of the ways he's doing that is partnering with ATB Financial to bring concerts out to smaller communities through the "Why 4-H is Great" contest. The Drumheller District 4-H Club won the contest to hold Gord Bamford's contest here Friday, November 21, in the Field House at the Badlands Community Facility.
"We've been doing this with ATB Financial for the last few years. And every bit of money that comes through the gate goes back to the district," said Bamford. "It's open for anybody to come to the show in support of 4-H. It's been really, really well attended the last few years."
2014 is the fifth year for the annual "Why 4-H is Great" Community Concert Contest.
The 4-H Foundation of Alberta said fifteen percent of the concert proceeds are being contributed to the 4-H Alberta Legacy Fund.
All members of the Drumheller 4-H District will also receive a private Gord Bamford mentoring session on the day of the concert, the foundation adds.
Bamford grew up in the Lacombe area, where he and his sisters were all part of 4-H. "It was a big part of my upbringing in life, and very influential, especially today and the life skills it taught me. I just think it's a great program for youth to be in, and one that I support."
Bamford said it's important for him to show support for the communities that have supported him throughout his career.
"For me it's really been that way, my whole success has been grass roots. That's exactly what we're going to do in Drumheller. It's about the people, it's about the smaller communities, it's about giving back. I've been able to do that and in return I've been able to get back from the fans, so it's really been about a sixteen-year success story."
Bamford said living in a smaller community allowed him freedom to follow his dreams.
"You have the support of your community when you're trying to get somewhere, whether you want to be an athlete, or somebody in the music business. I had the luxury of going to a job and leaving the job on a Tuesday, Wednesday to pursue a music career. That kind of happens in a smaller community, everybody kind of rallies around."
Bamford said his career in country music is something that hasn't come easy, and everything they've done has been through their own companies and own creative business minds, through planning, a lot of hands-on hard work, good business partners, and the massive team effort of all the good people he's been able to surround himself with.
At the September 2014 Canadian Country Music Awards in Edmonton, Bamford won Single of the Year, Male Artist of the Year, and Country Music Program or Special of the Year for CMT's Gord Bamford: Christmas in Canada. He also won Nashville's Country Music Association's Global Artist of the Year, and is now busy launching his music into the American market. He said it'll be disappointing if it doesn't go well, and if he does well there, it'll be the icing on the cake. "I've had a great career here in Canada, and it keeps getting better and better."
Doors to Bamford's concert open at 6:30 p.m., and the opening act starts at 7:30 p.m.
Janice Hoover, key leader of the Drumheller District 4-H works with other 4-H leaders to help keep clubs vibrant.
"I think we're privileged to be bringing Drumheller Gord Bamford. It's an opportunity."
The Cats and The Fiddles won the "Why 4-H is Great" Community Concert Musicians Contest, with their prize being opening for Gord Bamford at the Drumheller 4-H fundraiser concert.