Details

Published on

Thursday, 09 October 2014 20:00

Written by Michele Scott | © DrumhellerMail.com
he Shepherds took over Rumsey's International Harvest dealership in 1936, and built this garage in Rumsey in 1945 to service the equipment. The garage is located on Rumsey's main street.
The recently formed Rumsey-Rowley Historical Foundation is compiling stories to publish in the third edition of the Rumsey-Rowley history book.
"It's been 32 years since we had a history book put out," said Foundation president Dariel McNaughton.
The book published in 1982 was Rumsey Pioneer Days Book 2, with the original history book for the area having been published in 1967.
McNaughton said for the 1982 edition of the history book, the group was operating with no start-up funds and received loans and donations from community groups, businesses and individuals, to complete the book.
This time round, McNaughton notes the Historical Foundation has a sizeable fund to begin the work on the history book project, and that work will include submitting applications for any eligible grants funding.
The recent project started when the group called a meeting in May of this year for interested parties, then applied for a new historical society number.
The old number for Rumsey's Historical Society had lapsed in the 1990s after completion of the second history book.
Rumsey resident and Historical Foundation member Cindy Krywcun said it was a blow to the community when it lost its original train station and three grain elevators around the same time in the mid 1990s.
And just prior to that, the community school, for children in grades 1 to 8, closed down.
Krywcun said the loss of those pieces of Rumsey history was a tough blow, but since then, the close-knit community came to realize it is the residents that define and make up the community.
Community interest has grown in the recent book project, said McNaughton, adding "We're gaining people all the time, which is pretty nice."
The Rumsey and Rowley areas are also gaining people in another way - younger people are moving back to the family farms in the area, including McNaughton's two sons.
McNaughton said a lot of the area's adults were children when the second book was published, and now as adults, their own stories can be submitted for the new history book.
She adds the Foundation will choose a firm cut-off deadline in the near future.
The Rumsey-Rowley Historical Foundation would like residents and former residents to submit their stories and photos as soon as possible for the history book via email to This email address is being protected from spambots. You need JavaScript enabled to view it. . Dariel McNaughton can be contacted at 403-368-2120 for more information.
Details

Published on

Thursday, 09 October 2014 16:04

Written by © DrumhellerMail.com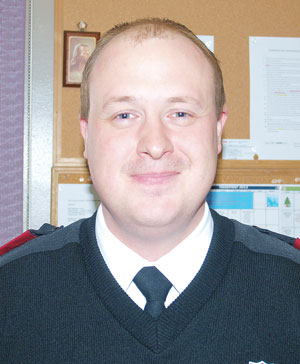 Cenovus Energy Inc. is bringing Thanksgiving dinner with all the trimmings to the Salvation Army Drumheller as part of the fifth annual Thanks & Giving campaign. Cenovus staff are kicking off the festive season by serving up a delicious holiday meal that is sure to tantalize the taste buds.
Each October, Cenovus holds a month-long campaign that encourages employees to plan their charitable donations for the year. Employees choose the registered charities that are meaningful to them and Cenovus matches their donations dollar for dollar, to a maximum of $25,000 per employee, per year. Staff will also be volunteering throughout the month in the communities where they live and work.
"We look forward to Thanks & Giving every year," said Vicki Reid, Cenovus Director, Community Affairs. "We want the communities where we live and work to be better off as a result of us being there, and it's inspiring to see the effort our staff put forward to make a positive difference. Supporting the charities that are important to our staff is one way Cenovus can recognize the work they're doing."
Since 2010, Cenovus and its employees have donated more than $8 million, volunteered over 1,200 hours, given more than 20,000 pounds of food and supported over 1,000 organizations during the Thanks & Giving campaign.
Details

Published on

Wednesday, 08 October 2014 10:39

Written by © DrumhellerMail.com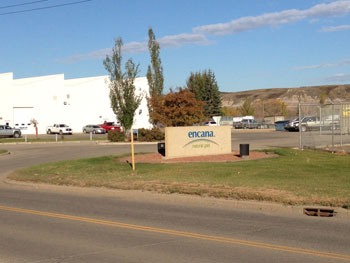 Encana Corporation announced today that it has reached an agreement with Ember Resources Inc. (Ember) to sell the majority of its Clearwater assets, located in southern and central Alberta, for approximately C$605 million, although much of the assets in the Drumheller area will remain in with Encana.
The sale includes about 1.2 million net acres of land and over 6,800 producing wells with second quarter average production of approximately 180 million cubic feet equivalent per day (mmcfe/d) of natural gas.
"This divestiture continues to advance our strategy. We are unlocking additional value from non-core dry gas assets as we focus on liquids rich growth areas. Our growth portfolio now includes the top two resource plays in Canada, the Montney and the Duvernay, and the top two resource plays in the United States, the Eagle Ford and, by year-end, the Permian Basin," says Doug Suttles, Encana President & CEO. "Through this transaction, Ember is acquiring a high-quality asset along with a tremendously talented team."
"This acquisition establishes Ember as the leading producer of coalbed methane in Canada," says Doug Dafoe, Ember President & CEO. "This is an exciting time for our company and we look forward to working with the talented team that has made Encana successful in this area for so many years."

Encana retains approximately 1.1 million net acres in Clearwater, including around 480,000 net acres along the eastern edge of the Horseshoe Canyon Fairway.
Encana operations will continue in the Rosebud, Rockyford, Standard area, as well as in Crossfield and on Siksika lands.
This sale is subject to the satisfaction of normal closing conditions and is expected to close in the first quarter of 2015.
.
Ember, together with its shareholder Brookfield Capital Partners, has recently through several acquisitions, consolidated a significant land and production base in the Horseshoe Canyon CBM fairway in Alberta. With this acquisition Ember will own interests in 2.2 million net acres of lands, with combined gross production of 290 mmcfe/d of natural gas. Coalbed methane production is characterized as a low-cost, long-life natural gas resource.

Encana is a leading North American energy producer that is focused on developing its strong portfolio of resource plays, held directly and indirectly through its subsidiaries, producing natural gas, oil and natural gas liquids (NGLs). By partnering with employees, community organizations and other businesses, Encana contributes to the strength and sustainability of the communities where it operates. Encana common shares trade on the Toronto and New York stock exchanges under the symbol ECA.