Details

Published on

Saturday, 16 August 2014 10:15

Written by Lauren Main | © DrumhellerMail.com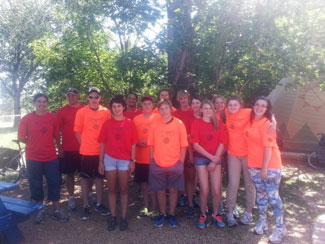 Two Wheel View's group of fourteen are biking to Banff on a nine day enrichment excursion.
Drumheller and district is rounded up local kids for yet another bicycle trip from our Badlands to Banff.
Two Wheel View was implemented in Drumheller last year to promote health and wellness, goal making, leadership, and environmental stewardship in local youth. Through a bicycle expedition and educational pit-stops along the way, Two Wheel View is able to enrich local youth for a second year.
Constable Craig Nelson with the Drumheller RCMP is a chaperon for his second year as the group bikes 320 kilometers to Banff.
"I expect the kids to come back with an experience unlike any other. The sense of accomplishment is indescribable. This trip is something every kid should do, since it forces them out of their comfort zone and makes them overcome large challenges, boosting their self-esteem," Nelson explains.
The trip is nine days long and will be lead by experienced trip organizers, but other than that, the bikes are unsupported- there are no trucks following behind the group.
Kerry Maguire has been with Two Wheel View for three years, and was a part of the long distance trip last year.
"There are points where you can be intimidated by the kilometers, but since this is a leadership trip, there's a great support system in place for us and the kids. In the mornings when we wake up, we ask how everyone is feeling on a scale of 1-10, and we let kids vent if anyone is overwhelmed," Maguire says. "The best part of this trip is showing youth that when you interact with the environment, it's more personal. On this trip, you get to see, feel and experience more than you ever could inside a car."
The group will average fifty kilometers a day in order to reach their ultimate destination of Banff.
Details

Published on

Friday, 15 August 2014 18:36

Written by Michele Scott | © DrumhellerMail.com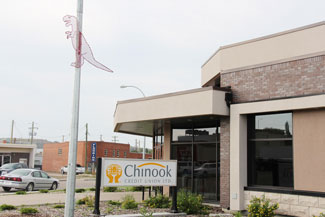 The Board of Directors for Chinook Credit Union and First Calgary Financial are proposing a merger.
The banks will take their proposal to a membership vote September 8 and September 10 this year.
The companies say a newly created credit union between the two would serve 100,000 members throughout 14 communities in Southern Alberta.
The two different credit unions plan to keep their current, local identities and community focus.
"Both Chinook Credit Union and First Calgary Financial have a strong commitment to our communities where our employees and members live and work.
"We look forward to combining the expertise, local knowledge and experience of our teams to become even better for our members." said board chair of Chinook Credit Union, Andrew Eberl.
If granted membership and government regulatory approval, the merger would become effective November 1, 2014.
Details

Published on

Friday, 15 August 2014 17:40

Written by Michele Scott | © DrumhellerMail.com
Brian Curran, Head Coach and General Manager of The Drumheller Dragons
It may seem like summer has just started, but as we head toward summer's end, hockey season is gearing up.
With their home opener less than a month away, the Drumheller Dragons hockey club heads to camp this weekend to select their team for the new hockey season.
One thing is already standing out for the team's head coach.
"I'm thinking we're one of the quicker teams I've had," said Drumheller Dragons Head Coach and General Manager Brian Curran.
Curran wants to stick with his formula of skill, speed and physical presence on the ice.
"I think that's what made us successful last season, so we certainly want to have a well rounded team like we did last year ."
"I think we have that."
This year the Dragons have trimmed the number of camp attendees compared to previous years.
"We'll have roughly about 40 players here. We've cut down in our numbers this year because we've had enough looks at the players we've recruited for the past year," said Curran.
Traditionally the Dragons have had 75 hockey players to this main camp, but Curran felt the smaller camp to be more in line with the type of game he wants his team to play, and helps to better focus player selection.
"My scouting staff and myself, we just wanted to make sure we give 40 young men coming to our camp, that includes our veterans from last year, the best opportunity to make it here."
The Drumheller Dragons camp runs Saturday, August 16 to Monday, August 18.
"You look forward to seeing all the boys return," said Curran.
"I have a hard time believing we're starting when we do - it's thirty degrees outside."
The Dragons' regular season home opener is Friday, September 12, at Memorial Arena.