Details

Published on

Friday, 16 January 2015 13:12

Written by Michele Scott | © DrumhellerMail.com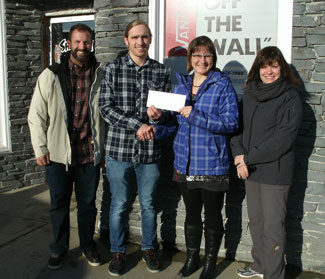 (l-r) Brooke Christiansen and Nick Sereda receive a cheque for the Drumheller Association of Skateboard Enthusiasts (DASE) for over $10,000 from Bridget Unland, chair of the Drumheller Fund Committee, with DASE member Marina Flater.
The creation of Drumheller's skatepark is a step closer after receiving grant funding.
The Drumheller Association of Skateboard Enthusiasts, in partnership with the Town of Drumheller, has received a $10,407 grant from the 2014 distribution of The Drumheller Fund.
The Drumheller Family Endowment Fund, administered by The Calgary Foundation was established in 1993 by the Royal Tyrrell Museum Cooperating Society, through a donation given by the Drumheller Family.
The Society directs the net income on the fund each year, in consultation with The Calgary Foundation, to organizations in Drumheller including the Cooperating Society itself, for projects that meet the following criteria:
- Projects must be directed at benefiting the Drumheller community, with emphasis on youth.
- Project is to be accessible to the public.
- Funding is not to be used to cover the organization's operating costs, administration or building maintenance.
- Funding is not used to support ongoing or pre-existing programming expenses.
- Funding does not cover retroactive expenses incurred prior to the grant decision date.
As of December 2014, the Drumheller Fund has distributed $206,600.00 to the Drumheller community.
Details

Published on

Thursday, 15 January 2015 22:24

Written by Bob Sheddy 403.324.2222
The Drumheller Fire Department was called out on Thursday night around 9:45 to a small fire at Newcastle beach. 8-10 kids were walking away from the area at the time and stopped by the RCMP.
Details

Published on

Thursday, 15 January 2015 21:00

Written by Michele Scott | © DrumhellerMail.com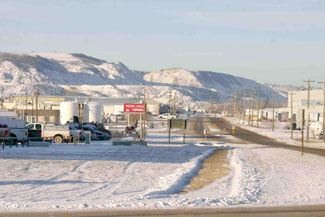 A company site in Drumheller's Hy-Grade Industrial Park is now allowed to contain chemical drums/totes. Town Council adopted a by-law change allowing businesses to apply to use their light industrial land for uses other than originally pemitted, such as chemical storage.
Drumheller's Town Council passed a change to the Town's Land Use Bylaw following a public hearing held prior to the start of the Monday, January 12 regular meeting of Drumheller Town Council.
Platinum Chemical Solutions requested a change to the Town's Land Use Bylaw to allow for the storage of chemicals on M-1 light industrial land. The Town's M-2 medium industrial classification allows for the storage of chemicals, rather than the M-1. "There's environmental concerns and there's community concerns," said deputy mayor Lisa Hansen-Zacharuk, "but at the end of the day, you already have precedent set in that area that is already allowing that to occur, unpermitted".
"For my own self personally, I don't believe that it would have been the right thing to do, to say no, one person cannot follow suit, but two others would be allowed to remain. And, if we had decided to stick with the M-1 rather than the M-2, what effect would that have had on the other two or possibly three (similar) businesses in that area?"
"I'm not willing to say that Drumheller's not open for business, and I think we did the right thing. "
The deputy mayor added Council's decision allows the Municipal Planning Commission to look at each request of this type on a case by case basis, rather than having a blanket classification for all chemical storage.
The Municipal Planning Commission and Palliser Regional Municipal Services both recommended that council reject the change to the land use.
"There's very good advice that's given in those (reports), but we have to take everything into consideration," said Hansen-Zacharuk.
Two similar companies have been operating as M-2 on land for only light industrial use. The Town has no way of knowing how many other companies in Hy-Grade could be using their land for purposes other than their permit allows, as the land use hasn't been policed and it hasn't been enforced, Hansen-Zacharuk said.
"I'm hoping now it will be (reviewed) on a case by case basis, and they'll be a little more proactive now than they have been in the past,"
She said at this point she is unclear of the review and enforcement method the Town would be taking to clear up the non-compliant cases.