Details

Published on

Thursday, 17 July 2014 15:42

Written by Michele Scott | © DrumhellerMail.com
TORNADO WATCH ENDED
Updated Friday July 18, 11:30 am
The tornado watch ended for the Drumheller and Hanna areas last night, and Environment Canada currently has no weather alerts in effect for the region or Alberta.
Environment Canada had Drumheller and other parts of the prairies under a Tornado Watch Thursday afternoon and evening, when a humid air mass moved into Southern Alberta, bringing turbulence and thunderstorms, and hail for some locations.
Details

Published on

Thursday, 17 July 2014 15:00

Written by Lauren Main | © DrumhellerMail.com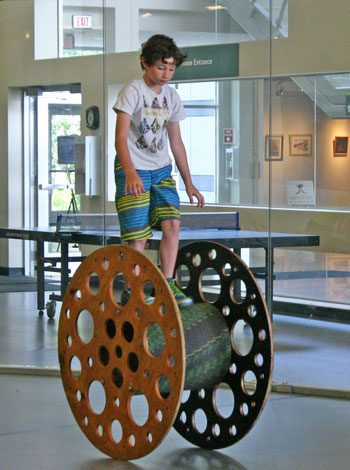 It's a long way down for Andrew Suntjens as he rolls around the field house of Flyin' Bob's Circus Camp. After a generous donation from the Drumheller Rotary Club, the Badlands Community Facility was able to host a summer day camp for kids willing to take a swing at their circus skills. The camp, from July 16 to 18, has the kids learning fifteen circus skills in various activities from tight rope walking and feather balancing to stilts and unicycling. After the two days of skill building, the kids will be able to showcase their newly acquired abilities in a public performance to wrap up the camp, scheduled for 2 p.m. Friday, July 18, in the Field House of the Badlands Community Facility.
Details

Published on

Thursday, 17 July 2014 12:14

Written by Michele Scott | © DrumhellerMail.com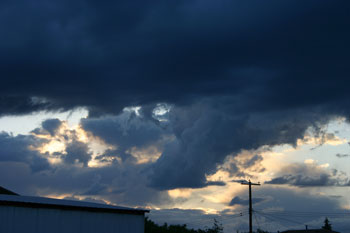 A severe thunderstorm alert is in effect today, with the warning stretching from late morning into this evening.
Environment Canada expects severe thunderstorms to develop early this afternoon in the Drumheller, Red Deer and Airdrie regions and then spread eastward into the Hanna, Brooks and Medicine Hat regions.
The weather agency notes the potential that with these severe thunderstorms comes an increased risk for damaging wind gusts, damaging hail, heavy rain, and possibly tornados.
The warning covers the Town of Drumheller, as well as Kneehill County: areas near Carbon, Acme, Linden, Three Hills, Torrington, Wimborne, Trochu and Huxley.
In Wheatland County: near Rockyford and Rosebud, and Highways 569 and 848.
In Starland County: areas near Michichi, Delia, Morrin, Munson, Rumsey and Rowley.
Special Areas 2 near Finnegan and Little Fish Lake Provincial Park, and areas near Hanna and Richdale.
Environment Canada says conditions are caused by a warm and humid air mass over Southern Alberta.
Find a complete list of Environment Canada's Alberta Weather Alerts at http://weather.gc.ca/warnings/index_e.html?prov=ab