Details

Published on

Tuesday, 14 October 2014 03:00

Written by Pat Kolafa | © DrumhellerMail.com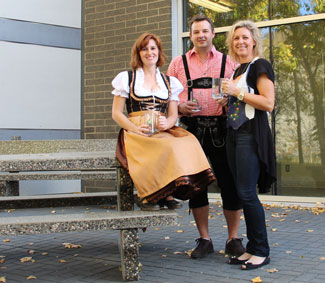 The Badlands Community Facility (BCF) was oom-pah-ing its way through the second annual Oktoberfest celebrations Saturday, October 4. They were also celebrating the completion of the Legacy Patio. The patio features prominently at the south entrance of the BCF and features benches and picnic tables for the public to enjoy. Residents can show their support for the BCF by purchasing a legacy bench or picnic table. A number have already been spoken for, but there are more for residents to show their support. (l-r) Kim and Kyle Suntjens and Heather Colberg toast the new patio.
Details

Published on

Monday, 13 October 2014 19:41

Written by Michele Scott | © DrumhellerMail.com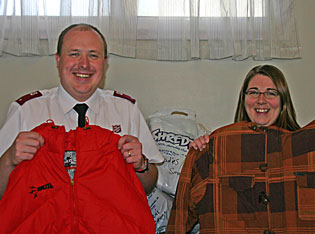 Drumheller Salvation Army's Lieutenants Dusty and Laurie Sauder show some winter coats gathered during Drumheller Western GM's Coats for Kids drive held September 24.


It's always nice to get more than you expected, especially when it comes to a winter coat drive.
Drumheller Salvation Army Lieutenant Dusty Sauder said this year's Western GM's Coats for Kids September 24 filled the box on both a three-quarter ton pick-up truck and a half-ton pick-up truck. Lt. Sauder estimates this at 20 black garbage bags of winter wear bagged from each truck.
Donations received from the community include coats, snow pants, mitts, scarves and toques.
Drumheller's Shredz donated $4,000 worth of stock to the coat drive, and Canalta purchased all new items to donate.
"The big thing is, you're able to give a teenager a coat, with dignity," said Lt. Sauder.
Encana's employee fund contributed $140, which Encana will match, to donate to the Salvation Army.
Area residents and businesses also dropped by Western GM not only with winter gear, but also to donate $640 in cash.
With Canalta and Freson Bros. donating the supplies, people purchased barbecued hot dogs at the dealership, which raised another $208.30 for the Salvation Army.
Lt. Laurie Sauder said it was wonderful the way Western GM had everything organized.
Western GM sorted all the winter-wear items and delivered the clean and new items to the Salvation Army, and the remainder was sent to a cleaning company in Red Deer.
The Salvation Army would like to begin giving away the winter gear as soon as the items are back from the cleaners, which they're hoping will be early to mid-October.
The Sauders are grateful and appreciative of all the community support for this program.
In 2013, Western GM's Coat for Kids enabled the local Salvation Army to give away coats and outer-wear accessories with an estimated value of $4,000.
Details

Published on

Monday, 13 October 2014 09:49

Written by Michele Scott | © DrumhellerMail.com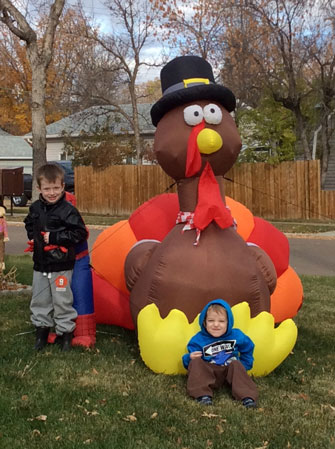 The Tabert boys, five-year-old Luke, left, and three-year-old Jackson, with the family's inflatable tukey on their front lawn at home in Drumheller. Mom Crystal said Jackson heads to the window as soon as he gets up to make sure the turkey, along with a large cat and pirate ship inflatables, are up and running. The boys want to wish everyone a safe and happy Thanksgiving holiday.