Details

Published on

Thursday, 04 December 2014 16:14

Written by Michele Scott | © DrumhellerMail.com

Alberta Health Services is advising of a whooping cough outbreak in its Central Zone.
The Central Zone covers the communities in the area from Two Hills to Drumheller, Lloydminster and Rocky Mountain House.
Whooping cough, or pertussis, is a bacterial infection that causes severe coughing that lasts for weeks, pertussis can lead to pneumonia, convulsions, brain damage and even death. Infants six months and younger are at greatest risk for these serious complications.
Alberta Health has increased the number of immunization appointments available in the Central Zone to reduce infant infection rates.
These appointments are specifically intended for the following Central Zone residents:
infants and pre-school aged children who are not up-to-date on immunizations;
caregivers and close contacts of infants such as parents, grandparents, nannies, child care staff (e.g. daycare centres and family day homes);
health care workers;
women who are at least, or greater than, 26 weeks pregnant (Immunizing women at or after 26 weeks of pregnancy is safe, and increases protection for newborn infants by minimizing risk of infection in those around them and giving them antibodies transferred during pregnancy).
Pregnant women and adult caregivers/close contacts can call their family doctor to see if they have immunizations available.
Parents unsure of their child's immunization history can contact their local community health centre to discuss. Alberta Health has confirmed over 100 cases of whooping cough in the Central Zone this year.
Seven of those have required hospitalization.
Alberta Health asks anyone who suspects that they or a family member may be sick with pertussis to stay at home and call their family doctor or Health Link Alberta, toll-free at 1-866-408-LINK (5465), before seeking medical care. When prescribed treatment, cases should stay home from work, school or childcare until five days of antibiotics have been completed.
Details

Published on

Thursday, 04 December 2014 15:03

Written by Michele Scott | © DrumhellerMail.com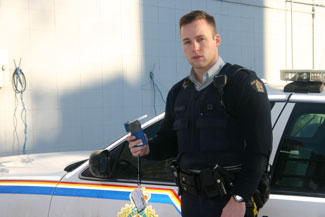 Drumheller RCMP Constable Jeremiah Jones shows a breath screening device used in roadside checkstops.
RCMP across Canada will be kicking off Christmas season checkstops with National Impaired Driving Enforcement Day on Friday, December 5.
"Every detachment in the province should be involved in that," said Drumheller RCMP Staff Sergeant Art Hopkins.
"We will have several members that will be involved in it during the course of their duties."
Police say they will increase enforcement efforts during the course of this holiday season, to detect people driving under the influence, and to remove them from behind the wheel to make the highways as safer.
"At the end of the day, we want people to drive responsibly and not to drink and drive," said Hopkins. The province estimates that between 2008 and 2013, 471 people were killed on Alberta roads as a result of impaired drivers. 7397 people were injured in in alcohol related collisions over that same period.

Details

Published on

Thursday, 04 December 2014 11:59

Written by Michele Scott | © DrumhellerMail.com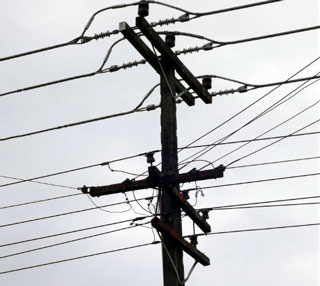 Rosedale, East Coulee and Little Fish Lake are scheduled for a planned power outage Thursday from 1 to 3 p.m. photo courtesy Town of Druheller.
The Town of Drumheller is advising of a power outage Thursday, December 4, for Rosedale, East Coulee, and Little Fish Lake from 1 to 3 p.m.
ATCO Electric said the outage is necessary to fix equipment damage caused by recent poor weather conditions.