Details

Published on

Wednesday, 11 March 2015 20:01

Written by Michele Scott | © DrumhellerMail.com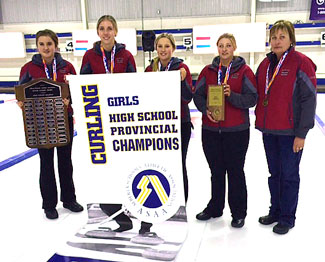 The Morrin Girls high school curling team took the provincial championship in Lloydminster Saturday, March 7. The team's players that took the gold are (l-r) Skip Katie Primrose, Third Amy Adams, Second Shelby Primrose, Lead Jessica Wolf, Coach Betty Primrose.
While provincial teams were playing off in the national Tim Horton's Brier curling championship in Calgary, the Morrin Girls high school curling team was working their way through provincial playoffs, winning the title of Provincial Champions on Saturday.
"We were pretty overwhelmed," said team Skip Katie Primrose. "We worked really hard to get there, and it was pretty exciting to finally accomplish that goal that we set for ourselves."
The team of skip Katie Primrose, Third Amy Adams, Second Shelby Primrose, and Lead Jessica Wolf, with coach Betty Primrose earned the provincial title after beating out the defending high school girls champions from Chauvin in the final game on Saturday, March 7.
Coach Betty Primrose notes of all the games the team played, the final game with Chauvin was the toughest.
The Primrose team was up 4-3 going into the final end of play, and scored three in the eighth end, without the skip having to throw her final rock, to take the championship.
Betty said the young curling team peaked at provincials.
"And I would say Katie skipped fearlessly. Amazing. The teammates were amazing - whatever shot she asked them for, they gave. It all came together at the right time."
Katie said this year was the team's third chance to play at the provincial high school playoffs.
Also attending provincials was the Morrin Mixed Team of Skip Evan Hampton-, Third Caitlin Wolf, Second Lowell Nelson, Lead Jorden Ferguson, and coach Melanie Nelson.
The mixed team ended up in a tie breaker Saturday morning, and were knocked out of competition by Leduc, the team that went on to win the gold medal mixed.
This year's curling provincial championship was hosted by Lloydminster March 5, 6 and 7.
Details

Published on

Wednesday, 11 March 2015 15:19

Written by © DrumhellerMail.com
Artist's concept of the prehistoric sea creature Caron Metaspriggina, which would have been found in the Cambrian period's ancient ocean that covered the Burgess Shale fossil site located on a mountainside near Field, B.C. Image courtesy of Jean-Bernard Caron.
The March 12 edition of the 2015 Royal Tyrrell Museum Speaker Series is a presentation by Dr. Jean-Bernard Caron from the Royal Ontario Museum entitled "The Marble Canyon Burgess Shale Locality and the Early Evolution of Fishes."
Located in the mountain parks of British Columbia, the Burgess Shale provides some of the best information for our understanding of the early evolution of complex life. The series of sites contain fossils from an ancient ocean bottom that show the rapid diversification of complex multicellular life — a period referred to as the "Cambrian Explosion" around 540 to 485 million years ago. The basic body plans of most animals alive today, including vertebrates like ourselves can be traced back to this period.
Despite the importance of the Burgess Shale, our knowledge of this interval is limited to a small number of quarries. The discovery of the exciting new Marble Canyon site, located in Kootenay National Park, was announced in 2014. Fossils from this new site have revolutionized the way we view many of the enigmatic early animals. Perhaps most importantly, abundant fossils of the early vertebrate Metaspriggina have greatly increased our understanding of this important animal, and highlight new discoveries regarding the evolution of our ancient body plan.
The Royal Tyrrell Museum's Speaker Series talks are free and open to the public. The series is held every Thursday until April 30, 2015 at 11:00 a.m. in the Museum auditorium. Speaker Series talks are also available on the Museum's YouTube channel: youtube.com/user/RoyalTyrrellMuseum.
Details

Published on

Wednesday, 11 March 2015 09:49

Written by Pat Kolafa | © DrumhellerMail.com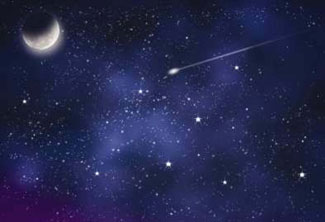 Some residents in East Coulee and Drumheller reported a blast of light streaking through the night sky, perhaps similar to this photo, on Sunday, March 8
A few area residents were treated to a rare sight Sunday evening as a fireball blasted through the sky.
Reports have come in from East Coulee and Drumheller of a blast of light streaking through the night sky.
Lance Tanke said he witnessed the phenomenon driving in from Calgary after the Tim Horton's Brier Sunday night.
"I was just on Highway 9 west of Highway 21," he tells The Mail. "The sky sort of lit up, and then I saw something coming out of the sky. I wasn't sure if it was something lighting up the sky or the oncoming headlights, but when I got home, someone else said they saw it on Facebook."
He said the fireball was right in front of him as he headed east towards Drumheller.
"It was pretty cool to see," said Tanke. "I have seen a shooting star, but I have never seen something light up the sky like that."
He adds he has heard reports as far away as Saskatchewan of people also seeing the fireball.
Theresa Fomradas said it was around 10:30 p.m. when she saw the fireball. She said it appeared to be travelling from south to north.
"It was like lightning lit the sky without seeing the bolt of lightning. It only lasted a second or two. Very quick," she said.
Darryl Reid, of Night Images, has become an expert at photographing the sky at night and said describing it as a fireball is apt.
"I would surmise that is exactly what they saw - it is what they call a fireball,' said Reid. "A fireball is different from a meteor because of scale. Meteors are frequently the size of a pea and when they come in, they burn up, and we see a quick flash across the sky."
This is what is commonly known as a shooting star.
"Fireballs can be things the size of a cooler, a car, or even a house, and when they come in, they heat up to the point that they explode. They look like a comet streaking across the sky."
He did not see Sunday night's phenomenon, but says he's seen ones like it and says they are rare.
"They are unpredictable because they are just pieces of rock floating around the sun like us, and they run into us when they get caught up in our atmosphere when the earth's gravity pulls them in. Occasionally a piece will survive and then it becomes a meteorite," said Reid.
A couple weeks ago, there was a report of another flash in the sky that was visible from Calgary. This turned out to be a rocket body from the launch of a Chinese satellite. Reid says the most likely explanation for Sunday's sighting was a meteor and says it's not a bad thing that this kind of material burns up as it enters.
"That is good for us because there is a lot of this stuff floating around up there and it's all eventually going to fall down."