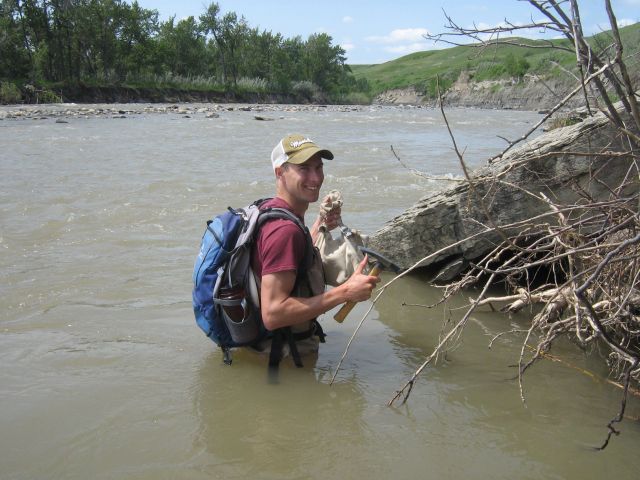 Drumheller – The January 28 session of the 2016 Royal Tyrrell Museum Speaker Series is a presentation by Joe Sanchez and Ben Borkovic, Museum technicians, who will explore "Wading Through History: Fossil Hunting Along Rivers Affected by the 2013 Southern Alberta Flood."
The flooding of several Southern Alberta river systems in 2013 affected hundreds of thousands of Albertans across dozens of communities and caused billions of dollars in damage. A lesser known impact of the floods is that the destructive effect of the water also led to the exposure of many new fossils in the rivers' banks. The discovery of a complete skeleton of a small dinosaur (known as Leptoceratops) in the flood-ravaged banks of the Oldman River spurred an effort to seek out what other specimens might have been brought to light by the floodwaters.
Over the past two years, the Royal Tyrrell Museum of Palaeontology has undertaken a field project to prospect numerous river systems in Southern Alberta to find and collect these newly exposed fossils and protect them from future flooding events.
This presentation will showcase the exciting results from the project to date, such as the discovery of several dinosaur trackways from the St. Mary River and a month-long endeavour to recover a Triceratops skull on the Oldman River.
The Royal Tyrrell Museum's Speaker Series talks are free and open to the public. The series is held every Thursday until April 28, 2016 at 11:00 a.m. in the Museum auditorium. For more information, visit tyrrellmuseum.com.