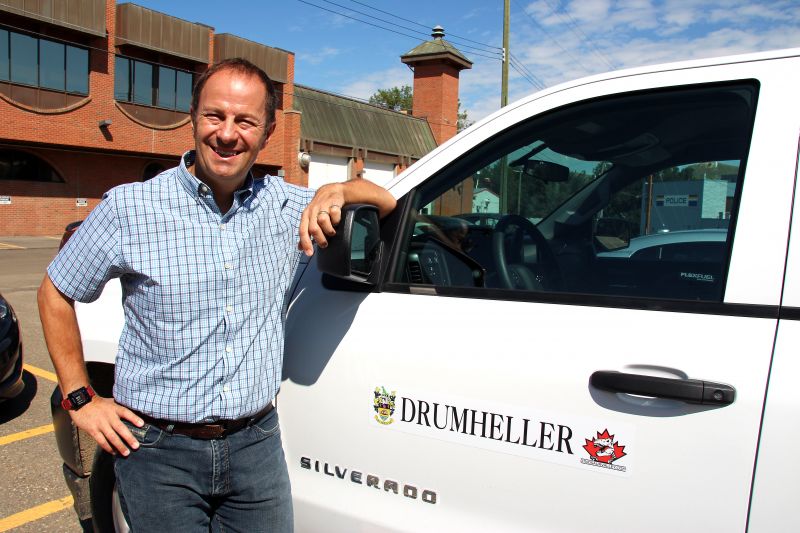 A former senior employee for the City of Winnipeg stepped into his new position as Drumheller's infrastructure director this week.
Darryl Drohomerski, former Winnipeg solid waste manager, brings over twenty years experience of senior management in a large urban centre.
In Winnipeg, he oversaw the city's transition to rolling garbage-can and blue-box collecting and spearheaded a successful waste minimization strategy.
The Winnipeg Free Press described Drohomerski as "effective and pragmatic," and former Drumheller infrastructure director, Al Kendrick, who will remain with the town until October to help the transition before his retirement, said Drohomerski is "a very intelligent individual" and thinks he'll fill the position well.
"It just takes a little while to get familiar with staff and procedures, and coming from a different province there is some difference on the regulatory side," Kendrick said.
Drohomerski and his wife came to Drumheller for simpler living and to escape Winnipeg's harsh winters.
"I just needed a bit of a change in pace and lifestyle. We were happy in Winnipeg. But my wife is from smaller towns, her father was RCMP, and they moved around small towns a lot, so we wanted to give small community living a try," he said.
He left his position in Winnipeg in 2014, where he was employed for 21 years, and before taking his position in Drumheller, Drohomerski had been running his own environmental consulting business from home, working with clients throughout the Prairie Provinces.
Despite coming from a large centre with deeper pockets, Drohomerski said Drumheller has great resources and is already appreciating the flexibility that comes with a smaller department.
"My opinion is a lot of smaller communities have more flexibility to do great work very efficiently, rather than places like Winnipeg and other large centres, where there's too many competing interests and you're not getting as much infrastructure work done as you hope," he said.
"There's more competing priorities for the dollars that are available. Drumheller does a great job, it seems to me, prioritizing infrastructure needs and replacements, as we've seen around town with the water main replacement program, and taking care of infrastructure before it becomes an issue. All larger centres tend to have issues sometimes because they don't have the ability to jump on the repairs they need to do in a timely manner."
Al Kendrick said the limited budget here will be an adjustment for him.
"They have a lot of similar struggles in major centres but they have deeper pockets and a bigger tax base than we do in the municipal environment we're in… you have to adjust priorities continually around here," he said.
As for ongoing projects in Drumheller, Drohomerski is familiarizing himself with the Aquaplex modernization, which will see a new liner installed, a number of smaller projects.
For the future, he said there could be potential to incorporate some of the advancements he made in Winnipeg to Drumheller.
"We have to sit down and find out what we want to do with the infrastructure we have and maybe look at introducing things that larger centres have. But to be honest, it is probably too early to tell."