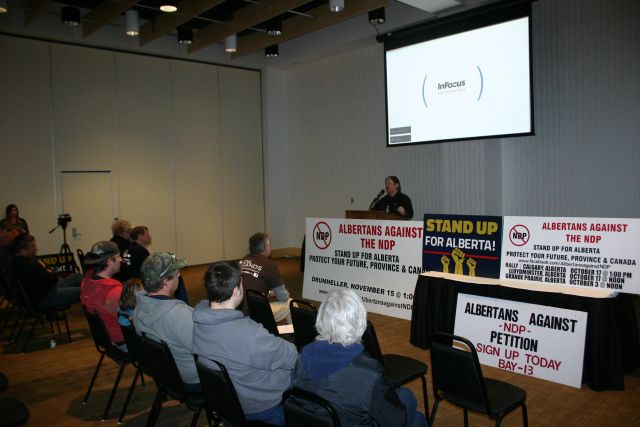 About 70 people came out on Sunday afternoon for a Stand Up For Alberta Rally.
A group of concerned Alberta residents have been participating in rallies throughout the province. This was its sixth, and the first indoor rally they held
John Satink of Drum Diesel is a supporter of the movement and sees their word is getting out.
"Good attendance with a crowd concerned with the direction this government is taking this province by closing coal mines, no support for the unemployed oil and gas industry; no support for Albertans," he said in a written statement
He said there were speakers at the meeting addressing environmental concerns, pipelines design, route description; the current condition of oil and gas industry. There was also talk on the upcoming tax levy on agricultural industry."
Lorne Murfitt of Big Valley is also involved in the movement and is the owner of the iconic Dodge Dually with a billboard supporting the cause. He tells The Mail, he has put 11,000 kilometres on the truck drumming up support for the movement.
He said the focus is to be noticed.
"Our action plan is just getting our voice heard and trying to get this government to work with and for us," he said. "We do pay their wages."
He said they are working on organizing.
"We have just started turning this into an organization. We just started a new Facebook page (Standup for Alberta Against NDP) and along with that a new web page," said Murfitt. "With that, we are shifting our momentum and trying to make it better, so we can attract more attention and have a more powerful voice."
He stresses the importance of getting the government to hear their voice.
"We have no shortage of things getting worse, there is a shortage on things getting better, that's what we have to work on, and we have a government that is not listening to us," said Murfitt. "When they read the budget, I thought they must have dropped two pages on the ground, because there is nothing in it. There is nothing for virtually all of Alberta unless you pay union dues. Our families are going to be destitute soon."
"Every single day she (Premier Notley) comes out with something that is against Alberta."
The next Stand Up for Alberta Against NDP Rally is in Red Deer on November 29 at the Red Deer Sheraton at 1 p.m.