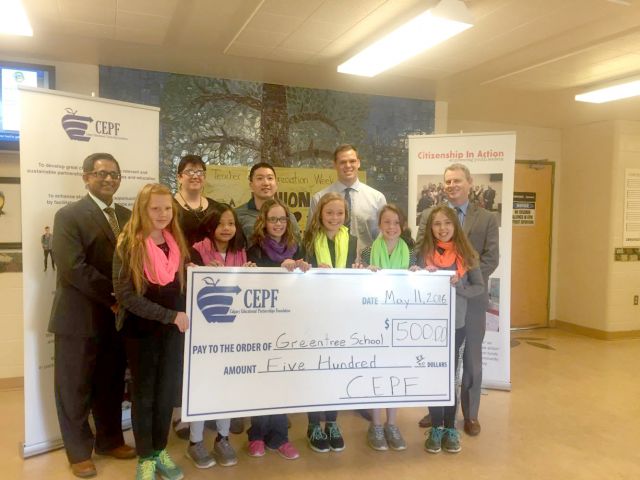 The gap between Drumheller's youth and senior citizens is soon to be joined together by music. Choir Leader of Greentree Elementary School, Alex Chung, was presented a cheque from the Calgary Educational Partnership Foundation (CEPF) to support his "Singing for Seniors" project.
The idea came to Chung when he wanted some audience rehearsal time before the Drumheller Music Festival Competition. The children performing for the seniors will enhance a continuing connection between the Sunshine Lodge residents and the student choir.
President and CEO of the Calgary Educational Partnership, Din Ladak supports the pairing.
"Music is a universal connection and transcends generations. The Calgary Educational Partnership Foundation is very excited to support this project at Greentree School," stated Ladak.
The money received from the CEPF will allow the Division 2 choir of Greentree Elementary School to make frequent visits to Sunshine Lodge, as well as purchase resources.
In addition to the Division 2 choir, Greentree Elementary School also offers a Division 1 choir, a ukulele club and a recorder club led by dedicated staff.
The members of Greentree School choir have shown a great interest in performing for seniors. In the press release, Drumheller students stated they are happy that what they love to do is having an impact in the school and the Drumheller community.
A future endeavor the school has planned is a joint field trip between the residents of Sunshine Lodge and Greentree School choir members to see a musical performance together.
The funds from the grant will also go towards the trip.