Details

Published on

Sunday, 22 February 2015 03:00

Written by Michele Scott | © DrumhellerMail.com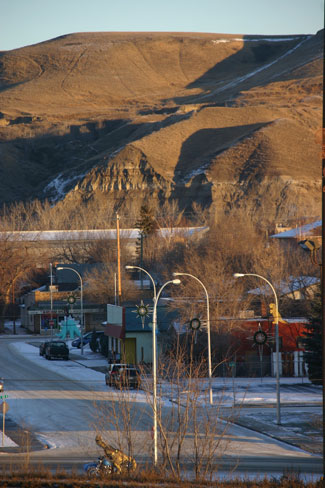 The Drumheller area has experienced a much wilder winter compared to the previous. Photo is looking at 2nd Street East in Drumheller.
For those living in the Drumheller area, this winter may feel like a welcome relief from the biting cold of last year's winter.
"It's almost a tale of two winters when you compare this year versus last year for the winter seasons, not only Drumheller, but most of Alberta," said Environment Canada Meteorologist Bill McMurtry.
"It's been interesting. It's been relatively warm for the most part, just looking back at the past few months, particularly December and January. We've seen temperatures for the most part that have been warmer across much of southern and central Alberta. And what really makes it feel significantly warmer is that it's warmer than normal, but its significantly warmer than what we had last year."
McMurtry said warm weather records were set all across Alberta, particularly toward the third and fourth week of January, but he didn't have the specific numbers available for the Drumheller area.
He notes it's difficult to say what would cause such a big variation from year to year, however often when long range forecasts and long term climate trends are examined to pinpoint the big variations, a lot can be attributed to ocean temperatures.
McMurtry said weather patterns in the upper portions of the atmosphere can also determine what happens with the weather.
"The end result is we really don't know why these things happen, generally, but when they do happen, they can be recognized."
The wind direction in the upper atmosphere changed from this year to what we saw a year ago.
"For example, this year, we've seen a predominant wind flow from the west or south west, from the Pacific, and that generally ushers in warmer than average temperatures in western Canada, and that's what we've seen this year, for a significant portion of Western Canada," he explains.
"And that's what we've seen so far this year, as opposed to last year - we saw a predominantly northwesterly flow, and that's ushering cold air from the Territories and the Arctic Circle, southward across the prairies, bringing much colder than average temperatures."
McMurtry said looking ahead to the temperature averages for March, April and May currently shows average or a chance of above average temperatures, but notes there's always a chance for a cold snap and another large bout of snow. He notes Drumheller's snowiest month is March, and the second snowiest month is January.

Details

Published on

Saturday, 21 February 2015 15:29

Written by Michele Scott | © DrumhellerMail.com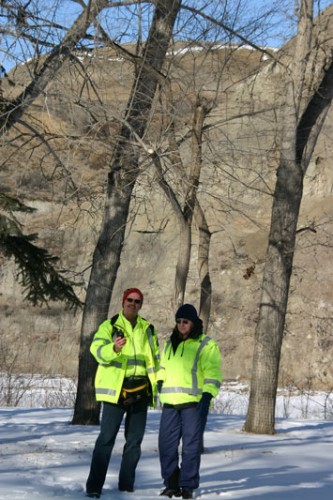 Members of Badlands Search and Rescue Merv Smith, left, with Joan Cormier, practice their GPS navigation training near the Red Deer River Saturday, February 21.
Members of the Drumheller based Badlands Search and Rescue were at the Badlands Community Facility for a day of GPS (Global Positioning System) training Saturday, February 21.
"It's all about navigation, so when we send searchers out, they know how to get to the search area, and we know their location," said Training Coordinator Guy Latour.
Latour said when searchers locate missing persons, GPS is used 99 per cent of the time to bring emergency responders to the find location.
The searchers took part in classroom training, then headed out under a blue sky and minus 16 wind chill for their field training.
The GPS navigation training allows searchers to mark their base location and learn way points to find their way around using the GPS system.
Searches headed out for an initial practice run, starting and returning to the BCF, then had ten practice locations over a five kilometre area along the Red Deer River and Riverside Drive.
The Global Positioning System (GPS) is a world-wide radio-navigation system formed from a group of 24 satellites and their ground stations.
Badlands Search and Rescue began operations about three years ago.
Details

Published on

Saturday, 21 February 2015 13:00

Written by Pat Kolafa | © DrumhellerMail.com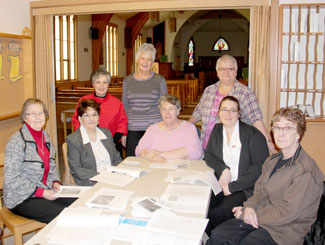 Christian women in Drumheller are hard at work planning World Day of Prayer coming March 6, hosted at St. Magloire's Anglican Church at 2 p.m. World Day of Prayer is an international movement of Christian women who come together to observe a common day of prayer. This year's World Day of Prayer is prepared by the Women of the Bahamas. Planning the day in Drumheller are (l-r) Madeline Rottaire, Rose Porter, Adrine Giles, JoAnn Cunningham, Susan Keddie, Deb Bolduc, Laurie Sauder and Coral Bickford.
inSide photo by Patrick Kolafa