Details

Published on

Thursday, 10 July 2014 15:24

Written by Pat Kolafa | © DrumhellerMail.com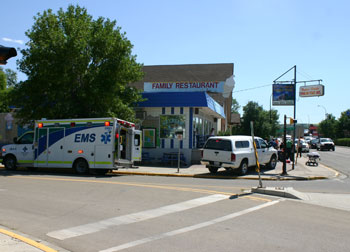 Emergency Services responded to a collision between a motor vehicle and a cyclist Thursday afternoon. At about 2:30, the Drumheller Fire Department, RCMP and EMS responded to the scene where it appears a south bound minivan collided with a cyclist at the intersection 2nd, Avenue and 2nd Street West in downtown Drumheller near the Vietnamese Noodle House. It appears the cyclist was upright and conscious when EMS arrives. The cyclist was taken to the Drumheller Health Centre with undetermined injuries.
Details

Published on

Thursday, 10 July 2014 09:14

Written by Michele Scott | © DrumhellerMail.com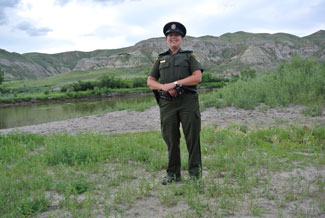 The Hanna district's new Fish and Wildlife officer said she gets paid to do what others pay to do.
Her day is spent in the outdoors on quads, horseback, helicopters, and boats.
Lori Backen started the first of June working in the Hanna district.
She also works with Fish and Wildlife officers from Oyen, Brooks and Strathmore to patrol the Drumheller area while the province recruits an officer for the area.
Backen transferred from Rocky Mountain House where she has spent the past five years. Prior to that she was stationed in Manning in northern Alberta.
Backen's been busy checking fishing licenses and limits so far at the three stocked lakes in her territory and also at spots along the Red Deer River.
"I've done a jet boat patrol through Drumheller and I've also checked from shore, different spots where I've found people fishing," said Backen.
Backen said she issued quite a stack of tickets during those checks in the area, and reminds anyone heading out fishing to make sure they read the latest copy of the sport fishing regulations to help them avoid receiving any fines.
The fishing regulations can be found anywhere a fishing license is purchased and at any Alberta Fish and Wildlife office.
The biggest change in her day from having worked in Rocky Mountain House to now working in the Hanna area may mean a few less bears to deal with.
Still, she said every once in a while a bear or other large animal is spotted where they're not usually found.
"The river valleys are natural wildlife travel corridors, so you never know, you might have some of the larger predators just using the river, following the deer. Every once in awhile you'll get a report like that out east (of Drumheller)."
Backen told The Mail the Hanna area she covers has a variety of wildlife she'll be watching over.
"There's a little bit of everything here. There's moose and elk, white tailed and mule deer, and antelope...they're out with their fawns right now, too. And lots of migratory birds, like ducks and geese."
Backen said she plans to stay in the Hanna area for awhile, and said she's looking forward to seeing the variety of wildlife, as well as exploring the landscape and enjoying the summer weather.
She enjoys fishing and hunting herself, often taking her black lab Cooper along on her trips.
Backen asks people to call Report A Poacher at 1-800-642-3800, if they see or suspect fish or wildlife related activities that are illegal.
She said it's important to remember that when people have total disrespect for the rules, it can have a real impact on the population of animals.
Details

Published on

Thursday, 10 July 2014 09:00

Written by Pat Kolafa | © DrumhellerMail.com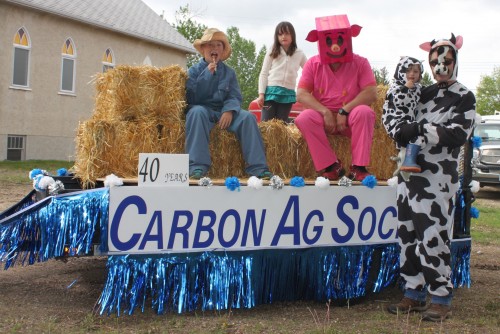 The Carbon Ag Society took first place in the Non-Profit category of the Carbon Sports Day parade. Below , Princess Berdahl took first in the equestrian.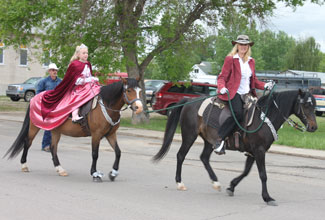 The Village of Carbon enjoyed a great Sports Day on the weekend of June 13 with all kinds of activities.
They started the day out with a great community breakfast, and a bevy of activities all weekend including a Slo-pitch tournament soccer, and evening dance. There was also of course, a parade that saw great participation from young and old.
In the Business Floats category, first place went to Bertram Drilling and second went to Green Heat Inc. Mountainview Credit Union won third.
In the Non-profit category, the Carbon Ag Society took first place. In second was 4H and in third place was Veterans.
In the Kids on Bikes category, first place went to Superheroes.
In the Equestrian category, first place went to Princess Berdahl and second went to Karen Pratt.
In the Antique Car division, first place went to Emil Heimrich and second to Adam Bertsch.