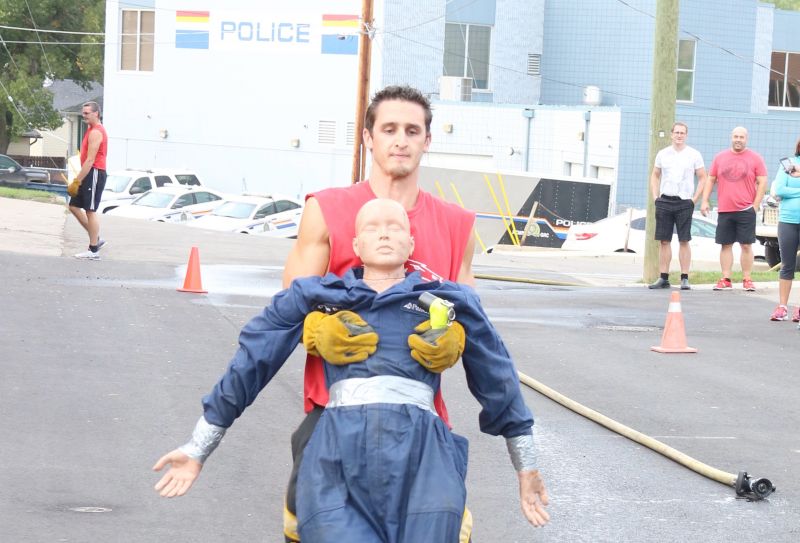 This weekend Drumheller has the rare opportunity to see some of Canada's finest firemen and women take on the toughest two minutes in sports.
The Drumheller Fire Department is hosting a regional FireFit Championship event on September 9-11 in the shadow of the World's Largest Dinosaur. Organizer Deputy Chief Duane Bolin says registrations are picking up.
"It was a really slow start, but in the last 6-8 days teams are really starting to sign up," said Bolin.
There is a chance that spectators will get to see some of the best competitors from across the country because the next week, the national championship is being held at Spruce Meadows in Calgary. Bolin says they are seeing competitors from as far east as Halifax to Kamloops to the west, and from Fort McMurray in the north.
"We could get some last minute registrations from down east, we'll see," said Bolin.
The local department is also very active and has 10 individual racers taking part. He would like to see participation from surrounding departments.
"I always say come out and do the team relay and see what it is like. If you like the relay, next time try the individual course," said Bolin.
Before the real athletes take to the course, Drumheller has the chance to see some average Joes take on the course.
On Friday evening, the weekend kicks off with the corporate challenge. This is a chance for locals to form a relay team and compete head to head on the official course. The corporate challenge participants have the luxury of not wearing the heavy turnout gear or Scott Air Pack.
Bolin expects there will be 12 teams taking on the course, representing a number of local community members, organizations and businesses.
The competition starts at 5:30 p.m. and each team will get two runs, with the top teams competing for the prize.
This is a great taste of competition, but the real athletes come out on Saturday.
Opening Ceremonies are at 10:45 a.m., and the first individual competitors hit the course at 11 a.m. While they call it the toughest two minutes in sports, the top competitors' times are below 1:30.
The team events will be held Sunday. There is a relay event with 3-5 competitors taking on the course, as well as the 2-man X3 relay.
"The X3 Relay is where you do the whole course with two people and you do an oxygen bottle swap on your Scott Air Pack in the middle of it," explains Bolin.
An Awards Banquet for the competitors takes place at the Cretaceous Conference Room on Saturday night.