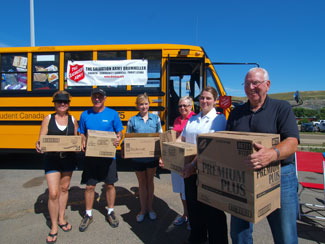 The generosity of area residents helped stuffed two buses for the Salvation Army's food bank last year.
It's time to load up your grocery bags and take them down to help "Stuff the Bus" for the Salvation Army.
Thursday, August 21, from 11 a.m. to 4 p.m., the annual event takes place in the ATB Financial Parking Lot. "By late summer, we get towards the end of our supplies, and so this is an opportunity to restock our shelves and get us through to Christmas," said Lieutenant Laurie Sauder of Drumheller's Salvation Army.
Sauder said it was incredible to see the buses fill up last year.
"Hopefully, rain or shine, we're able to do it again."
The Salvation Army has been in Drumheller assisting the area's residents since 1918.