Thanksgiving is a time for family, friends and sharing. There are many in the community who may not have friends near, or are away from home during the holidays.
The Salvation Army is hosting a Thanksgiving dinner on Sunday at the Badlands Community Facility. The church has hosted the special eventfor many years and have had great attendance each year.
"It is a fantastic time to be together, and I also think that sometimes holiday seasons are lonely if you don't have family or people to visit," said Lt. Laurie Sauder. "It's an opportunity to be around friends and enjoy the special holiday together, enjoy fellowship and some good food."
The event relies on a great team of volunteers to present the meal. This year, Cenovus has come back to the table to sponsor the dinner. The Salvation Army is grateful for the company's support. "They really help us out with this," said Sauder.
Doors open for The Salvation Army Thanksgiving. Dinner at 4 p.m. on Sunday, October 13 at the Badlands Community Facility. The host asks that those wishing to attend please RSVP by calling 403-823-2215.
Rides or delivery may be arranged in advance.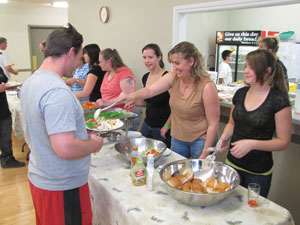 The Salvation Army and Cenovus are continuing a tradition hosting Thanksgiving Dinner this Sunday. Doors open at 4 p.m. at the Badlands Community Facility.