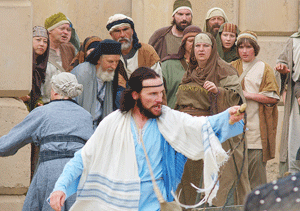 It was a deluge of biblical proportions on Saturday evening. None felt it more than the actors and attendees of the Passion Play. The intense showers closed the Saturday show early.
However, the spirit of the Passion Play is not dampened.
"Saturday night, we couldn't have stayed. The skies opened up and it was a downpour," said Passion Play executive director, Vance Neudorf. "We might have been able to carry on, but it just got too much."
The Saturday performance was only the second out of 110 shows to have been cancelled.
Sunday evening's show went ahead despite a constant sprinkle throughout the day.
"Sunday's show in the rain was a phenomenal show. There were about 1900 people and they stayed through the rain. We've had people phoning in saying how much they enjoyed it," said Neudorf.
The show on Sunday got off to a shaky start when John the Baptist slipped (he, fortunately, was not hurt), but the rest of the show went off without a hitch. During rainy performances, actors are pulled off the hills so as to avoid any injuries.
"If it's raining, we pull in all the actors from the hills. Anybody who knows bentonite knows how slippery it is. But, we still had a good ability to move around," said Neudorf.
Last Friday was the opening performance of this season and the weather was just right.
"It was a very pleasant opening show. It wasn't too hot and there was no rain," said Neudorf.
Anybody who was at the Saturday show can contact the Passion Play office at 403-823-2001 to discuss options about using their ticket. The Passion Play doesn't offer refunds, but they can offer a chance to see the show this upcoming weekend, a certificate for next year, or donate the ticket in exchange for a tax receipt.
The Passion Play is gearing up for a great weekend. The weather forecast indicates sunny and hot this weekend, ideal for sitting outside, enjoying the Greatest Story Ever Told.
Anyone interested in attending should bring along plenty of water, bug repellent, sunscreen, a small hat, and rain gear.
"We're hoping for good weather this weekend," said Neudorf. "Many of those from Saturday are coming back this weekend and we're going to be packed."