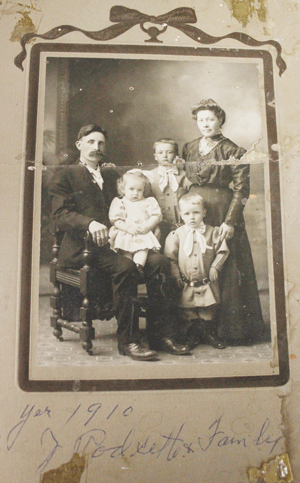 When Lori and Doug Jacobson began renovations on their 97-year-old farm house located in Kneehill County just a few minutes from Monarch Hill, they had no idea there literally was history within the walls.
After tearing some of the original plaster off the walls in the farmhouse, which Lori explained had no insulation and were in need of modification, Doug Jacobson spotted a photograph within the wall.
"When I saw the date 1910 and saw what awesome shape it was in, the first thought I had was, we have to find the family," said Lori Jacobson.
As it turns out, the name handwritten on the bottom of the photograph was J. Rodseth & family, who were early settlers of Verdant Valley. Grandchildren of Joakim (Jack) Rodseth, Robert and Don Vickers, who live in Drumheller, were both astonished to see this photo for the first time.
"I've never seen this photo before. We have one of the family when they were a little older, but not this one," said Robert Vickers.
Originally from Alesund, Norway, Jack Rodseth left on March 1, 1900 and arrived in Crookston, Minnesota, U.S.A. in the same month. He met a man named Edward Eidsvik, who would soon become his brother-in-law. Eidsvik returned to Norway for a visit, and when coming back brought his sister Ingelev. Her and Rodseth met, and were married in 1903.
They had three children in Crookston named Ole, Arthur and Jennie. In 1910 they packed up nearly all their possessions, from house plants to a horse and cow, and left their home of luxury and comfort to homestead in the Verdant Valley area. At first, they lived in a one-roomed shack. It was a big adjustment for the family.
"I believe they came in the winter time, and the story went that when the snow all melted in the spring time, a lot of their land was rock," said Linda Vickers, who is married to Robert.
Through hard work and perseverence, Rodseth and Eidsvik had homes built on their homesteads within a year. It was here in 1913 that Sina Rodseth was born, hence why she is not in the photo. She is the mother of Robert and Don Vickers of Drumheller, Richard who lives in Calgary and Doug who passed away.
While on the farm, Jack Rodseth served 10 years on the Michichi Municipal Council, and 20 years on the Verdant Valley School Board. The Rodseth's farmed their homestead until 1944, when they decided to retire to Drumheller.
It was a complete mystery to the Vickers as to why the photograph would have been in a farm house near Monarch Hill, so far away from Verdant Valley. As for being in the wall, the Jacobson's had a feeling it had been sitting on a dresser in the room above and had slipped in a crack, falling down in between the walls which had no insulation or anything to stop it.
"It's really good they found this picture, I mean they could have junked it. We are really happy to add it to the family history", said Linda Vickers.