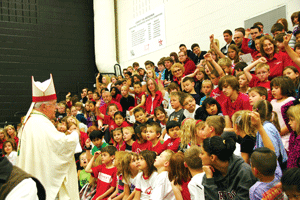 Bishop Frederick Henry, staff and former staff joined the entire school body of St. Anthony's School, dignitaries and families to celebrate the opening of the new school Wednesday morning.
Bishop Henry led the celebrants in mass before blessing each room in the school. Some of the special guests at the grand opening included board members from Christ the Redeemer School Division, representatives from Alberta Infrastructure and Alberta Education, the school's main contractor Cana and Gibbs Gage Architecture. Mayor Terry Yemen and Drumheller-Stettler MLA Richard Strankman also attended and brought greetings.
"It is very overwhelming to stand in front of you, coming from my background of a sparse rural area and seeing the enthusiasm today is heartfelt," said Strankman. "St. Anthony's School has been a part of Drumheller for 53 years and St. Anthony's School has been making the world a better place to be all along."
MLA for Banff-Canmore Ron Casey also attended and brought greetings from Education Minister Jeff Johnson.
"While we are here to open a new building, it symbolizes much more. Our province's potential and how we, as Albertans invest in our people, our greatest resource," said Casey. "The building of this school ensures our students are educated in safe and well maintained facilities. Vibrant and modern schools help teachers inspire students to reach their full potential, inspiring facilities provide equaling inspiring learning opportunities."
He also expressed the importance of having the freedom to learn.
"I have to say this reminds me to say what an absolute blessing it is to live in this country and this province where we value education from one end of the country to the other. And we also value the opportunity for faith based education in our classes and how important it is for our young people."
He added that the government is committed to improving school infrastructure.
"We already have 80 projects underway valued at a billion dollars, but we know we need more. This is why Premier Redford committed that we would build an additional 50 new schools and modernize 70 existing schools across the province over the next four years," said Casey.
There was no one more grateful for the school completion than Principal Tim Gregorash. He described the school as a "Gift from God"
"We may not always get our prayers how or when we want them but today our prayers have been answered," said Gregorash.