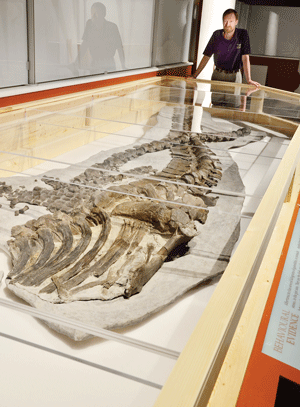 The Royal Tyrrell Museum is showcasing its latest exhibit this weekend, dubbed "Alberta's Last Sea Dragon: Solving an Ancient Puzzle."
The Sea Dragon refers to the spectacular specimen that is the centerpiece for the exhibit. Five years ago, a Tyrrell Museum crew excavated an enormous Elasmosaur, a type of aquatic reptile, from the Korite Mine near Lethbridge, Alberta.
Elasmosaurs are a type of Plesiosaur characterized by their barrel-shaped bodies, long necks, and small heads. The Sea Dragon is a new species and was named Albertonectes vanderveldi, after the Korite Mine founder Rene Vandervelde.
When Dr. Donald Henderson and the Tyrrell crew excavated the beast, they found nearly a complete animal. However, the most important part of most fossil animals was missing, the head.
"It's something new, but without the head you're looking for a collection of autapomorphies [unique characteristics] in the skeleton," said Dr. Henderson.
The most striking feature of the specimen was the length of its neck, which was comprised of 76 vertebrae. There were also numerous, finer detail, differences that warranted it being named a new species.
The second aspect of the new exhibit is to illustrate how palaeontologists use the scientific method to learn about these ancient creatures.
"One of the most frequent questions we get is 'how do we know?' We look at alternative ideas in several places and explain what a scientific hypothesis is and how we test it," said Dr. Henderson.
The exhibit does not only feature the new Elasmosaur, but has a Mosasaur, another marine reptile, for contrast. Mosasaurs differ in that they have larger skulls, generally stout teeth, and short necks.
"We wanted to contrast the two radical different feeding styles. They're not overlapping in feeding, so they can coexist," said Dr. Henderson. "We wanted to highlight that these animals didn't live in a vacuum and lived with all sorts of other animals."
Other displays will show how Elasmosaurs are related to other animals and how they evolved. The group is often thought to be dinosaurs or fish, but is neither. There will also be a section showing how the age of fossils is determined.
The specimen is another fruit of the close relationship between the Tyrrell Museum and Korite Mine. Since it's discovery, the Tyrrell Museum has collected numerous fossils from the mine, including a remarkable Mosasaur collected this past February.
The new exhibit is opening this weekend at the Tyrrell Musuem. For more information, visit www.tyrrellmuseum.com.