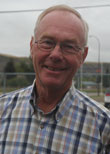 Last week, gun owners in Canada breathed a sigh of relief as there is a concrete end in sight for the gun registry.
In October of last year Bill C-19 was introduced, which would scrap the long gun registry, and last Wednesday the bill was passed with a vote of 159-130. The last hurdle is the senate.

Bill C-19 is an amendment to the Firearms Act to remove the requirement to register firearms that are neither prohibited nor restricted. It also calls for the destruction of the existing records. It amends the Criminal Code and the Fire Arms Act.
For avid bird hunter Sandy Brown it is about time.
"I heard on the news they were going to vote on it and now it is history," said Brown. "I think it is a good thing."
Brown had a number of concerns about the gun registry, one of the main ones was that too much money was spent on it. In 1995, the Department of Justice reported it would cost $119 million to implement, with $117 million being returned in fees. One estimate is that between 1995-2009 the net cost of the Canadian government's expenditure on firearms, less the cost of registration fees was $1.23 billion.
"They really didn't accomplish anything," said Sandy Brown. "They were targeting the wrong people, and I was one of them."
"I've had a gun since I was 12. I used to go across the river and shoot magpies, and I wasn't alone, lots of people did it. I was brought up with rifles and shot guns and it was never a problem," he said.
Brown hunts birds, and says he is a conservative hunter. He rarely shoots his limit. For him it is more about the experience, and often on his "hunting trips" he only carries a camera.
"I have my dog and like to watch them do work, and to see the migrations in this part of the world is phenomenal," said Brown.
He said the long gun registry focused on lawful-abiding gun owners, and not the criminal elements.
"How many things happen today with guns that are not registered? Most of them. What about that young fellow that killed those people on the highway in Southern Alberta? His guns were registered, he had a pistol. All the guns he had that night were all registered, that didn't stop him."
He does not see how the registry would reduce crime like it was billed to do. He adds that he doesn't believe that even 50 per cent of the guns in Canada were registered, and of the funds spent on the long gun registry, a lot of police could have been hired.
While the changes to the Firearms Act scraps the registering of long guns, restricted and prohibited weapons still have to be registered. The licensing system that came in with the act is still in place. This includes background checks and safety training.
"Most of the guys I know are pretty smart about guns," said Brown.