Tourism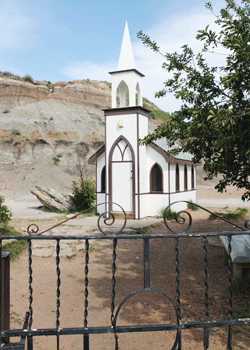 Drumheller's Little Church, located on North Dinosaur Trail, west of the Royal Tyrrell Museum, is often a site for visitors to stop and see.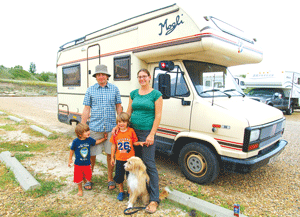 I noticed your RV isn't from around here: (Marina) It's from Switzerland. You put it on a ship, the ship brings it over, and then you pick it up. The rest of us flew in.
Where did you land and where have you been so far? We landed in Baltimore. We went through Pennsylvania, New York, Niagara, the prairies, and now we're here.
Where to next? To Banff and Jasper, then either to the coast or down to the U.S., I don't know yet.
How long are you going to be on the road? About half a year.
How is everyone enjoying the trip so far? We're doing good. We're on the road so long it's not really a vacation, it's more of a lifestyle.
Why stop in Drumheller? The dinosaurs! Along the way people were telling us the museum was great.
Do the boys have any favourite dinosaurs? Dinosaurs are going to be new for them. They're going to learn something new.
If someone from Drumheller were to go to Lucerne, what should they see? There's history everywhere you go. The Chapel Bridge is really famous. The lake is gorgeous. But, just go into the mountains.
Opening up the curtains on the hotel room window, a young Ariadne Shaffer was both shocked and disappointed at the view presented.
Subcategories