Tourism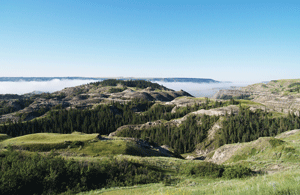 The badlands are one of Alberta's most striking landscapes. Erosion has sculpted the terrain over thousands of years and spending some time to hike in them can be an adventure. In a short hike, you can see Alberta's wildlife, amazing vistas, and fossils from the beasts who lived here millions of years ago.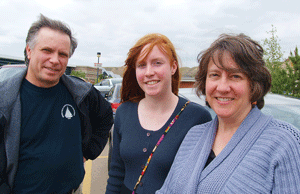 What brings you to Drumheller? We were visiting relatives in Calgary, we're both geologists, and our daughter likes dinosaurs and museums. We haven't been here for many years.
What do you like most about the valley so far? The museum and the scenery is really cool.
Is there anything you would change? We're surprised people can find the place!
If we came to your town, what should we see? Woods Hole Oceanographic institute, we do ocean research. We're also a beach town and the ferry for Martha's Vineyard leaves from Falmouth.
Would you come back to Drumheller? Yeah, for sure we'll come back!
Who are you? Kirsti Pinnell
Where are you from? Manchester, UK
What brings you to Drumheller? My sister lives in Calgary, and I'm over here visiting. We decided to come out to Drumheller for the day.
What do you like most about the Drumheller? The Royal Tyrrell Museum. It's better than the Natural History Museum, for dinosaurs.
What would you change about the valley? Nothing. The only thing I was disappointed in was the Hoodoo's, they weren't as tall as I expected.
If we came to visit your town what would you suggest us to see? I would tell people to definitely take in a soccer game if they can.
Would you come back to visit Drumheller?
Absolutely it's stunning out here.
Subcategories