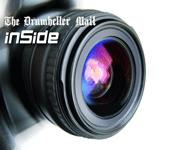 MERCHANDISE
FURNITURE & APPLIANCES
MISCELLANEOUS
FOR SALE... Karn Upright Grand, #9576, Circa 1908 Pat 1905, completely rebuilt in 2006, beautifully refinished in French walnut, matching bench, tuned annually. Must see and play! Asking $6000/offers, No GST. 403-823-5593.33p35
WANTED... Weather-proof storage space for personal effects. Approximately 10'X10'. Will pay up to $50. 403-334-0395.33p34
RECREATIONAL
SERVICES
---
HELPING HANDS… Serving seniors in Drumheller, Hanna and Three Hills since 1999. Cleaning, cooking, companionship. Helping you/Helping your family. Call Toll Free 1-888-364-2476. 34tfc
BOOK NOW: Newcastle Hall for rent; weddings, parties, meetings. Call Suzanne, 403-823-4499. Reasonable rates. 50tfc
Shady Time Tent Rentals. Rent a tent for your next event. Phone Chris at 403-820-1869 or Don at 403-321-0150. 15tfc
---
CHILD CARE
---
PETS
---
FIREWOOD
DAVIS'S FIREWOOD: Seasoned wood, pine and tamarack. Deliveries available. 403-546-2521. 14p13
---
TRANSPORTATION
---
AUTOS
FOR SALE... 2007 Kia Sportage LX AWD 5MT for sale. Many features. Well maintained, accident free, new windshield, one owner and all highway driven. 127,035 km. $7,750 OBO. Call 403-443-8123.29p34
FOR SALE... 2004 Toyota Celica, automatic, 147,000 kms. $7980.00. 403-823-6659.33p
FRO SALE... 2008 Chevrolet Cobalt for sale. Includes moon roof, power locks/ windows/ mirrors, command starter. 155,000km; $7900 obo. 403-820-5429.32p33
RV'S & MOTORHOMES
FOR SALE... 27 ft Conquent 5th Wheel Trailer. Like new condition. Very easy pulling. $11,900. Phone 403-823-7033 or cell 403-823-0872.31p33
RECREATIONAL
TRUCKS, VANS & 4X4'S
FOR SALE... Small Toyota Diesel Truck with over the cab camper. Fridge, stove, microwave and hydraulic jack. $8000. Camper can be sold separate for $3000. Phone 403-823-7033 or cell 403-823-0872.31p33
---
MOTORCYCLES
RENTAL PROPERTY
---
HOUSES FOR RENT
Century 21 manages over 100 rental properties. 1, 2, and 3 bedroom homes and suites for rent. Check out www.rentdrumheller.ca for a list of current properties for rent. 403.823.2121 M-F.2tfc
FOR RENT... Newer home. 2 bedrooms up and on down. 5 appliances, aid condition. $1100 plus utilities. No smoking. No pets. Available now. Phone cell 403-823-0872 or home 403-823-7033.32p33
HOUSE FOR RENT... Cute and cozy 1 bedroom for long term, non-smoker. C/W jacuzzi, fireplace, W/D. Beautiful yard and garden. Phone 403-820-5890.33p
HOUSE FOR RENT... In Rosedale. 2 Bedroom available 1 September. Rent $575.00 + utilities per month. D.D $575.00. Call 1-403-815-5422.33p
HOUSE FOR RENT... Like new. 1500 sq ft. 4 bedroom. Master bedroom has jacuzzi tub. Vaulted ceiling in front room. Also 6 appliances and central air. Prefer no pets and no smoking. $1170.00 includes lot rent. Utilities extra. Available 1 September. 403-852-2204 ask for Christine.33p34
HOUSE FOR RENT... 4 Bedroom, 2 Bathroom, 1/2 duplex family home. Central AC, Vivnt Security, shed, fenced back, F/S/W/D/DW, Non-smoking, no pets preferred. Call for viewing and application. References required. $1300. 403-820-8820.33p
FOR RENT... Two bedroom house in East Coulee. No smoking. References required. $850.00 per month plus D.D. Utilities included. 403-823-6406.33p
APARTMENTS
FOR RENT... 1 bedroom in Breaside, 645 6 Ave, East. C/W stove, fridge, a.c., free laundry, heat, water. Available end of August. 403-823-2406, 403-823-9405.33p
FOR RENT... August 15, Bachelor suite, furnished, lower level, private entrance acreage Rosedale. Utilities included $575. View August 14. Gus June Matlhes 403-854-2354.33p
HUNTS PLACE APARTMENTS... Corner of Hunts Drive and 2nd Street East. Quiet, adult oriented. Security door and intercom. Garden patios or large balconies. Laundry facilities. Parking with plug in. Fridge, stove, window coverings, hot water and heat. Wifi hotspot. No smoking. www.wix.com/writem5/hunts-place. Phone 403-820-1665.
FOR RENT... 1 bedroom, #202-225 1st St W. www.century21.ca/100656014, $1200 per month showsuite (or $1400 per month with some furniture). Call 403.823.2121 (leave msg) or email bob@telus.net.19tfc
FOR RENT... Juniper Manor. 1 and 2 bedroom suites available. Includes; free heat, free water, coin laundry, parking, air conditioning. No children. Phone 403-856-4401.32p35
FOR RENT.... Quadra Manor. 1 and 2 bedroom suites available. Includes; free heat, free water, coin laundry, parking, air conditioning. No children. Phone 403-856-4401.32p35
SHARED ACCOMMODATION
---
ROOMS FOR RENT
ROOM FOR RENT... Greentree Area. $320.00 per month. Bedroom in clean, quiet, bi-level house. Non-smoking. Utilities and internet included. 403-695-7987 or email adsogi@telus.net.31p35
ROOM FOR RENT... All utilities included, cooking and laundry facilities, satellite and internet. Fully furnished with T.V. $500.00 per month - $300.00 security deposit. Phone 403-823-6546. Ask for Val.33p34
COMMERCIAL PROPERTY
2 bays for rent... Available immediately. Large overhead door. Storage for rent for RVs, boats and cars, fenced and locked, reasonable rates. For inquiries, please call 403-823-2981.21tfc
Office Space for Lease. Contact Kelly Boyko at 403-820-1771. 33c35
---
ACERAGE FOR RENT
LAND FOR RENT
---
MOBILE HOMES
REAL ESTATE FOR SALE
---
HOUSES/CONDOS FOR SALE
HOUSES FOR SALE - Can't find it here or on MLS? Check out www.powerrealty.ca. 5tfc
REDUCED PRICE on this beautiful acreage (8.5 acres) only a 1/2 hr. north of Drumheller on Hwy 56. Lovely 4 yr. old home, 7 stall barns, heated quonset and a spectacular view. You can have all of this for only $415, 000. Call Fran at Century 21 Candor Realty Ltd. at 403-742-4424.
MOBILE HOMES
Mobile Home lots available for rent. Mobile Homes for sale. Located in trailer park. Conditions apply. Call Suzanne 403-823-4499. 23tfc
HOUSES WANTED
Don't let them foreclose ... I'll pay your arrears and purchase your property. 403-820-3146. 23tfc
---
FARMS, LOTS & ACREAGES
WANTED... Cultivated farmland in the Drumheller area for cash rent or sale. 403-321-0214. 23tfc
FOR SALE... 320 acres. 215 acres cultivated, 105 acres native grass. NE and SE of 1-31-19-W4. Call Don Rosgen 403-823-0767. ReMax of Drumheller.33c34
---
BUSINESS OPPORTUNITIES
---
WANTED
---
EMPLOYMENT
---
HELP WANTED
HELP WANTED... Live in/or Live out caregiver to a child (0730-1630 hrs) M-F. Five mins from Drumheller. Driver's license required. Contact at mleonhardt@magtech.ca or 403-823-7385. Start ASAP.32p33
HELP WANTED... Are you reliable, handy and not afraid of work? Then send your resume to Century 21 Power Realty.Ca We're looking for a motivated individual to be a part time contractor for our maintenance team. Thank you to all those who apply, but only successful candidates will be contacted. Please email resumes to Cass at c21powerrealty@gmail.com or fax to 403.324.1111 33c35
HELP WANTED... Morrin Hotel kitchen for lease. Call Blaine after 2:00 p.m. at 403-772-2255.33c35
EMPLOYMENT OPPORTUNITY... TIRE REPAIR TECHNICIAN required by Heavy Duty Truck & Trailer Repair Shop. Experience necessary. Salary to be negotiated, Excellent benefits. Full time work. Red Line Truck & Trailer Services Ltd. Fax (403 546-4426) or e-mail(redlin@telusplanet.net) resume.33c34
Employment Opportunity... Hanna Chrysler Ltd. has a Full Time, Permanent Position for a Service Advisor Available Immediately. Successful candidate will be a cheerful, energetic person with good communication and organizational skills. Must be a team player and comfortable with computers. Automotive experience an asset. Training provided. Please send resume by fax 403-854-2845 or email chrysler@telusplanet.net. 33c35
HELP WANTED... Live-in caregiver required to supervise and care for our 4 yr old daughter.
$9.91/hr. Full time position and must be willing to work some weekends and different shifts. Interested applicants can send resumes at: 2 Hunts Drive, Drumheller, AB T0J 0Y6 or call Julius/Cynthia 403-823-6179.33p34
HELP WANTED... Live-in caregiver needed for 3 boys on full time basis in a private home in Drumheller. Must have Grade 12 at least. Basic nursing or care giving skills required. Room and board provided at $336/month. 2 weeks vacation provided and pay annually. Wage is $10/hr and 40 hr/wk. Contact: 403-823-8628. e-mail: nanath@webmail.co.za.33p34
HELP WANTED... Looking for p/t nanny caregiver to start in September. 2-3 days per week. 403-397-0728.33p35
HELP WANTED.. Home Care Aide position in the community of Morrin. Will train the right person. Call Kris at 403-368-3951, 403-436-0236.
33p34
MECHANICS / TECHNICIANS
Grain farm & feedlot operation in South Central Alberta seeking Mechanics
Light Duty / Heavy Duty/ Agriculture – Licensed or Not Applicants should possess a strong understanding of electrical and hydraulic systems and/or a working knowledge of agricultural machinery and heavy equipment. A class 1 license or the ability to operate 15/18 speed transmissions is a definite asset. Must be highly motivated, competitive wages and benefits. Submit resume with references, drivers abstract & police clearance check. go_cas_f@hotmail.com or fax 403 546-3709
PARTSMAN REQUIRED
Full time, Benefits, Wage DOE. Experience with Heavy & Ag Machinery an asset. Responsible for but not limited to Ordering parts, Tool Room, Stock. go_cas_f@hotmail.com Fax 403-546-3709
FEEDYARD FOREMAN
Foreman required for South Central Alberta Feedlot
This position will report to the Feedlot Manager and be responsible for all aspects of a modern feed yard operation including but not restricted to the planning/overseeing of day to day activities, organizing & executing special projects and managing teams of people. Must have excellent communication skills and problem solving abilities. Able to work well with others & lead with positive motivation. Knowledge of beef cattle & nutrition an asset. Submit resume with references to go_cas_f@hotmail.com or fax 403 546-3709
MILL MANAGER South Central Alberta feed yard looking for a Mill Manager Responsibilities will include but not be limited to Grain testing & grading, Shipping/Receiving, Grain processing,Mill equipment servicing/upkeep, Quality control of paperwork & all feed products. Full-time, Benefits, Bonus. Please submit resume with references go_cas_f@hotmail.com or fax 403 546-3709
Grain & Feedlot operation located near Acme AB is hiring for the following positions: Field Equipment Operators (large tractors, sprayers, combines, swathers). Class 1 Drivers. Feedlot personnel (Mill Man, Animal Health, Feedtruck, Processing, Maintenance). Fulltime or seasonal positions, Competitive wages, Benefits, Opportunity for advancement. Submit resume with work references, drivers abstract and police clearance check to go_cas_f@hotmail.com or fax 403 546-3709.32p35
HELP WANTED... Harvest help wanted. Need full time. Combine driver. Experience preferred, however will hire and train. Responsible applicant. Please call Mike at 403-321-0202 or 403-823-5154.32p33
BUSINESS OPPORTUNITY
WORK WANTED
Bookkeeper with 30+ years experience looking for work on contract. Able to use Quick Books and Simply Accounting Software. Contact TRUDY at 403-334-8886.33p34
---
FARMERS' MARKET
MACHINARY & EQUIPMENT
FARM MACHINERY FOR...Combines, International 1480/Header, 1440/Pick-up/ 1482 Pick-up/Chopper, 960 Pick-Up. Good shape. Craigmyle. 403-665-2001. Leave phone and message.
WANTED
WANTED... Farmland to rent in Drum, Dalum, Verdant Valley area. Cash or crop share. Phone 403-823-9222.32p31
---
FEED, HAY, GRAIN & SEED
---
PASTURE FOR RENT
---
FARM EQUIPMENT
---
BUILDING MATERIALS
---
ANNOUNCEMENTS
---
AL-ANON, Wednesday evenings, 7:00 Civic Centre. Call Lynne (403) 822-0008 or Carol (403) 772-2373. 26nctfc
THE HAPPY DESTINY Alcoholics Anonymous Group meets every Monday at 7 p.m. in the Badlands Room at the Drumheller Health Complex. "Open Meeting". 8nctfc
Saturday Sunrise Meeting, Alcoholics Anonymous, 9 am, upstairs Civic Centre. Contact Helen 403-823-5593. 37nctfc
---
PUBLIC NOTICE
LOST & FOUND
COMING EVENTS
DRUMHELLER STAMPEDE & AGRICULTURAL SOCIETY coming events. August 18-19 - Stock Car Races IMCA Approved. August 24-26 APCCA Pony Chuchwagon/Chariot Races APCCA Approved. September 8-9 Stock Car Races IMCA Approved. September 15 Car Demolition pending.30p37
_________________________________________________
WEDDING ANNOUNCEMENT
__________________________________________________
CARDS OF THANKS
THANK YOU... Dwayne, myself and our family would like to thank everyone who has so generously given gifts of visiting, whether in person or by phone, your prayers, cards, food to the ringette ladies for the beautiful BBQ and evening of stories and laughter. Your care, support, concern and love that each of you has shown us during Dwayne's struggle with cancer these past two years has touched our hearts deeply and we are so grateful. your continued thoughts and prayers are cherished and may God bless each and every one of you. Most sincerely, Dwayne and Mary Marshman 33p
THANK YOU... The family of Gale Kelly extend our gratitude to those who gave their support and kindness throughout our difficult time.33p
THANK YOU... Eva Coyle's family would like to thank the doctors, nurses, home care staff, etc. for taking such good care of Eva during her time of need and her lengthy stay in the hospital. A very special thank you to Dr. Robert Graham for his special care over the years. A very special thank you to Gerry in housekeeping for all the special extras you did for Eva. You made her feel very special and she really appreciated it. Also, thank you to Jeffrey Dallmann (Denturist) for his care in the office and hospital. Also, any other professionals who made her final weeks more comfortable. i.e. dentist, podiatrist, hairdressers and volunteers. Thank you to all extended family and friends for your visits, telephone calls and cards and gifts and flowers. I apologize if I have missed anyone but please note that it was all appreciated. God bless and keep you all.
Eva's family33p
THANK YOU.. Your presence at our 50th Anniversary made our day special. We would like to thank our family and friends for all their great speeches, help for decorating and setting up, serving lunch and drinks and clean-up. It makes the party easy. Thanks for all the cards, gifts, flowers and community list. Thanks to the committee and all who came on July 14 for the morning party. You are awesome family and friends.
Leo and Eleanor33p