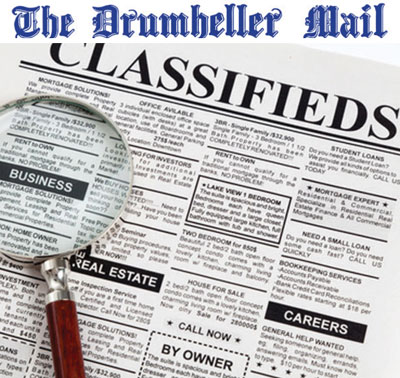 GARAGE SALES THIS WEEK
NEWCASTLE
GARAGE SALE... household items, kids stuff, new Usborne books, clothing, jewellery, massage table, and an interesting assortment of items. Friday, July 6 from 4:00 p.m. to 7:00 p.m.; Saturday, July 7 from 8:30 a.m. to 3:00 p.m. 1145 - 300 Newcastle Place.
ROSEDALE
HUGE GARAGE SALE... Friday & Saturday, July 6 & 7. Tools, Tools, Tools. Woodworking/mechanical tools; exercise equipment - treadmill/elliptical; camping/fishing equipment; motorcycle gear; bicycles; household items. Friday from 4:00 p.m. to 8:00 p.m.; Saturday from 9:00 a.m. to 5:00 p.m. 195 Railway Avenue, Rosedale.
FOR SALE
AUTOS
FOR SALE... 2012 Colorado Chevy 1/2 Ton, 31,000 km's. $9,300.00 403-823-8307; 403-820-5779.
RENTAL PROPERTY
HOUSE FOR RENT
FOR RENT... Very cute 2 bedroom house near downtown. Fridge, stove, D/W, microwave, washer, dryer. $800.00/month + utilities + D.D. No smoking, one small pet. Available immediately. Call Don 403-823-0767.
Century 21 manages over 100 rental properties. 1, 2, and 3 bedroom homes and suites for rent. Check out www.rentdrumheller.ca for a list of current properties for rent. 403-823-2121 M-F.
FOR RENT... 900 sq. ft., 2 1/2 bedroom house. Large living room, kitchen, F/S, HE W/D mainfloor. Located close to downtown shopping. References required. No smoking, no pets. $795.00/month plus utilities. 403-820-8881.
FOR RENT... Main Floor of Executive Rental in Riverview area. 2 bedrooms, 2 baths (master ensuite has one person jetted tub, pedestal sink, and stand up shower). Suitable for one or two people. Hardwood and Tile throughout the area. Beautiful Gas fireplace in living room with Granite Mantle Hearth. A/C via nest thermostat. Kitchen includes garburator, dishwasher, self cleaning ceramic top stove/oven, and matching fridge, built in Icemaker, keyless entry punch code locks, video surveillance and more. Energy Efficient home. Includes Landscaping in Summer / Snowremoval in Winter and use of Barbecue, Front Load Washer/Dryer, Small Storage Shed and more. Smoking outside only. No pets. $999 per month + $250 utilities plus DD. http://www.century21.ca/100652532
Showings by appointment for tenants who have filled out rental applications and been prequalified. Please call/text 403.823.2222 or email rent.drumheller@century21.ca for more info.
APARTMENTS FOR RENT
Hunts Place Apartments (Corner of Hunts Dr. & 2nd St. East). Quiet, adult oriented, security door & intercom, garden patios or large balconies, laundry facilities, parking with plug in, fridge, stove, window coverings, hot water & heat, WiFi hotspot, no smoking, no pets, www.wix.com/writem5/hunts-place. Phone (403) 820-1665 or (403) 821-0266.
FOR RENT... Quadra Manor, 1 and 2 bedroom suites available. Includes free heat, free water, parking, air conditioning, coin laundry. No children. Phone # 1-403-856-4401.
FOR RENT... Juniper Manor, 1 and 2 bedroom suites available. Includes free heat, free water, parking, air conditioning, coin laundry. No children. Phone # 1-403-856-4401.
FOR RENT... Sage Manor, 1, 2, and 3 bedrooms. 333- 2 Street East. Mature adults only. No smoking. View at www.sagemanor.com 403-823-0964.
REAL ESTATE FOR SALE
HOUSE FOR SALE
HOUSES FOR SALE - Can't find it here or on MLS? Check out www.powerrealty.ca.
ACREAGE FOR SALE
18.36 ACRES
13 KM NE OF DRUM
Approximately 5 acres in hay with balance pasture. Gently sloping pasture running east and west. Very quiet,
10 minutes from Tyrrell
Museum and golf course. Water and power to property.
$110,000
Call 867-335-3611
FARMER'S MARKET
FARMLAND/PASTURE WANTED
WANTED... Cultivated farmland in the Drumheller area for cash rent or sale. 403-321-0214.

WANTED... Farmland to rent in Drumheller, Dalum, Verdant Valley or Delia area. Phone 403-823-9222.
PRODUCE
Verdant Valley Colony will be selling produce every Friday starting Friday, June 8 until the end of September from 10:00 a.m. to 5:30 p.m. at the corner of Mac's Convenience Store in Drumheller.
ANNOUNCEMENTS
AL-ANON, Wednesday evenings, 6:30 pm, Telus Bldg, 4th Floor. Call Lynne (403) 822-0008 or Carol (403) 772-2373.
Saturday Sunrise Meeting, Alcoholics Anonymous, 9 am, Knox United Church. Contact Helen 403-823-5593.
THE HAPPY DESTINY Alcoholics Anonymous Group meets every Monday at 7 p.m. in the Badlands Room at the Drumheller Health Complex. "Open Meeting".
THANK YOU
THANK YOU... The children of Alice (Martin) Morgan would like to thank our friends, family and neighbours for their cards, flowers, food, travel and kindness shown during this difficult time. We were also grateful for those who attended Mom's "Come and Go Coffee Party". Thanks to everyone.
Diana and Rick Wolf
and Terry MartiN